People on the Move: Bromleys; Cornerstone Design & Marketing; OakNorth Bank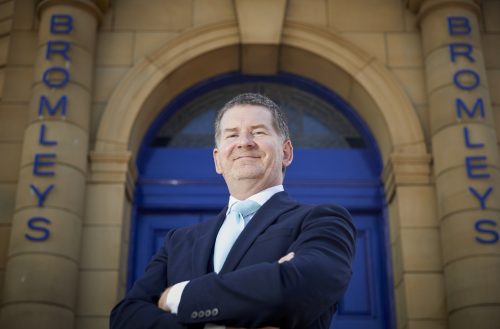 Law firm Bromleys has recruited associate solicitor John Fawcett to a senior role leading two departments.
John, 48, has joined the Tameside firm as head of its Court of Protection and lasting powers of attorney team and its wills, probate and planning for the future team.
He acts for clients of all ages and backgrounds who, through injury or illness, lack capacity to manage their own property and financial affairs.
John also specialises in all aspects of estate planning and estate management, as well as trusts, gifts and wills.
He has specialised in these fields for more than 20 years and his previous firms include Slater & Gordon and Linder Myers.
John said: "I'm excited to join Bromleys and build on the great work of my predecessors. It's an award-winning firm with an excellent reputation for the quality of its work.
"There is a good deal of overlap between the two teams, and my aim is to see both of them grow and develop together, side-by-side.
"I look forward to enhancing both teams and developing new and innovative key services for our expanding client base."
Senior partner, Mark Hirst, said: "John brings to our firm a wealth of expertise and experience gained over several decades, including high-value and complex trust and probate matters, business protection trusts and, of course, the management of the affairs of vulnerable people.
"He is also experienced in leading and developing teams, and his warmth of personality struck us immediately.
"I am confident he will be a huge success in his role, ensuring we continue to support our vulnerable clients in a caring and effective way."
Bromleys has maintained business as usual for clients during the lockdown, with staff working mostly from home while also maintaining a presence in the firm's offices in Ashton-under-Lyne.
::
Full-service agency Cornerstone Design & Marketing has made a number of new appointments across various departments, increasing its staff to 17.
Latest recruits at the Oldham agency include Greater Manchester journalist Gillian Potts, from Stalybridge, and account manager Alana Allan, from West Yorkshire.
Gill Potts has joined Cornerstone's PR department with an extensive CV and contacts.
Her experience includes writing, sub-editing and news gathering for weekly and daily newspapers including the Manchester Evening News, Oldham Evening Chronicle, Rochdale Observer and the former Tameside Advertiser, where she won the national Newspaper Society Journalist of the Year award.
During her career she has worked on a number of high-profile news stories including the legacy of the Moors murders, Dr Harold Shipman, the murder of British Army soldier Fusilier Lee Rigby, and the Manchester Arena terror attack.
In addition to news, Gill has magazine and feature-writing experience on topics including health, wellbeing, families, lifestyle, food and drink, fashion and consumer journalism.
In recent years, she helped launch Newsquest's weekly Oldham Times newspaper and website, and worked as a copy-sub on the Liverpool Echo, Huddersfield Examiner and Manchester Evening News dailies. She has also been a freelance writer for agencies across Greater Manchester.
Now at Cornerstone, her writing role includes producing content for business and consumer audiences for multiple channels. This includes writing press releases, website content and email marketing and social media campaigns.
A significant area of her new work covers the UK pharmacy sector for the Care range of family healthcare products, a brand owned by Huddersfield-based Thornton & Ross.
This includes writing B2B and B2C content, updates and training resources for pharmacists and health care professionals across the UK, and also liaising with health, research and university and other stakeholders on projects.
Alana Allan, from West Yorkshire, is another new appointment at Cornerstone and is an account manager.
She is working with clients including North West Ambulance Service (NWAS), Greater Manchester Combined Authority and LTE Scientific in Saddleworth.
In recent years, Cornerstone and NWAS, which is a long-standing client, have received a number of joint regional PR industry awards from the Chartered Institute of Public Relations for their campaigns.
Born in Malaysia, Alana was raised in Holmfirth and attended Holmfirth High School, Greenhead College in Huddersfield and then university in Bristol.
She then worked in Bristol as an agency account manager at Modern B2B, primarily across digital campaigns, and as an experiential account executive at Prophecy Unlimited, a brand activation agency.
Her experience includes working on global client accounts across a range of industries including automotive brands Lexus and Toyota and tech centric B2B clients such as FreedomPay and Flexera.
Alana was attracted to Cornerstone because it is a full-service integrated agency, meaning she can work with colleagues across all disciplines, which she enjoys. Her role includes regular contact with clients and briefing projects to Cornerstone's in-house graphic design, digital media, website development and PR teams.
Her background is mainly digital, including work on social media, email campaigns and content strategy.
Now, as an account manager, she ensures projects run smoothly, hit deadlines, keep to budget and are of the highest standard. She likes being involved in the whole process from early concepts, strategy and planning through to final delivery.
Cornerstone, founded in 2007 by managing director David Wadsworth, moved to larger, bespoke headquarters in Oldham late last year and enjoyed growth above 40% in 2019 after multiple contract wins.
It works with clients in sectors including gyms and leisure, healthcare, pharmaceuticals, manufacturing, engineering, structural design, property, building society, arts and tourism. In addition, it works with charity and research organisations including Cancer Research UK.
::
Gareth Bennett has been hired as an associate director by OakNorth Bank.
He will focus on developing innovative finance solutions for entrepreneurs looking to develop and invest in UK real estate, hotels, leisure and healthcare in the Manchester region.
Prior to OakNorth, Gareth spent almost eight years at the Manchester branch of Allied Irish Bank where he focused on new business opportunities within the local Manchester community, managed existing client relationships in line with AIB's brand values, and managed a loan book of around £200m comprising more than 100 connections across a variety of businesses and sectors.
Before AIB he worked as a relationship manager, corporate restructuring and asset recovery, for Irish Bank Resolution Corporation, where he had day-to-day responsibility for a portfolio of commercial and corporate customers representing a book at peak £361m in 2010 comprising more than 50 connections with exposure ranging from £500,000 to £261m.
He was also a sector specialist in commercial investment and development transactions, including trading businesses with turnover ranging from £250,000 to omore than £500m.
He is joining the Manchester team alongside Chris Swarbrick (senior director of debt finance), Stewart Haworth (director, debt finance), Daniel Martin (director, debt finance), and Dave Taberner (associate, property finance).
Gareth said: "I'm incredibly excited to be joining OakNorth Bank and working alongside such a talented team out of the Manchester office.
"Having spent almost 15 years working in Manchester, I know that the opportunities to lend and support SMEs in the North West region are endless, even in the current environment.
"I look forward to delivering fast and flexible debt finance solutions for entrepreneurs that are looking to scale their business."
Ben Barbanel, head of debt finance at OakNorth Bank, said the team is specifically interested in lending to businesses in real estate, hotels, care homes, nurseries and manufacturing.