Deal ensures investors in £100m Aura scheme suffer no losses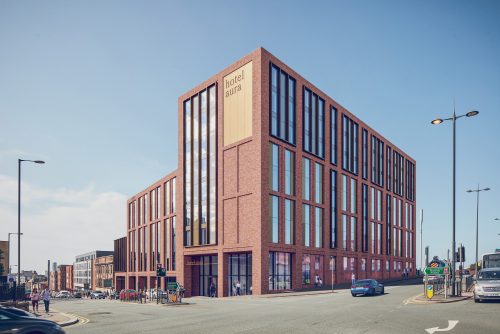 Developer Elliot Lawless has worked with administrators to agree a deal that will facilitate the successful disposal of his £100m Aura scheme in Liverpool to a consortium of the scheme's original investors that had funded the project prior to its administration.
The deal has now been concluded, the joint administrators confirmed this morning.
In a statement they said: "Joint administrators, Paul Cooper and David Rubin, of David Rubin & Partners, are delighted to announce that the future of the Aura Liverpool Development site has been safeguarded through the successful conclusion of their sale process to identify a preferred bidder run by Lambert Smith Hampton and Pantera Properties.
"The preferred bidder is an investor-led consortium who, after constructive negotiations with the Elliot Group will take over the development of the 1,007-unit site.
"The joint administrators believe this to be the optimal manner in which to proceed and will now seek sanction of the transaction by application to the Court, pursuant to a paragraph 71 Schedule B1 Insolvency Act 1986 application."
The deal means that the Prescot Street scheme can be completed and that investors' financial positions will have been protected.
Elliot Lawless has agreed to transfer his freehold interest in the site to the consortium and to transfer a neighbouring piece of land that guarantees investors can build the scheme out without hindrance.
He said: "My motivation throughout the administration process was to protect my investors and so I'm pleased with the outcome.
"These are people whose backing enabled me to deliver more than two-and-a-half thousand new homes in Liverpool and I wasn't about to leave them high and dry."
Lawless says he will continue with the hotel element of the site, while the investors' intention is to build out the student homes part of the scheme.
"We'll be neighbours now and I've set the tone in terms of goodwill so that we can work together to ensure both schemes are completed and succeed in the way I always knew they would.
"What I've done is hand over the profit element to the consortium so that, not only is their core investment protected, but they can share the surplus that a successful completed project will deliver."
Anna Doeff, whose company Mewstone Ridges Ltd is Elliot Group's single largest investor in Aura and a member of the investor consortium, said: "This is the best possible deal we could arrive at.
"Credit is due to Elliot Lawless for working so hard to find a solution that protected our interests.
"We've seen other developers just walk away in such circumstances, but he stood by his word and delivered.
"The administrators have pulled out all the stops, too, and we're now just looking forward to getting the builders back on site and delivering a scheme of which we can all be proud."
Paul Cooper and David Rubin, of David Rubin and Partners who handled the disposal, said: "This was a complicated procedure which could not have been resolved without the collective buy-in and efforts of the Elliot Group and the investor consortium.
"Our team has worked hard to get to this positive outcome and we wish the new investment consortium well as they move to finalise this highly attractive scheme."
Lawless said that, on conclusion of the agreement for Aura, his focus will shift to completing deals for The Residence in Salford and Infinity in Liverpool.
"The aim is the same," he said.
"I want to ensure investors' monies are protected and that we can complete the projects without further delay."
All three schemes were placed into administration in March following funding problems brought about by allegations of fraud and corruption against Mr Lawless following his arrest on December 18, 2019.
He denies all allegations.