People on the Move: Eric Wright Facilities Management; Genr8; Morecrofts Solicitors; EY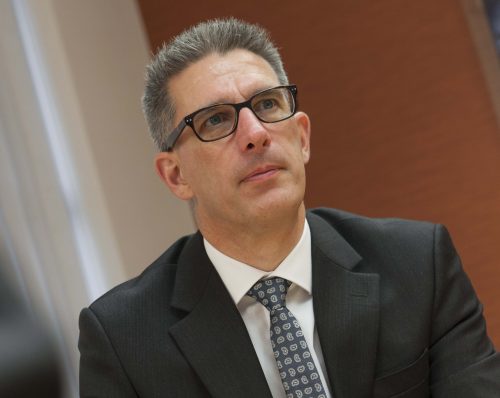 Eric Wright Facilities Management (EWFM), one of seven companies within the Preston-based Eric Wright Group, has made appointments at director level as part of its ongoing programme of investment.
Drew Hird has been promoted to professional services director having worked with the company for five years.
John Cripps, who joined the company from Kier Group last November as interim director, takes on the permanent role of operations director.
John brings more than 30 years' board leadership experience in the FM and PFI sectors working across energy, education, health, fire service and LIFT contracts. Both John and Drew will sit on the EWFM board.
Drew Hird said: "The team has achieved significant growth in building consultancy work in recent years across the education and healthcare sectors as well as more general commercial work.
"The business has grown from strength to strength and the professional services team now numbers 12 staff including building surveyors and engineers, as well as project managers, facilities managers and lifecycle managers.
"We've undergone a far-reaching programme of change and this is an exciting new phase for the business. I am delighted to be leading a fantastic team of customer-focused experts and look forward to supporting them as we continue to grow."
Last year George Lilley joined EWFM from VINCI Facilities as managing director and over the past 12 months, under his leadership, EWFM has undertaken a full review of its operations to deliver greater efficiencies and improved customer service.
John Cripp's role as operations director will be to lead on improving the efficiency of LIFT and commercial operations.
He said: "We have a hugely competent team which comprises long-standing highly talented employees, supplemented by the recruitment of specialised individuals in key roles. We have made excellent progress in driving change across the business.
"The unique ownership structure of the Eric Wright Group was a major attraction for me and it is refreshing to work in a commercial business which has a genuine social purpose. I'm proud to be part of a company that delivers market-leading social value as well as excellence in FM."
George Lilly added: "Between them, Drew and John have decades of experience and success in leading and developing high performance teams in the FM sector. They further strengthen our board and will play key roles in transforming our business and achieving our vision for EWFM."
::
Manchester-based developer and regeneration specialist Genr8 has made a further senior appointment to its development team, as it continues to forge ahead through a period of planned, sustained growth.
Senior projects manager Kev Le Voi joins from Zerum Consult, where, as associate director, he delivered on a number of high-profile schemes – including UA92, the joint venture between Lancaster University and the Class of 92; St Michael's; and the Stock Exchange Hotel in Manchester city centre.
More recently, he delivered a 284-bed residential scheme on behalf of Panacea Developments in Sheffield.
Prior to Zerum, Kev held a position at Deloitte Real Estate, during which time he worked with clients including Chetham's School of Music, Herriot-Watt University and the University of Warwick.
Kev said: "It's great to be moving client-side and joining the team at Genr8, which has an excellent reputation nationally for forward-thinking development.
"The team is spearheading several major regeneration projects currently, and also has a brilliant pipeline, so I'm very much looking forward to getting stuck into my new role."
Alan Hall, projects director at Genr8, added: "During these uncertain times we are really excited to announce a further senior appointment at Genr8 and welcome Kev to the business.
"Kev has worked on some landmark projects in both the delivery and client side of the development process. This combination will make him a valuable asset to our growing team, as we expand our in-house delivery team to take our current and future regeneration ambitions forward.
"His arrival also marks another step forward in Genr8 further bolstering our project management services offering to external clients."
Kev joins Lauren Gavaghan, Joel Chandler, Alan Hall, and Matthew Brennan on the development team, who took up post in 2019 off the back of an extended period of expansion for the developer.
Genr8 Developments was founded in 2008 by partners John Early, Mike Smith and Richard Ingham.
Genr8 has delivered more than £100m of development in the past five years and currently has projects with a construction value of £80m on site.
Helping to regenerate Rochdale town centre is the Riverside development, 200,000 sq ft of retail and leisure space which opened for trade at Easter 2020. Plans are currently under way to develop the next mixed-use phase adjacent to the scheme.
::
Morecrofts Solicitors has promoted seven members of its team to senior positions.
Highly experienced licensed conveyancer Peter Pownall, litigation specialist Carly Philp and Helen Robins, who leads the Court of Protection team, are now senior associates.
Meanwhile, property specialists Caroline Grundy and Alison Williams, family law solicitor Kim Okell, and private client lawyer Vicki Morris, have all been promoted to associate solicitor.
The promotions feature staff from each of Morecrofts' six offices in the Liverpool city region, in Prescot, Crosby, Allerton, Woolton, Wirral and Liverpool.
Alison Lobb, managing partner at Morecrofts, said: "In these difficult and worrying times for many people, we are pleased to be able to share some positive news about so many members of our team.
"These thoroughly deserved promotions demonstrate the high level of performance and commitment to excellence shown throughout our team on a daily basis. They also reflect the breadth of our legal services and office network.
"We continue to attract and retain the best talent by giving them a clear career path at Morecrofts and the success of this approach is evidenced by the high proportion of our current senior and partnership team who began their training with us."
::
EY's transaction tax team in Manchester continues to grow and attract talent from within the region, with the most recent appointment of private equity (PE) specialist, Jo Taylor.
Jo joins the team from KPMG as a director, bringing with her a huge amount of experience and local knowledge, advising businesses across the North West on their transactions for almost 20 years.
In her new role, Jo will specialise in supporting PE houses and their portfolio companies on transactional tax implications.
This is the most recent in a string of new appointments into the PE transaction tax team in Manchester, led by Stephen Woodhouse, and demonstrates EY's continued ambition, it says, to strengthen its position as one of the strongest private equity tax teams outside of London.
Earlier in the financial year Dan Haslam also joined the team from KPMG.
Noam Handler, North head of tax, said: "Jo is a fantastic addition to the team and her appointment illustrates the commitment of the firm to establish a market-leading private equity tax team here in the North West.
"Our Manchester team, continues to go from strength to strength and as we look to the future I can see very exciting times ahead."
Bob Ward, managing partner for EY in the North West, added: "I'm delighted to welcome Jo to EY. It's great to have her on board and I'm sure the team will benefit greatly from her considerable expertise and experience of working with businesses across the region.
"It's encouraging to see that, even in these uncertain times, we are looking to further expand our offering within the region and build on our strong private equity credentials. This will allow us to continue to support PE businesses, giving them the best advice throughout the transaction cycle."