Administators appointed at shopping centre giant intu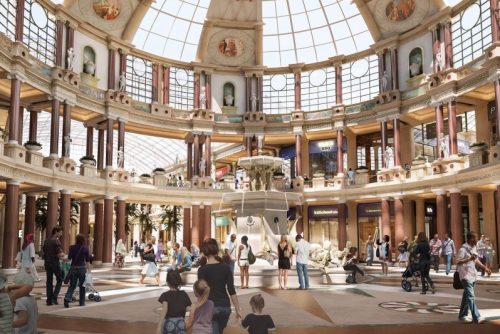 X

Register for free to receive latest news stories direct to your inbox
Register
Jim Tucker, David Pike and Mike Pink from KPMG's restructuring practice, have been appointed joint administrators to intu properties plc, the listed 'Topco' of the intu group, in addition to eight Topco subsidiaries.
Its shopping centres will remain open and will trade as normal.
It follows the collapse of talks with its creditors linked to a June 26 deadline, today.
Intu properties plc owns and operates 17 shopping centres across the UK, including intu Trafford Centre and Manchester Arndale, in addition to a shopping centre and development site in Spain.
It directly employs 2,373 people, including 370 at its head office in London, and each year welcomes around 400 million visitors to its sites.
Each of the shopping centres is owned individually by special purpose vehicles (Propcos) which are outside of any insolvency process and continue to trade as normal under the control of their directors.
Importantly, an agreement has been reached with key stakeholders which will allow continued provision of central services to the Propcos.
Consequently, all of the shopping centres will remain open and operational while the joint administrators assess options for the business and assets of the group.
Jim Tucker, partner at KPMG and joint administrator, said: "The challenges affecting UK retail are well known and have been exacerbated by the impact of COVID-19 and the resulting lockdown.
"As today's administration makes clear, those challenges have fed through to owners of retail property, even to owners of high-quality shopping centres such as intu's."
David Pike, partner at KPMG and joint administrator, added: "With all centres remaining open, we look forward to working with staff, suppliers and other key stakeholders to preserve value and jobs in these important retail destinations."
Trading in intu's shares was suspended.
Frank Ofonagoro, director at business advisory firm Quantuma, said: "The difficulties of the intu group have been well documented for a while given the continued change in the typical consumer's shopping habits and growth in the online channel.
"The failure of the intu group is undoubtedly a big blow to the North of England as it employs thousands of workers across five shopping centres in Manchester, Newcastle and Stoke-on-Trent.
"The drastic effect of the pandemic on many of the social constructs we have come to take for granted have accelerated the demise of outdated business models, including bricks and mortar multi-site retailers.
"This was always going to pose a danger to intu's business model given its reliance on rental income from bricks and mortar retail operators, who have largely deferred March and June quarter rent payments to Landlords.
"This would have increased intu's short term funding requirement which its syndicate of lenders appear to have been unwilling to support given the group's unsustainable debt to equity ratio – £4.5bn debt vs £20m equity value."
He said: "KPMG would have been lined up for a while to undertake contingency planning for the eventual administration and will now be implementing a plan to quickly get operational control of the group's properties and assets.
"The administrators' primary objective will centre on devising a strategy that maximises realisations for the group's creditors, including any employees that are made redundant.
"As part of their asset realisation strategy, the administrators will urgently seek to rank the group's individual shopping centre portfolio from the most saleable, such as the Trafford Centre in Manchester, to those generating less interest.
"The administrators would likely prefer sale transactions where potential acquirers seek to purchase an entire shopping centre as opposed to more piecemeal disposals of individual lease interests.
"Ultimately, for the administrators to have a reasonable period of time to formulate an optimal disposal plan, they will have to consider keeping the group's trading operation going until such a time as a deliverable plan has been established.
"The extent to which the administrators are able to quickly negotiate a funding line from existing or new lenders to enact this strategy will determine how long the group's operations can continue in the short term."