People on the Move: CH1ChesterBID; The Insights People; Landmark Group; Fletcher Bond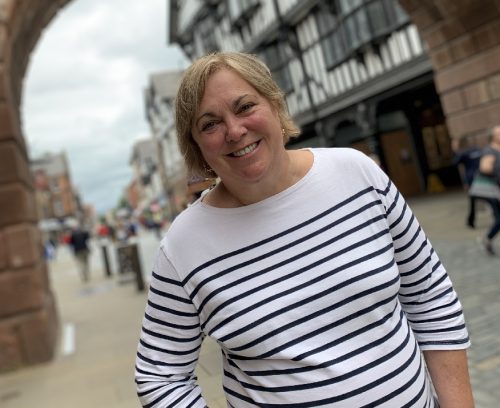 Katrina Kerr, previously Katrina Michel, has been appointed chair of Chester city centre's business improvement district (BID).
Katrina will take on the position from Eryl Edwards, who held the role for more than a year.
Edwards moved into the role after managing the city's busy Primark store.
Katrina brings with her a wealth of experience of place marketing, having acted as CEO for Marketing Cheshire between 2013 and 2018.
In that role she transformed the visitor economy for the region by focusing on both inward investment and tourism.
Carl Critchlow, Chester BID manager, said: "Katrina is an ideal chair for our organisation. She has been championing the region to great success both outwardly and inwardly for most of the past decade.
"She is renowned for her passion for all things Cheshire and she already has strong relationships with many of our important stakeholders and our city business owners."
He added: "We need to extend a huge thank you to Eryl, our outgoing chair, whose patience and determination has proved invaluable, especially over the past few months where he has guided our city centre through the coronavirus crisis with incredible grace."
Katrina sits on several other boards, including Storyhouse, the Halle Orchestra, The Tourism Society and LTE Group. CH1ChesterBID will be her only chair role.
Previous to Marketing Cheshire, Katrina held a notable career in advertising where she sat as executive chair at J Walter Thompson Manchester, as well as other senior strategic roles with both Ogilvy and Publicis.
Katrina said: "I'm delighted to be able to offer my service to CH1ChesterBID as chair of the board. We're facing a challenging time helping to steer the city's business district in the right direction, and as a reflection of the times I will be concentrating on understanding and supporting our levy payers, marketing that adds real value and collaborating with CWAC and others across the city to reflect what is different and special about Chester.
"Coronavirus will leave a lasting impact on our city centre businesses and we need to support the path to change and innovation on their behalf."
She added: "Having said that, Chester is in the fortunate position of holding a unique place in peoples' hearts. We have already seen the fondness in the city be reflected in visitor numbers after lockdown – and witnessed the innovation and heart in the businesses who have been determined to move past this crisis from the outset.
"We have every faith the city will weather this particular storm and I'm honoured to help play a part in that resurgence."
::
Manchester-based The Insights People, which focuses on kids, parents and family market intelligence, has announced 10 new appointments and additions to support the company's global expansion, growing to a team of 31 having launched in 2017.
With its recent launch into South America with Brazil and Mexico last quarter, the company now surveys more than 3,000 children every week, across four continents and nine countries, and more than 150,000 children a year.
After a strong six months, despite challenging conditions in industry, The Insights People announce a host of new clients, including Amazon, LEGO, Star Stable and Warner Bros, as well as expanding its relationship with clients such as Leapfrog, SEGA, and Turner.
After announcing expansion to Brazil and Mexico earlier in 2020, the company is now working on feasibility to launch into other countries and continents.
Chief executive, Nick Richardson, said: "It has been quite surreal and challenging to interview, welcome and work with so many new starters remotely.
"Though it has been great to see the team adjust to these challenges with our usual can-do spirit, it was critical that we continued with our extensive recruitment, despite the difficulties which COVID-19 has caused us, as all of the roles are key in building the business to the next stage.
"The recruitment has been across the business, but in particular we have significantly increased our tech and data science team to help us develop, and ultimately launch, a number of new exciting services."
Among the new recruits, the award-winning tech company welcomes Robert Lambert (senior development), Richard Wainwright as data scientist, and Jordan Shaw as junior developer.
In addition, the company has expanded its research team, welcoming recent graduates Lucy Holland and Sarah Waterhouse, Connor Walsh to the marketing
team and George Sarakins who joins to head up account management with clients based in North America.
Chief technology officer, Dan Lucas, said: "I am very excited about the growth of tech department and innovation which the company is showing. It is a great pleasure for me to work through and see these developments take shape.
"Our expanded tech team are working on some big things which will change the way we view, filter, interrogate and analyse the data, it is an amazing time to be with the company."
The company continues to recruit for a number of roles, and is looking for a new 3,000 sq ft city centre office having outgrown its existing office.
::
Bolton-based Landmark Group has announced the appointment of another new senior team member in its 20th anniversary year, with Simon Nutt joining as head of marketing.
Simon is a senior strategic marketing professional with more than 20 years' experience across multiple sectors.
With extensive full spectrum marketing and brand strategy capabilities gained across both private and public sector organisations, he is expert at leveraging brand equity and building new strategies to drive companies forward.
Plus, having previously held senior positions working with large national housebuilders, he also brings a wealth of relevant experience to the team.
Over his career Simon has benefited from professional education exposure from the likes of top innovation professors at Harvard Business School, as well as strategy training from the UK's National School of Government.
With a passion for consumer psychology and behavioural economics, he has also previously been the recipient of a national marketing effectiveness award.
He said: "It is a very exciting time to be joining Landmark, and I was particularly impressed with the breadth and depth of experience in the team and the ambitious forward plans for growth.
"There is great scope across the group, both with the expansion of the ground rent specialists Landmark Investments, and with helping the Landmark Development Solutions (LDS) team fundamentally change the way residential sales developers approach sales and funding in the new-build housing market."
Chief executive, Mark Hawthorn, said: "The appointments of Simon brings a step-change in our approach to growth and the refinement of our strategies.
"In our 20th year we are only just beginning to realise our true potential, and strengthening our senior team in this way will bring new impetus to help our core investment portfolio towards £150m of value in the coming months and take our LDS business to become a multibillion-pound entity."
::
Chartered surveyors Fletcher Bond, specialists in corporate recovery and restructuring, have appointed Andrew Murdoch as director.
Andrew joins from specialist lender Together, where he was group valuations manager.
A RICS-registered valuer and LPA receiver, Andrew has almost 20 years' experience in the property industry and previously worked at Eddisons, where he specialised in insolvency.
He also spent year-long secondments in the corporate recoveries teams of both the Nationwide Building Society and the Co-operative Bank.
At Fletcher Bond he will work alongside managing director Rory Dillon, a fellow LPA receiver, and the team advising banks, insolvency practitioners and property firms.
Andrew said: "Fletcher Bond is a dynamic and ambitious firm and its creative approach to restructuring gives clients a wider range of options.
"This is a challenging time for many property businesses and I look forward to working with Rory and the team to help them achieve the best possible outcome."
Rory Dillon said: "Andrew is well known and respected in the market and with his broad experience in property and finance, is well placed to help clients find alternative solutions.
"His appointment adds further depth to our team and will help us to meet the growing demand for our restructuring services."