Handover boosts area's extra care home provision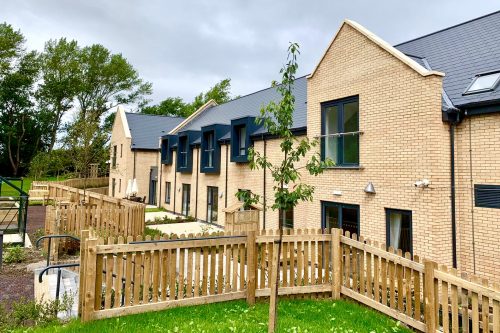 Builder Anwyl Partnerships, specialists in the provision of residential land and build developments, has handed over a £3.4m extra care development to Wirral-based Magenta Living.
The Barncroft development in Pensby encompasses 21 apartments, built around a range of internal and external communal spaces to help maintain social interaction and support wellbeing for residents.
A vegetable and shrubbery garden makes up part of the scheme, designed to provide a space where residents can meet and tend to the garden together.
It also offers a dementia-friendly environment to help improve the quality of life of those affected residents.
The development is the first project Anwyl has delivered in partnership with affordable housing provider, Magenta Living, and helps to address the demand for high-quality over-55's accommodation in the borough.
Further to delivering the requirements for extra care living, the project also represents a high-quality and attractive architectural feature to the local area, having been designed to remain in keeping with the neighbouring Pensby Hall.
Development on site during lockdown was recognised as essential works in order to achieve project handover and residents are now set to move into their new apartments in the coming weeks.
Tom Anwyl, Anwyl Partnerships managing director, said: "We've remained committed to progressing this project during the lockdown period to reach completion, as we recognise the urgent need for this type of housing.
"We've enjoyed a collaborative and close working relationship with the team at Magenta Living which has helped us realise our mutual wider objectives."
He added: "This is a fantastic scheme, marking our first on the Wirral and we look forward to supporting the council's plans by developing further projects of this nature here in the future."
Not-for-profit housing provider, Magenta Living, owns and manages just under 13,000 homes in Wirral and across the North West.
Paul Anson, executive director of growth at Magenta, said: "The completion of Barncroft Extra Care Scheme is a fantastic achievement, especially given the recent challenges of the lockdown period.
"Anwyl Partnerships have delivered a great scheme that will provide much-needed homes for people over 55 in Wirral and adds a second extra care scheme to Magenta Living's development portfolio.
"It is really important that we address the housing needs of an increasingly ageing population and offer independent living schemes like Barncroft Extra Care Scheme. I'm sure this scheme will provide a wonderful place to live and I'm looking forward to seeing our residents moving into their new homes soon."