City highlighted in global ranking for real estate transparency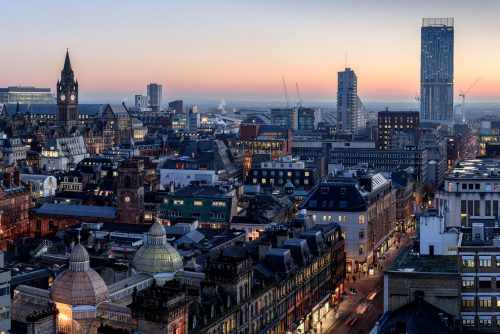 The Global Real Estate Transparency Index has revealed that the UK remains the world's most transparent market for real estate – and named Manchester among the world's top 15 most transparent cities.
The index, published by real estate adviser JLL and real estate investment manager LaSalle, says the UK market is pushing the boundaries of transparency through technology, a focus on sustainability, anti-money laundering regulations and enhanced tracking of the alternative sectors.
It also named five UK cities – Manchester, London, Birmingham, Edinburgh and Glasgow – in the world's top 15 most transparent cities.
Sustainability commitments have become the biggest single driver of real estate transparency globally since 2018, according to JLL and LaSalle's research.
The report also pointed to an elevated awareness of personal and environmental hygiene, health, work-life balance and social relations.
JLL and LaSalle cited that building owners and operators will need to adjust to keep workers and building users safe and healthy and that transparency of 'building health' will become far more important, in terms of access to metrics that track not only light and noise, but also building ventilation, air filtration, and cleaning.
JLL and LaSalle further noted that investors, businesses and consumers have heightened expectations regarding transparency in real estate markets and empahsises the key role of proptech in driving future transparency.
The increased availability of real estate data and growing adoption of proptech is cited as a key driver of transparency.
Jeremy Kelly, director, global research at JLL, said: "In addition to the UK leading as the top performing highly transparent market it is also a leader in proptech adoption and continues to drive higher standards in sustainability.
"Transparency in all areas of real estate remains a key priority for investors, businesses and consumers and we need to ensure that it continues to improve further and faster to compete with other asset classes and meet heightened expectations about the industry's role in providing a sustainable, resilient and healthy built environment.
"With innovation in the use of new technologies now becoming more widespread, coupled with an evolving regulatory landscape, in part due to the COVID-19 pandemic, it will be crucial for the real estate industry to work more collaboratively with governments and civil society to achieve greater transparency."
Stephen Hogg, head of North West at JLL, said: "Manchester has held a long-term and far-reaching appeal for both international and domestic investors.
"In addition to the market's inherent fundamentals that attract capital, the significant yield compression seen in key European cities has created a notable arbitrage with the UK on a risk-adjusted basis which is leading European and global investors to look towards cities like Manchester in the search for yield.
"Maintaining a high level of transparency across all aspects of the city's real estate market will remain key for Manchester to continue to attract capital and offer the best investment opportunities."