People on the Move: BWB Consulting; Reelvision Print; Miller Homes; Sedulo Wealth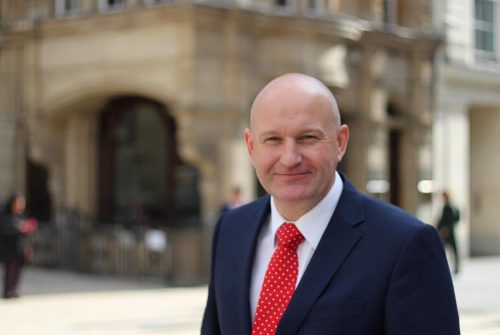 The former head of Capita's infrastructure business has taken a senior role at an engineering consultancy which is part of rail systems giant CAF Group.
Graham Sant joins BWB Consulting as an executive director in Manchester with a remit to strengthen the firm's national reputation and capability in the delivery of major infrastructure and regeneration projects.
His 30-year career includes spells managing and delivering major schemes for a number of high-profile clients, including HS2, Network Rail and Highways England in the UK, and the Mecca-Medina high-speed rail project in Saudi Arabia.
He also has extensive experience working with major utility companies, the Environment Agency, central and local government and place-based partnerships across the UK.
Graham said: "BWB is an incredibly entrepreneurial business and it's a real pleasure for me to join a team which has the culture and the agility to think innovatively, act responsively and get things done for clients.
"It has immense technical expertise but is also a really agile organisation.
"These are challenging times, but we can see some real opportunities to lever BWB's expertise in new markets, to build on its reputation for planning and designing major projects, and to work alongside colleagues at CAF Turnkey and Engineering, CAF's rail systems consultancy."
At Capita, Graham advised on projects including the Mersey Gateway bridge and a series of major highway developments in the North West.
He will be based out of BWB's Manchester operations on Portland Street, Piccadilly, but will operate nationally.
He added: "Infrastructure is a huge priority for the North West, and everyone will be really keen to help Transport for the North deliver on its vision of better transport corridors driving a better functioning economy across the whole of the region."
Steve Wooler, BWB Group chief executive, said: "Whilst market conditions remain challenging, we are actively recruiting and have identified some key opportunities for the future, both in the UK and abroad. We have a strong pipeline of flagship infrastructure projects, including the booming logistics and distribution market.
"As a business, we're building with boldness so that we can maximise those opportunities and we won't hesitate to make further strategic appointments where they add value.
"Graham's appointment is a perfect example of our determination to build on our reputation for delivering major development and regeneration projects and we're thrilled to bring on board someone with his track record and reputation."
BWB had become one of the UK's largest owner-managed engineering and environmental consultancies prior to its acquisition by CAF Group in 2017. Besides its flagship office in Manchester, BWB also has operations in Leeds, Birmingham, Nottingham and London.
Its 250-strong team specialises in buildings, transport & infrastructure and environment and has a growing reputation for carrying out complex environmental assessments for major development projects.
Alongside the recruitment of Graham Sant, BWB is also welcoming back Chris Miller-Jones, who returns to the business after three years in the USA with Arcadis.
As BWB's sustainability director, Chris will focus on the corporate advisory, asset management and institutional funding sectors.
Steve Wooler said: "Chris's return is a response to the increasing importance of sustainability to our clients, to BWB's business ethic, and is testament to our growing expertise in this specialist arena. He knows BWB well and will quickly add real value to the wider business."
::
Rossendale-based packaging manufacturer Reelvision Print has appointed Suzanne Wilson as regional sales executive.
Suzanne officially joined Reelvision Print on June 1, but she was interviewed and offered the role back in February, just three weeks before the UK went into full scale lockdown.
Home for Suzanne is Wiltshire in the South West of England, but remote and field-based working as the company's representative for the Midlands and the South was always the plan.
She eventually got to meet her new colleagues in July, six weeks after Suzanne started working for the company. She said: "Having the opportunity to touch base for the first time made me feel like a fully-fledged member of the team.
"I have supplied virtually every type of packaging in my previous roles, apart from cartons, so it was great to see our customers' orders being manufactured. It gave me a warm and fuzzy feeling to see how well organised, clean and precise everything is. Now more than ever, customers in all sectors are looking for this kind of reassurance."
Suzanne has worked in the printing and packaging industry for 13 years and has nine years of flexography expertise.
In her previous roles, Suzanne has sold printed polythene bags for everything from food and clothing to medical supplies.
More recently, she has specialised in the medical field, supplying a full range of printed solutions including sterilisation barrier packaging for hospitals. She is also a qualified internal auditor and this focus on quality makes Suzanne the perfect fit for Reelvision Print.
Deorah Greenwood, sales director at Reelvision Print, said: "Despite this extraordinary start, we were all delighted to welcome Suzanne on board, both virtually and in person.
"She has brought lots of experience to the role and has very quickly established herself as a valuable member of our team. We hope customers old and new will enjoy working with her for many years to come."
::
Five-star housebuilder, Miller Homes, has recently welcomed its latest development sales manager to the team in Frankie Healey who joins from Story Homes following a four-year employment at the company.
Frankie, who has a professional background of selling homes in Spain as well as the UK, joined Miller Homes just a few days before the country went into UK-wide lockdown.
This meant that Frankie began her employment while working from home, and then in the sales centre when restrictions lifted. She is currently based in the Blackfield Green sales centre in Warton, soon to be relocating to the upcoming Clitheroe site when it opens for business.
Frankie worked overseas in Spain for five years in property, before returning to the UK in 2009, where she pursued a number of roles in the industry including working for Lovell and latterly Story Homes.
She said: "I joined Miller Homes as I was looking for a new challenge, and of all housebuilders, they appealed the most to me. I was delighted when I found out I was going to be joining the team.
"I was nervous joining the team in such an uncertain time, but I was made to feel welcome and we all adapted to the new way of working pretty quickly."
::
Sedulo Wealth, a division of Sedulo Group with offices in Manchester, London and Leeds, has appointed Christy Morrison as wealth management director, Zoltan Molnar as chartered wealth planner and Angela Wise as independent wealth planner.
Christy, Zoltan and Angela have worked as a team for more than 15 years, recently joining from WH Ireland.
These new hires come immediately after the recent recruitment of Jon Fisher as head of wealth and Jamie Barrington as senior paraplanner, who also joined the firm in June from Grant Thornton.
Sedulo Wealth Management provides advice and investment strategies to high-net-worth individuals, their families, as well as business planning to corporate clients on all aspects of their financial journey.
The group, with almost 150 employees, continues to have growth of almost 50% across accountancy, tax planning, corporate finance, banking and wealth divisions.
It aims to have £250m of funds under management by the end of 2020.
Christy Morrison said: "We are delighted to have joined a company where we can continue to provide a fully independent tailored service.
"Sedulo aims to deliver the best professional service and ensure the needs of the client are at the heart of the business – this client-focused ethos made the decision to join an easy one."
Managing partner at Sedulo, Paul Cheetham-Karcz, said: "Our wealth management division is a crucial part of our holistic service offering.
"These latest appointments continue the programme of development across the division and demonstrates our ongoing commitment to providing a superior level of service.
"Zoltan, Angela and Christy's extensive experience in providing wealth planning advice will be hugely beneficial to our clients. Our group continues to expand, with several further key hires also planned, not least in Liverpool, where we expect to launch our fourth office in late 2020."