Bid to revitalise town by turning old rail track into green travel corridor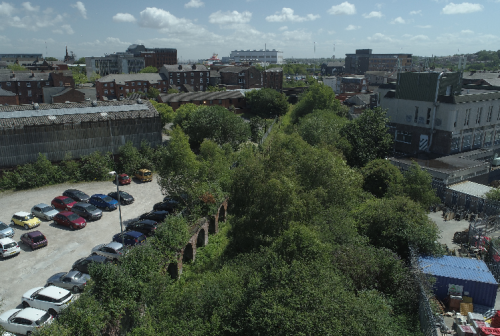 Wirral Council is proposing to transform an old rail track into a green travel corridor and linear park as part of its plans to reinvigorate central Birkenhead.
The disused 800 metres long track cuts through the town centre and could be used for walking, cycling and public transport.
It will run through Birkenhead, from Argyle Street to Rendel Street, connecting the town to Wirral Waters and the Hind Street development site via Central Station roundabout.
Cabinet Member for regeneration & growth, Cllr Tony Jones, said: "This exciting proposal to turn the disused railway cutting into a green travel corridor and linear park is a great example of how we can look at our existing assets and find new ways of using them.
"The green corridor will be a definite catalyst for change in Birkenhead as it will not only provide a fantastic resource to connect communities and encourage local people to be active, but shows the opportunity we have to reimagine Birkenhead and create a green, sustainable town.
"Together, we can make a tangible difference to our local community and environment.
"The important part of this process is that we hear our residents' views on the impact the green corridor may have on Birkenhead and any ideas on its design. Community input will ensure it is a valued and useful resource."
The council is keen to hear the views of local people who can go online at wirral.gov.uk/greencorridor to have their say.
In addition, the council is hosting two online sessions for the local community to learn more about the green corridor at 5pm on August 12, and 5pm on August 19. Visit wirral.gov.uk/greencorridor for details on how to register to take part in either of the sessions.
With possible financing to come from the Government's Transforming Cities Fund, bringing the corridor up to the same level as adjacent streets will be a significant undertaking as the cutting is completely overgrown and has become a dumping ground for litter and waste, reflecting years of neglect.
However, once level with its surroundings, the disused railway, which effectively divides the local community into two, will be transformed into a green corridor with an overall footprint of nearly four hectares, with a pedestrian pathway and a cycleway measuring approximately 4m wide.
The corridor will also contain a bus route which will not be open to general traffic but will, instead, have bus priority junctions established where the route crosses with the existing road network.
With climate change as a key priority for the council, the project also proposes to establish "living" green areas by planting trees along the corridor and to use innovative drainage such as rain gardens and stormwater tree pits to alleviate the risk of localised flooding in an ever-changing climate.
As part of the A41 North programme of work, the green corridor is one of a number of projects the council is aiming to deliver in transport improvements in East Wirral, which will increase connectivity across the borough, reduce the physical division between communities and will open-up land for development.
This project is phase one of the Green Corridor with future extensions, south to Rock Ferry and north, linking to Hoylake via the Birket Corridor, identified as key elements of Wirral's future transport infrastructure plans.