People on the Move: Jones Melling; Broadgrove Planning and Development; Northedge Capital; APEM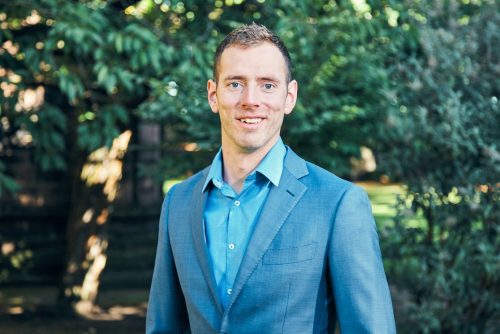 North West property and construction advisory firm, Jones Melling, has promoted Geraint Jones to its senior team.
Geraint, who is based at the firm's Chester office, has been promoted to senior building surveyor.
The promotion follows a period of growth for Jones Melling's building surveying team in Chester since opening its doors in the city in 2018.
Geraint's role covers all core aspects of building surveying. He also provides specialist advice and support on pre-acquisition reporting and dilapidations claims.
Ken Jones, director at the Chester office, said: "Geraint has worked diligently and excelled in his progression as a building surveyor.
"In both assisting clients with their instructions and in developing and growing our client base, he has added real value to the Chester office and to the firm as a whole."
Geraint said: "I am delighted to become part of the senior team at Jones Melling and to build on the long-standing relationships with our clients.
"The firm encourages progression within the team and provides a supportive environment to develop our professional skills and to focus on our strengths."
Before joining Jones Melling in 2017, Geraint was employed as a building consultant at KPMG's Australian office in Perth, Western Australia. Prior to that, he gained a Building Surveying BSc (Honours) degree from Sheffield Hallam University.
::
As a result of sustained growth and increasing volumes of instructions, planning consultancy Broadgrove Planning and Development, has strengthened its team with the appointment of Connor Wigley as an assistant planning consultant.
Wigley joins Stockport-based Broadgrove from Gladman where he spent nearly two years working on strategic land issues. Connor will support directors Andy McMullan and Richard Walters in delivering the company's growth ambitions.
This is Broadgrove's second appointment in recent months, with the company anticipated to double turnover during this financial year, despite the current market conditions.
Andy McMullan said: "Since establishing Broadgrove in 2018, we have experienced a sustained pattern of growth, and seen large numbers of referrals based on our director-led, commercial approach to planning advice.
"The appointment of Connor allows us to maintain our level of service and it is great to have him as part of the business. Despite the well documented market difficulties of the last six months we are fortunate to have a strong client base and healthy pipeline of instructions.
"We will continue to seek out the best talent to support our growth strategy and to provide the high quality of service which our clients expect."
Broadgrove is currently providing planning advice to a range of clients across the residential, commercial, leisure and energy sectors.
It is currently advising on more than 12,500 residential units across the UK, for clients including, Fusion Students, Warrington Housing Association, MLN (Land and Properties) and North Wales Housing Association.
::
NorthEdge Capital, which manages more than £650m of private equity funds aimed at the North and Midlands regions, has recruited a new director and made senior promotions in its Manchester office.
The firm, which focuses on companies seeking equity investment to support MBOs, development capital and equity release transactions, has recruited Liam May as a director in its Manchester office.
Liam joins from NVM Private Equity where he was an investment director investing in a range of companies across the North West.
His previous experience includes roles with GCA Altium and EY. At NorthEdge he will be responsible for originating, transacting and managing investments.
The business has also promoted James Hales to director, head of origination, and George Potts to director within the North West investment team.
James Hales set up NorthEdge's dedicated deal origination function, which recently led to the off-market investment in Phoebus Software. James will now lead the monitoring, management and reporting of deal origination across the regions as a director.
George Potts is responsible for originating, transacting and managing investments alongside leading the firm's ESG efforts. Earlier this year, George led NorthEdge's exit of Cubic Motion to American gaming giant Epic Games – a deal that he originated in 2017.
In 2019, George was appointed chair of the BVCA's Responsible Investment Advisory Group, and currently represents NorthEdge on the boards of FIS and Phoebus Software.
NorthEdge has also promoted Jordana Cropper and Dan Matkin to investment directors in Manchester, each have been instrumental in a number of investments.
Jordana has played a significant part in the progression of Total Fitness, kitchen cabinet, door and components supplier TKC and ITC Luxury Travel, and plays a pivotal role on NorthEdge's Diversity & Inclusion committee.
Dan works on the Abbey Logistics and Cloud Technology Solutions (CTS) investments and led the multimillion-pound investment in Wilmslow-based CMAP last year.
Grant Berry, joint managing partner at NorthEdge, said: "Liam's experience, talent and network across the North West make him a great senior addition to the team. His recruitment, alongside a series of senior promotions, primes us for future growth across our regions.
"It is a privilege to be able to reward hard work and dedication like this. The talent we have in the business is helping us to spot the best investment opportunities, work in partnership with our portfolio and ultimately drive successful outcomes for NorthEdge and its investors.
"Each promotion is richly deserved, following hard work from each of the individuals – some of whom joined NorthEdge many years ago and have progressed through the business. We look forward to seeing what comes next for each of them as NorthEdge continues to grow."
::
Environmental consultancy APEM has announced a clutch of senior appointments.
Gillian Sutherland joins as divisional director of Marine Wildlife & ornithology.
Having spent 16 years at Scottish Power Renewables, latterly as head of environment (offshore), Sutherland brings extensive knowledge of the global offshore renewables industry. She will oversee the continued global expansion of the team, delivering industry-leading best practice for offshore wildlife surveys, compliance and consultancy services.
The Stockport-based company's expanding terrestrial ecology division gained a boost with the appointment of Marjorie Nadouce as an associate director.
Bat specialist Marjorie brings 20 years' environmental consultancy experience. Together with her technical knowledge, she brings team and project management experience and will help drive APEM's terrestrial ecology team forward.
The newly-created role of head of project management office will be filled by Stephanie Woodward, who, having started her career in financial services, joins from the NHS. As well as leading a dedicated project management team, her remit is to support business development by driving operational excellence across all divisions.
Boosting the financial team is Jen Smith, who joins as senior finance business partner.
Having trained at Deloitte, Jen gained a wealth of experience before moving into commercially-focused finance roles to support and enable businesses to achieve their goals. Working closely with the senior executive team, she will help ensure APEM's ambitious growth plans are on track.
Further support comes in the form of Sarah Harris, who joins as marketing manager. With more than 20 years' experience, she brings knowledge, expertise and a passion for B2B marketing, recently demonstrated at one of the UK's leading agencies.
David Campbell, who has been with APEM for 16 years, has been promoted to divisional director of remote sensing & data operations, a position that will see him also join the operational board.
Dr Adrian Williams, managing director of APEM, said: "These appointments are all very exciting for us. Each brings very specific expertise, be it technical knowledge, strategic thinking or an impressive network of contacts. All have one thing in common, a first-class reputation."
Over the past 12 months APEM has made a number of appointments, including Mike Redding, Paul Stebbing and Jessica Kent who, respectively, bring expertise in engineering, invasive non-native species and terrestrial ecology.
The senior management team has been bolstered by the appointment of Andy Lockwood as chairman, Nicola Hunter as finance director, Keith Walker as commercial director, and Michelle Lewis as HR director.