People on the Move: Mazars; Ball & Berry; British Property Federation; REPIC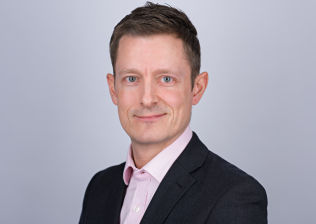 Mazars, the international accountancy and advisory firm, has appointed Christopher Martin as partner, based in its Manchester office.
Christopher is the third new partner appointment in Manchester this year reflecting a period of significant growth.
In his role he will join the leadership of the privately owned business (POB) audit team helping to further grow Mazars' privately owned and private equity backed clients.
As an expert in entrepreneurial businesses he will also support the growth of the other advisory teams, as well as driving business development in the 200-strong Manchester office.
Neil Barton, head of privately owned business audit in the North, said: "We are delighted to welcome Chris to our Manchester office, and the partnership.
"His depth of experience and industry knowledge will be a huge asset in developing our expertise in the market.
"His strong leadership will be pivotal in growing not only the business, but our fantastic team, ensuring we provide the best service possible to our clients. For me, personally, it is also great to have Chris on board after previously working together."
::
Preston based Approved Inspector, Ball & Berry, has expanded its Southern team with the appointment of a new senior building control surveyor.
Graham Hoare will predominantly focus on growing a presence in the domestic and commercial markets in the South of England.
He is the next appointment to be made to the firm's new London-headquartered team, just weeks after the firm opened its office in the capital.
A former technician and instructor in the built environment, and lecturer and assessor in bricklaying at West Kent College, Graham went on to take post as vocational manager and health & safety co-ordinator with Cfbt Education Trust.
He later became a building control surveyor with Stroma Building Control – formerley Greendoor Building Control and Specialist Services – specialising in domestic, logistics, hospitality, retail, sport and office.
He joins the team this month reporting to Stuart Martin, the firm's regional director.
Graham said: "I'm thrilled to be joining the team as it continues its expansion. The majority of my experience comes from working in the South East of the UK, and I'll be bringing my knowledge of this region to the fore to ensure Ball & Berry is the first-choice Approved Inspector which clients, architects, developers, contractors and more, want to work with."
Stuart Martin said: "We always knew that our presence in the South of the UK would quickly take hold, and we've had such an overwhelming response since opening our London office that we needed to scale up the team quickly.
"Graham is going to be a great addition – his insight of the commercial and domestic markets will unlock new potential for us, and we are very pleased to have him on board."
::
Sholom Cohen, associate director at Avison Young, has been invited by the chief executive of the British Property Federation, Melanie Leech, to take a place on the organisation's regional policy committee.
The BPF's regional policy committee is a major strategic advisory committee comprising the CEOs of many of the BPF's largest members.
The committee acts as a conduit between the property industry and government, covering high level policy issues.
Sholom will now play a key role in shaping the future of placemaking and policies impacting on the property industry.
He said: "I am delighted and humbled to be onboard as a member of the BPF regional policy committee. I hope to be able to provide some contribution towards supporting the Government's ambitious investment plans and its 'levelling up' agenda."
Sholom is based in Avison Young's Manchester office providing asset management and transactional services, specialising in maximising value.
::
Bury-based REPIC, which claims to be the largest household waste electrical and electronics equipment (WEEE) producer compliance scheme in the UK, has strengthened its leadership team with the appointment of two new senior executives.
Graeme Milne joins the compliance scheme in the role of strategic business development director and Mark Frakes has recently joined as finance director.
Graeme brings a wealth of industry experience, including 17 years in the waste and recycling sector across a broad spectrum of WEEE activity.
He joined REPIC from Katalyst Business Consulting which he founded in March 2016, following eight years as a key member of the Viridor senior executive where he led the commercial team with direct responsibility for sales, strategic planning and customer service. Prior to joining Viridor he held executive positions with WEEE specialists Shore Recycling.
As finance director Mark brings with him more than 15 years of experience from practice, manufacturing and consulting in a number of highly regulated industries.
During his career Mark has worked for a number of blue-chip companies in the UK and overseas, such as AstraZeneca, Sanofi and Pilkington Glass.
Mark joined REPIC in June from Survitec Group where he was providing consultancy services. Previously, he was acting CFO for Brammer UK, part of the Rubix Group and head of finance for Sanofi's Holmes Chapel site.
As key members of the board both appointments will have an essential role in delivering REPIC's approved strategic plans as well as supporting scheme members on future legislative developments and the impact on their businesses.
Chief executive, Louise Grantham, said: "With Graeme's extensive management experience within the waste management sector and Mark's strong commercial acumen these two key appointments will, I'm sure, prove to be a huge asset to REPIC as we continue to contribute to the future development of producer responsibility legislation and deliver excellence in our compliance services to all our members."