People on the Move: C&C Catering Equipment; Leonard Curtis; Cheshire East Council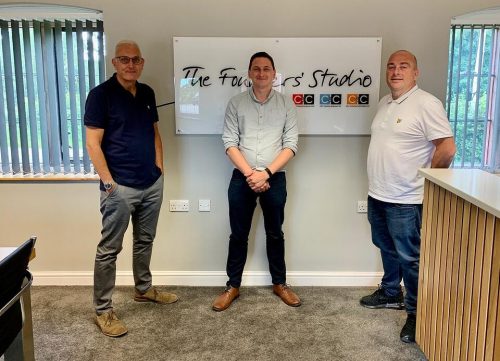 As a part of its recent growth to support work in the capital, C&C Catering Equipment has welcomed London-based Luke Slater to its award-winning project management team.
Having worked in the hospitality industry since the age of 14, most recently with Victor Manufacturing for six years, Luke brings with him a wealth of experience, including running both smaller and larger schemes in and around the London area, which often poses its own unique challenges.
In his earlier career Luke showed an interest in the design aspect of commercial kitchens following an insight into the inner workings of the hospitality supply chain, which led him to working in the manufacturing industry where he worked his way up to contracts manager and was responsible for delivering bespoke front-of-house foodservice schemes in the South of England.
He said: "Moving to C&C presents me with an exciting opportunity to work for one of the UK's top catering equipment specialists and to build on my career to date.
"I am really excited to be joining a dynamic and forward-thinking team, surrounded by experts who have the desire to deliver great projects from start to finish.
"As the industry as a whole is facing uncertain times, it is great to be onboard with a company that is performing well. I can't wait to get started on my first project and start getting familiar with the C&C style whilst working with this great team."
Managing director Peter Kitchin said: "We're delighted that Luke is joining the C&C family. We know he will be a great asset within the wider team and he brings some fantastic experience and industry knowledge with him.
"We're pleased to be strengthening our project management team in the London area as we continue to look to the future."
C&C is based in Chester, and also has operations in Queensferry and Kirkby.
::
Manchester-based Leonard Curtis Business Solutions Group has promoted 15 people to new roles from within the company as it continues to reward talent and strengthen its operations.
Four of the 15 were promotions to director level, including Paula Castle, who has been made brand and communications director and Jennifer Moore who takes up a director position within Leonard Curtis Legal for the first time.
Amy Mehers has become a director within the personal insolvency team in Bury and Andy John takes up his director post as head of the group's Hertfordshire office.
Elsewhere, specialist professionals across the group's offices and divisions have been recognised, including Ric Miller who becomes senior manager in debt advisory, Vicky Pitts who moves to associate director in the group-wide compliance team, lawyer Deborah Hooton who becomes senior associate at Leonard Curtis Legal and Alana Mills, who has been promoted to senior business development manager.
In a number of other moves Taibah Rehman has been made a senior solicitor in the legal team, Anthony Bailey takes on more responsibility in the Liverpool office as manager, Emma Edgar and Laura Hutchinson are both promoted in Bury to assistant manager and supervisor, respectively, Lucy Abbott becomes assistant manager in Birmingham, Alnur Miah takes up a supervisor role in Preston and Amy Nelson has been promoted to senior administrator in Leeds.
Group director, Daniel Booth, said: "We recognise that the greatest asset in our business is our employees. As 2020 marks our 25th year in business we're delighted to report record performances in the last 12 months and it's our team of 240 people across our 19 offices we have to thank for this.
"On behalf of the business, we would like to say congratulations on those who have earned well-deserved promotions and wish them all best for the future."
HR director, Nicky Mitchell, said: "We will continue to invest in supporting, training and developing talent to ensure we provide the best advice and services to our growing client base. We're also increasing opportunities for those entering the professional services sector with more openings for graduates and apprentices."
::
Cllr Sarah Pochin has been appointed as Cheshire East Council's business champion, to support economic recovery in the wake of the COVID-19 pandemic.
The newly-created role is set to support businesses on the high streets, engaging with SMEs, larger organisations and those facing unemployment across the borough. Cllr Pochin, representing Bunbury ward, will support and advise cabinet members on the following:
Regulatory and government policy to aid high street and town centre recovery across Cheshire East
The promotion of the borough and appropriate support mechanisms to attract inward investment
Development of the council's commercial strategy and the commercial ventures
Delivery of the rural action plan in relation to support to the rural economy in Cheshire East
Delivering a sustainable and green economy in Cheshire East including the development of low carbon industry.
Together with the relevant cabinet members and officers, Cllr Pochin will engage with businesses and corporate representatives across Cheshire East to successfully deliver agreed targets within approved timescales.
Council leader, Cllr Sam Corcoran, said: "COVID-19 has had a profound impact on businesses in Cheshire East, as it has across the UK and internationally.
"However, I am proud of the borough's economy, its businesses and workers and I am confident that we can overcome the obstacles that COVID-19 has created. I look forward to the benefit of Cllr Pochin's advice and experience in supporting the council's economic recovery across the borough."
Cllr Pochin said: "I am delighted to be given the opportunity to take on a vital role, as part of the council's support for economic recovery.
"Our borough continues to face many challenges during the COVID-19 pandemic. As business champion, I am looking forward to supporting the cabinet in taking this important agenda forward.
"Aiding economic recovery is a necessity, to attract new investment and develop our rural and green economies. I will work hard, alongside cabinet, to ensure all businesses and their employees across Cheshire East are supported."