Auto retailer raises its aftersales game for customers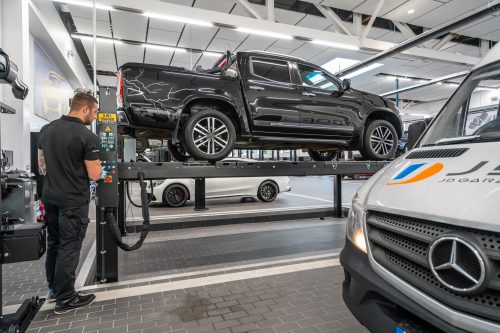 A Mercedes-Benz auto dealership is extending its aftersales service across its four Greater Manchester sites.
LSH Auto trades from several sites in Greater Manchester and the West Midlands.
It said the improvement in services will provide added repair facilities and better emergency assistance response times.
The company currently operates in Bury, Stockport, Macclesfield and Manchester.
From September, LSH Auto will begin maintaining and repairing vans at its dealership on Macclesfield's Lyme Green Business Park, a facility currently dedicated solely to cars.
Meanwhile, the company will soon be providing van operators with round-the-clock, emergency support, a development that holds out the promise of quicker roadside attendance times.
Mercedes-Benz Vans' MobiloVan service is free of charge to vehicles still covered by the three-year, unlimited mileage manufacturer's warranty, or those serviced by an official dealer. Technicians fix 80% of breakdowns at the roadside before sending drivers on their way.
Martyn Webb, LSH Auto UK managing director, said: "The expansion of our aftersales offer as it relates to Mercedes-Benz vans represents a significant investment for the business, but reflects our determination to provide customers with a service that best meets their needs.
"We appreciate that many operators, particularly those who've been very busy as a result of the pandemic, want to keep their vehicles on the road and earning.
"By opening a third workshop to vans, not only will we make life more convenient for customers, but we will also help to further restrict potentially costly downtime.
"The same applies to the MobiloVan back-up we'll be providing. Working from comprehensively equipped and stocked Sprinters based at all three dealerships, our highly-trained technicians will be providing rapid-response roadside assistance 24 hours a day, 365 days a year."
He added: "LSH Auto is a business that looks constantly to the future and we never stop exploring ways to improve our customer service.
"Our partnership with Mercedes-Benz Vans is going from strength-to-strength. We're winning new orders across the board – from major fleet operators, to small- and medium-sized enterprises, and sole traders – so the future looks very exciting."
LSH Auto is also one of a handful of franchisees so far to have secured accreditation from Mercedes-Benz Vans at each of its locations to retail and maintain the ground-breaking eVito, which is battery-powered and produces zero tailpipe emissions. The company's own parts delivery fleet also includes eVito models.
The company opened its £60m Stockport dealership in 2019, as a landmark destination boasting Europe's largest Mercedes-Benz 'Autohaus'. It is also home to a high-tech body, paint and repair centre.