Speculative scheme fully let on completion to wholesale supplier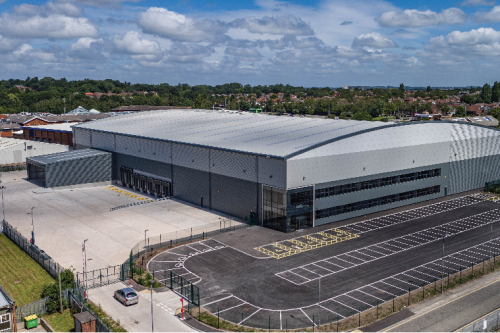 Prime Point, a speculatively developed warehouse of close to 100,000 sq ft, has been fully let on completion to Benross Marketing.
Benross is a wholesale supplier of appliances, gifts and garden equipment.
The 97,242 sq ft building was brought to the market on behalf of clients by asset manager Prime Property Consultancy, with Matthews & Goodman and CBRE instructed as letting agents.
A 15-year lease has been agreed for the building.
Baber Majid, managing director of Prime Property Consultancy, said: "The combination of new, high-quality warehouse space with easy access to local and national road networks and two international airports made Prime Point a very attractive proposition to any company with ambition and global operations.
"It is particularly pleasing to complete the deal in the face of the COVID-19 pandemic."
Situated on Goodlass Road, Speke, Prime Point boasts excellent access to the M57, M56 and the M6 motorways.
This connectivity has already attracted world-class companies such as Jaguar Land Rover and online retailer the Very Group, as well as major retailers such as Matalan, and Asda.
The site is also close to New Mersey Retail Park and Estuary Commerce Park.
Prime commercial director, Imran Younus, said: "Securing Benross Marketing as a tenant, prior to practical completion of the building, reinforces the fact that occupational demand in the industrial sector remains robust, despite the challenging current economic situation.
"The company fitted our profile of the ideal tenant and the whole process has been relatively issue-free, in spite of all the pandemic-related operational difficulties the nation faces."
Steve Brittle and David Newman acted for M&G, and Darren Hill and Paul Cook acted for CBRE.
Emma Nimmo and Nick Nyunt from Kuits advised on the lease.