Nutrition brand receives £950k backing to meet surge in demand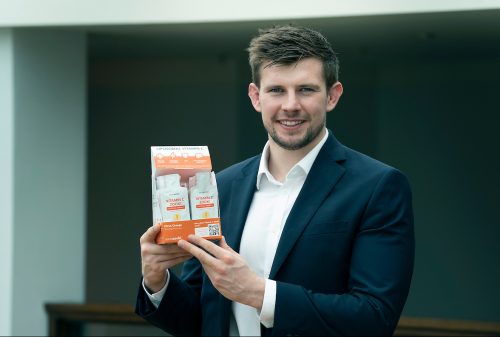 YourZooki, the provider of specialist Liposomal Vitamin C and CBD supplements, has secured a £950,000 funding package from Investec to fulfil a significant spike in sales and market demand.
The Blackpool-based business utilises a variety of patented technologies, including encapsulation and liposomal delivery systems, to create unique, effective and innovative health products.
These all-natural products include Omega 3 Zooki, Liposomal Vitamin C and CBD, which can help combat fatigue, increase collagen production and bolster the immune system.
YourZooki products are sold through a list of global distribution partners, including Harrods, Holland & Barrett, Wholefoods and Selfridges.
It also sells directly from its website to customers in the UK and 14 other countries in Europe.
The fast-growing firm has received £300,000 funding to date through the Rosebud Fund, which is managed by GC Business Finance on behalf of Lancashire County Council.
The investment has helped to increase warehouse capabilities and create four jobs in the Lancashire region, as well as quadrupling its turnover and investing in new stock for in-demand products.
With an increasingly health conscious customer base, YourZooki has seen a significant peak in sales during the UK lockdown period.
It will use the funding, part of which is a CBILS loan, to increase stock levels and maintain high levels of service for the coming months and position the business for the next phase of growth.
Co-founders Marcus Mollinga and Jack Morrison are now looking to expand overseas and extend YourZooki's international distribution network further.
The firm is also in the process of developing new Liposomal supplements, which are liquid-based to increase cellular absorption of vitamins and ensure they are passed into the bloodstream. The products are due to hit the shelves next month.
Marcus Mollinga said: "For our business, COVID-19 has acted as a significant driver of demand.
"Consumers are a lot more health conscious and prioritising their physical and mental state more than ever before.
"Our sales are soaring as a result, so it is important for us to have the network and support to increase our stock and maintain high levels of service.
"This is a critical component of any business, but especially those in the early stages like YourZooki, which is why this funding package is so critical to ensure we can fulfil demand while building new channels.
"With the help of Investec and the CBILS initiative, we've been able to deal with the extraordinary trading conditions that have accompanied the pandemic. The business is excelling in this very dynamic market environment and that will only accelerate in the future."
Sean Thompson, at Investec, said: "Coronavirus has hit businesses hard, but for many businesses there are real opportunities amid the disruption – and with the right support, companies like YourZooki are able to make the most of them.
"YourZooki has a credible business model and has proven itself through an extraordinary challenging period.
"It has been a real privilege to work with co-founders Marcus and Jack on this latest phase of growth, and I look forward to seeing what the company achieves in the coming months."