Key appointment for premium residential lettings and management experts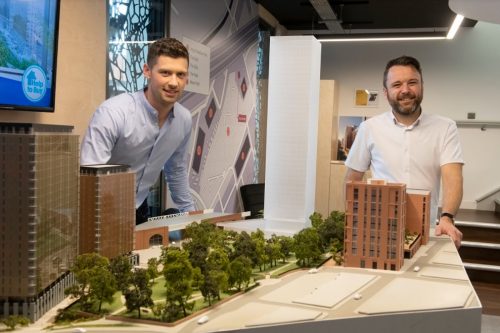 Premium residential lettings and management business, Settio Property Experience, has secured its first appointment as recommended partner on a major development in Manchester.
The growing business was selected by developer Far East Consortium (FEC) for apartments and townhouses at its MeadowSide scheme, which, on completion, will provide a total of 756 properties, bordering Angel Meadow, the largest green space in central Manchester.
Co-founded in 2017 by experienced agents Sam Fitz-Hugh and Chris Parsonage, Settio has offices in Manchester and Singapore dedicated to providing a 'seamless, high end experience' for clients including landlords, developers, buyers and tenants.
While the appointment on MeadowSide by FEC represents Settio's first appointment as recommended partner on such a major residential scheme, the firm already manages a growing portfolio of residential property for developers and landlords in schemes throughout Manchester, with a confirmed pipeline set to reach 400 apartments under management in 2021.
Other schemes in central Manchester where Settio provides its lettings and management services include Deansgate Square, Axis Tower, Lightbox Media City, Local Blackfriars and Local Crescent, with a strengthening pipeline of properties at Crown Street and Castle Wharf.
Sam said: "Our appointment by FEC represents a landmark achievement for Settio as we make our mark in Manchester with our unique, all-inclusive approach to the provision of five-star property management services on behalf of an increasing number of valued clients."
Sam and Chris relocated from London, where they worked with internationally-renowned developers on large scale sites in prime locations, to meet the growing expectations of clients in Greater Manchester and the Far East.
Unlike a traditional agent, the premium, service-driven residential lettings and management business, said it provides "total peace of mind" to clients, such as those with FEC, by offering an all inclusive package covering an all-encompassing range of services from off-plan investment support, through to future resale, all supported by some of the latest property technology.
Sam explained: "The traditional agency model hasn't changed in 30 years – apart from the introduction of e-mail – and by re-imagining the industry with a fresh approach and higher expectations, we have been able to build our business and fee structure to align our motivations with that of a landlord.
"Our all-inclusive approach gives clients peace of mind in the knowledge that we're financially motivated to secure the best tenants in the market and retain them with high-quality service and management for as long as possible, while a traditional model generates income for an agency, and cost to a landlord, each time a tenancy changes over."
Andrew Bradley-Nixon, the Manchester-based sales and marketing director of FEC, said: "The emphasis that Sam and Chris place on their relationship with developers, their provision of an all-inclusive service and keen focus on securing and keeping the best residents, were all key factors in our decision to appoint them on our flagship scheme at MeadowSide and we look forward to working with them to strengthen our already healthy pipeline of sales."