Developer launches search for partner on huge housing programme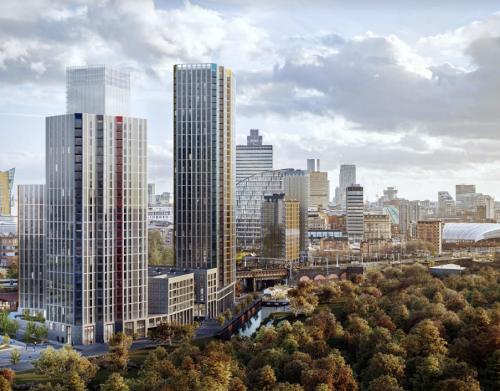 Far East Consortium (FEC) is seeking a registered provider housing partner(s) for its ambitious Manchester Northern Gateway ambitions.
It wants a partner to help deliver its affordable home ambitions across Red Bank, one of the first phases, which could see more than 800 new affordable homes delivered in the next 10 years.
The Northern Gateway, a joint venture partnership between FEC and Manchester City Council (MCC), will deliver up to 15,000 new homes across North Manchester over the next 15-20 years, 20% of which are outlined as affordable.
The project is divided into a series of neighbourhoods, with Red Bank being one of the first to be progressed for development and investment by the partnership.
Red Bank will be a high-density, residential-led neighbourhood next to Victoria train station, which will see the delivery of approximately 5,500 homes over the next 10 years alongside £51.6m of Housing Infrastructure Fund (HIF) investment secured by MCC.
Around 4,000 of the new homes will be delivered by FEC on land within their ownership, with an aspiration to deliver more than 800 affordable homes.
Avison Young, on behalf of FEC, has launched a marketing exercise to identify a registered provider housing partner(s) to help support the delivery of the affordable homes.
As part of the process there is an urgent need for FEC to secure a partner for its initial development at Victoria Riverside, a key site located at the gateway to the Red Bank neighbourhood.
The Victoria Riverside development proposes 634 homes comprising 589 apartments split over three residential towers, 10 townhouses and 35 maisonettes and apartments at lower levels.
It is anticipated that 32 homes within the Victoria Riverside development will be affordable in the form of shared ownership.
Running concurrently with expressions of interest for the Victoria Riverside development, Avison Young is leading a soft market testing exercise on behalf of FEC to inform strategy for delivery of affordable homes across the Red Bank neighbourhood.
Hilary Brett, project director at FEC, said: "The creation of vibrant, diverse and inclusive neighbourhoods with a mixture of home types and tenures is essential in building sustainable communities and is hugely important to our vision for Red Bank.
"We need to develop our affordable homes delivery strategy on a larger, neighbourhood level, rather than building by building.
"Given the scale of the opportunity, we are looking for a partner, or panel of partners, to help shape our proposals and assist in the delivery of affordable homes in Red Bank.
"We are extremely excited to be launching our search to find a partner to join us, and MCC, in regenerating this part of the city."
Nicola Rigby, director at Avison Young, said: "We are delighted to be in a position to dispose of the first phase of affordable homes to an experienced registered provider partner to help deliver this important city centre scheme.
"The wider potential to establish a partnership across the whole of Red Bank comprises one of the biggest urban affordable housing opportunities outside of London, and we look forward to helping shape FEC's approach to delivery in this context."
Cllr Suzanne Richards, Manchester City Council's executive member for housing and regeneration, said: "First and foremost the Northern Gateway is for Manchester people.
"The project represents one of the biggest housing development programmes in the UK and it's important that the homes are accessible to those who need them, across a range of house types and tenures.
"Affordability, therefore, must be a key tenet of the housing investment and bringing in a professional registered provider to support the delivery of affordable homes in Red Bank underpins that ambition."
The deadline for expressions of interest and soft market testing responses is Friday, October 2, 2020.