People on the Move: Russell WBHO; Open Money; Cirrus; Exchange Chambers; I-AM Celebrating Autism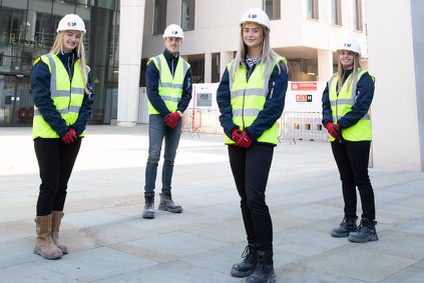 X

Register for free to receive latest news stories direct to your inbox
Register
Four new professional apprentices have joined the Russell WBHO Building Student Training Programme.
Megan Boyden, 18, from Walkden, Kieran O'Connell, 20, from Stockport, Isabella May, 18, from Liverpool, and Lydia Ashley, 18, from Glossop, have all secured fully-funded construction degrees at the University of Salford as part of their employment at Russell WBHO.
The successful quartet were selected from around 125 applicants for the five-year programme, which sees candidates attend university one day per week and work on live projects the remaining four.
After two years' experiencing different aspects of construction, such as project management, engineering, quantity surveying, and estimating, they will choose a specialism and, following their successful completion of the course, go on to secure a full-time position.
Director John Millward oversees the building student training programme, and said: "We had an extremely high number of applications this year, yet these four candidates really stood out.
"We look for evidence of hard work, commitment and passion for the industry, people who we feel will make the most of this opportunity, and we are confident this group of trainees will do just that.
"The training programme is the most important part of how we, as a company, are investing in the next generation of construction professionals, ensuring they have the right knowledge, experience and character to go on to working on multimillion-pound projects.
"The success of the programme over the last decade has seen numerous trainees graduate to working full-time for the company, with many rising through the ranks to senior levels and the vast majority staying with us for a large portion of their career. We are delighted to welcome our new starters and look forward to seeing them progress over the next five years."
He added: "Many businesses have suspended their student programmes this year, due to the pandemic, however, the board agreed this would be short-sighted and opted to continue with the 2020 recruitment process. The building students bring a new energy to our business every year, and we're thrilled to welcome Megan, Kieran, Isabella and Lydia."
The professional apprenticeship programme is run in partnership with the University of Salford. Earlier this year Russell WBHO was named Best Large Employer at the university's annual Apprenticeship Awards, and trainees working on the team's NOMA projects hosted a visit from Shadow Education Secretary Kate Green during National Apprenticeship Week.
Employees across the business, including trainees already on the programme, are heavily involved in promoting construction careers by taking part in events at schools and colleges across the area. Abbie Norton joined Russells in 2017 after taking her A-Levels at Sixth Form college and has become something of an ambassador for young people in construction.
She said: "Being on the building student programme is an incredible opportunity and I'm loving every minute. I'm so grateful for the chance to get my qualification while also learning on the job from experienced professionals, and working on major projects such as the NOMA regeneration and the new Clayton Hotel in Portland Street, both in central Manchester.
"Most of what I knew came from my dad, who is in the industry, but a lot of people have a lot of misconceptions which I'm keen to help them overcome."
Applications for to 2021 intake are now open.
::
Financial advice platform Open Money has made two new senior hires in brand new positions within the business, as it looks to bolster its growing team and finance expertise.
Founded to plug what it calls 'the advice gap', Manchester-based Open Money is a service created to help the millions of people who would benefit from financial advice, but either can't afford it, or are unable to access it.
Open Money's new chief finance officer is Michael Davis, who joins the business with a wealth of experience in a wide variety of finance and non-finance-related roles, predominantly within the regulated financial services industry.
An experienced board member who is passionate about building and leading high performing teams to deliver against complex and far-reaching business requirements, Davis's areas of expertise include managing large, complex budgets, understanding and leveraging commercial performance, and developing and implementing business transformation programmes.
He has previously worked in a number of roles for organisations including HSBC, Towergate Insurance and Co-Op General Insurance. Most recently he was chief financial officer at ME Group Holdings, a FinTech start-up, where he was responsible for all aspects of financial strategy and HR, reporting directly into the group CEO and group chairman.
Working closely with Open Money CEO and founder, Anthony Morrow, and the rest of the senior management team, Davis will be tasked primarily with ensuring Open Money has the right financial strategy in place to reach its expansion targets.
Joining him on the senior management team as chief operating officer is James Higgins, who also arrives with years of experience in driving major organisational change programmes within businesses.
A focused senior leader and market strategist with a proven record of success in delivering innovative financial technology solutions, Higgins is renowned for his ability to infuse teams with cutting-edge strategy, thought leadership, and operational excellence.
His areas of direct expertise include financial regulation, new product development and the foreign exchange market. Throughout his career, he has held a number of positions at organisations including Morgan Stanley, BNY Mellon and Access Systems UK.
Most recently Higgins was international and complex payments lead at NatWest, where he was responsible for all technology applications and processes.
At Open Money, Higgins will be responsible for software and tech engineering, product development and delivery. He will be tasked with looking at the overall operational business model at various levels, working out the best way to draw upon existing resources, and highlight focus areas of investment in this new period of growth.
His arrival will also enable Morrow to get out into the field and be the face of Open Money, while day-to-day team operations are effectively managed.
Anthony Morrow said: "We've been on an exciting journey over the past couple of years, and these new appointments are testament to our ambitions moving forward as a business.
"Both Michael and James bring an extensive wealth of relevant knowledge and expertise in the sector, and they also understand Open Money's vision and what we are trying to achieve. This will help us massively as we continue to grow further and plug the advice gap, making financial advice accessible for all."
::
Cirrus, the Wilmslow-based leadership, talent and engagement consultancy, has made a total of 12 new hires across the UK and APAC regions to support recent business growth and expand its innovative virtual learning offering.
Seven will be based in the North West.
With face-to-face learning immediately impacted by the global pandemic, the organisation was well placed to pivot to 100% virtual delivery as many of its global programmes are already delivered entirely through virtual workshops supported by remote coaching, digital communications, and the unique Strata learning app.
To lead global learning programmes with blue-chip clients, Cirrus welcomes Liaquat Lal as a lead consultant in the UK, and Mark Priede as a lead consultant based in Melbourne, Australia.
Senior learning designers Sam Yates and Alix Dees join the wider consulting team as Cirrus develops increasingly innovative and interactive virtual learning experiences.
To ensure consistently high-quality programme delivery, Sarah Malone joins as a project manager, with Hayley Murphy and Emily McKnight in delivery support roles.
In the creative and digital teams, Natalie Byrne joins as lead creative designer and Rory Pickering joins as a developer for the Cirrus Strata app, which helps users to build positive learning habits.
In business growth and marketing, Joe Toward joins the UK team as a business development executive alongside digital marketing intern Sohaa Muhammed. Jamie Lea also joins the team as a bid coordinator in Australia.
Dr Simon Hayward, founder and CEO of Cirrus, said: "In unprecedented times, our colleagues have responded with agility to the challenges of remote working.
"We have adapted and innovated in partnership with our clients to ensure that every leadership, talent and engagement programme we've delivered in recent months has been 100% virtual. To have grown the business during this time has been a considerable achievement, and we owe it all to the hard work, ingenuity and commitment of our fantastic team."
Liaquat Lal said: "What attracted me to Cirrus was the organisation's forward thinking approach to leadership development. In an industry that creates a lot of noise, we have something unique to say and the courage to say it.
"I've really enjoyed the energy and commitment of the entire team and the combination of producing high-quality work for clients and the internal support for each other has been refreshing."
With its new team members on board, Cirrus is geared for further growth as it continues to support blue-chip organisations to implement effective leadership, talent and engagement solutions.
::
Three barristers from Exchange Chambers in Manchester have been appointed by the Queen as Recorders.
Recorders are barristers appointed to sit as part-time judges.
Michael Maher, Imran Shafi and Jon Close are based at Exchange Chambers' Deansgate office.
Michael Maher, called to the Bar in 1995, is an experienced criminal advocate who has represented clients in the House of Lords through to the Magistrates Courts. He will sit as a Recorder on the Northern Circuit.
Imran Shafi, called to the Bar in 1996, is a heavyweight criminal defence specialist, who is instructed in the most serious criminal matters. He will sit as a Recorder on the Northern Circuit.
Jon Close, called to the Bar in 1997, is a specialist criminal advocate who is regularly instructed by the prosecution and defence in serious cases and regularly appears in large drug conspiracies and complex frauds. He will sit as a Recorder on the Northern Circuit.
::
Charity, I-AM Celebrating Autism in Greater Manchester, has appointed Helen Boden as its new chief executive.
Helen has more than 25 years in the special educational needs and disabilities sector.
During this time, she has worked across all areas of society with both children and adults who are neurodiverse. Most recently Helen was CEO of the British Dyslexia Association.
I-AM Celebrating Autism in Greater Manchester is the new name for The Autistic Society Greater Manchester Area (ASGMA), the go-to organisation across the region for services for autistic people, along with their families, carers and friends.
Helen said: "I am absolutely delighted to be joining I-AM, an organisation with over 50 years of experience supporting autistic individuals and their families. Although these are very challenging times, the staff and trustees are dedicated to the continued provision of an invaluable service for those involved with the autistic community in the Greater Manchester area.
"I am looking forward to working with the team to support it in its mission to be the main developer and provider of support services for people with autism in the region, and to be known as an exemplar and first point of contact in this area."
Claire Randerson, vice-chair of the charity, said: "The trustees are excited that Helen will be joining the team at I-AM and supporting us in our vital work. Helen brings a wealth of experience that will help us address the needs of our members and their families, particularly at a time when many are feeling isolated and vulnerable."