People on the Move: Redrow; Solomons Europe; Vivify; Claritas Tax; Fisher German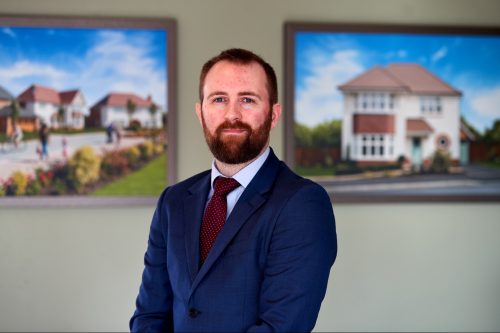 Finance director Elgan Jone has rejoined housebuilder Redrow, the company he previously spent seven years with, and he's back in his native North West.
Taking charge of financial management for two of Redrow's largest housing divisions – Redrow (NW) in Daresbury, Cheshire, and Redrow (Lancashire) at Buckshaw Village, near Chorley – Elgan says it's good to be back.
Originally from North East Wales, he first joined Redrow at its St David's Park headquarters, in Ewloe, Flintshire, in 2012, as a finance executive.
Career progression saw him take on several roles, including time spent in the London division and eventually becoming finance director for Redrow Homes (Southern Counties) and Redrow Homes (South West).
Elgan, 33, said: "It was purely personal circumstances that led me to leave. My family home was still in Chester and I was doing a weekly commute. Then, with our first child on the way I came to a decision to relocate back to the North West and took a similar role with another housebuilder. However, when the opportunity to rejoin Redrow arose a year later it was too good to turn down."
Prior to his first stint with Redrow, Elgan spent time in the NHS as a management accountant and as an internal auditor with a professional services firm after graduating from Cardiff University with a BSc in accounting.
::
Quantity surveying firm Solomons Europe has strengthened its senior team as it forges ahead with its ambitious growth plans for the North.
Former business journalist and communications professional, Luke Dicicco, joins Solomons Europe as head of enterprise and engagement.
Along with raising the profile of the practice across the North, and its involvement in helping to deliver several nationally significant developments, Luke will also work closely with directors to drive forward several economic and social impact initiatives.
These include building cohorts of like-minded SMEs across the North with the aim of securing framework contracts with big tier companies delivering large-scale projects, particularly in the process and energy industries.
Solomons Europe's managing director, Dominic Doig, said: "I'm delighted to welcome Luke to our senior team to help drive forward our ambitious growth plans for the North.
"Despite the current economic volatility across the UK, we are making good progress on our growth plans for the next 12 months.
"There is so much going on across the Northern Powerhouse. Our specialist skills and knowledge in the process, engineering and energy industries, mean we're ideally placed to support the delivery of projects that will help push the North's levelling up agenda."
Luke said: "I'm really excited to be joining a company that shares my passion for ensuring SMEs have the opportunity to play a central role in delivering the North's economic and social renaissance.
"Social impact is core to our ethos – if we do well, then we should rightfully share our success within the communities we are based. Whether lending a helping hand to new start-ups, encouraging young entrepreneurship, or working closely with others to push the SME agenda with big players and politicians alike, we believe small companies truly hold the key to sustainable growth."
::
Manchester-based start-up Vivify Venues has appointed former Total Fitness chief executive Richard Millman as non-executive chairman.
The bookings business, which matches community clubs and organisations with under-used venues across the country, welcomes Millman on board to support the leadership team and help drive business growth.
As well as Millman's former role at Total Fitness, he has also held positions at Dixons Retail and The Coca Cola Company.
He has extensive experience in working with private equity-backed businesses and is also currently non-executive chairman of The Protein Works, one of the UK's leading and fastest growing manufacturers and online retailers of sports nutrition.
Vivify's managing director, Russell Teale, said: "We are all delighted to welcome Richard to the Vivify team.
"Richard will bring a wealth of experience having worked for some of the biggest brands as well as being an inspirational leader to us all.
"Having worked with Richard previously, I am excited to work together to achieve our goal to help tackle physical and social inactivity across the UK, particularly in these testing times for the nation."
Richard Millman said: "Vivify has a real opportunity to step-change facilities provision across the UK, making underutilised assets more available at the heart of the communities which need them, alongside generating much needed additional income.
"Enabling facilities to be fully utilised is a key building block in getting people more active, bringing people together and further building a sense of community. Seeing a facility with its lights off and doors locked means that it is not playing its full role in the community and also not maximising income for its owner."
Vivify, which launched its platform earlier this month, also achieved £180,000 investment from digital transformation agency Parallax in September. The business already employs nine people and is on a significant recruitment drive for the remainder of the year.
::
Claritas Tax's Manchester office has announced the appointment of its latest recruit, Mark Cuppello, to the role of tax assistant in the rapidly expanding R&D Tax Relief team.
Specialising in R&D, Mark will strengthen the R&D proposition across the firm's Manchester and Birmingham offices.
Matt Hodgson, partner, Claritas Tax Manchester, said: "I'm pleased to welcome Mark to the Claritas team. He brings with him a reputation of getting the job done to the highest standards. I'm looking forward to him hitting the ground running."
Mark Cuppello said: "I'm looking forward to joining Claritas and exploring the opportunities this role will bring for me to expand my knowledge and experience. Claritas has an enviable reputation for the quality of the services they offer their booming client list, which I am keen to be a part of."
::
A property consultancy has made a senior appointment to head up its agency team in Knutsford.
Fisher German has welcomed Daniel Hayhurst as head of agency at its Knutsford office, as the property market in the area continues to grow.
Daniel has more than 17 years of experience in the sector, marketing premium properties throughout the whole of Cheshire as well as North Wales and Anglesey across an area spanning 120 square miles.
He is now looking forward to working with Fisher German's Chester office to further strengthen the firm's presence across the North West region.
Daniel, who lives locally in Davenham, said: "I am very pleased to begin my new role leading the agency team at Fisher German's Knutsford office.
"I previously worked at a national agent in Chester specialising in high-end housing which I joined straight from school, so I have an extensive knowledge of the area and its property market.
"Fisher German is a well-respected property consultancy with a strong reputation for dealing with properties of a certain stature.
"It also has multi-disciplinary teams, making its expertise wide and expansive, and offers a lot of opportunities for growth, so this is an excellent opportunity as I continue to progress in my career."
He added: "I look forward to supporting the firm as it continues to grow in Cheshire and the wider North West region."
Michael Harris, partner and head of Cheshire agency at Fisher German, said: "We are extremely pleased to welcome Daniel to our Knutsford office. With a long-standing career in estate agency and a vast knowledge of the area, he is the perfect candidate to head up the agency sector in our Knutsford office."