People on the Move: St John's Buildings; Bring Digital; Irwin Mitchell; Voicescape; New Care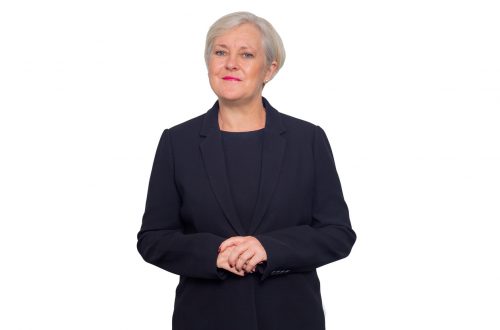 St John's Buildings has welcomed criminal barrister Suzanne Payne to its Liverpool Chambers, adding further expertise to its established criminal law team.
Previously a member of a Cardiff chambers, Suzanne regularly appears for the prosecution and defence in the Magistrates' and Crown Courts in various criminal matters including domestic violence, sexual offences, possession with intent to supply and hearings under the Proceeds of Crime Act.
Called to the Bar in 2014, following 28 years with the police in Merseyside and South Wales, she brings with her an in-depth knowledge of police investigations and procedures following her various roles in uniform, CID, crime management and covert policing.
Suzanne also has previous experience in the National Crime Squad, now National Crime Agency, instructing in surveillance techniques, disclosure and other covert policing tactics.
She will be a part of St John's Buildings' criminal law team which regularly appears in some of the most serious and complex cases on behalf of various prosecuting authorities, as well as undertaking high-profile and complex defence work. She will join more than 100 junior counsel and three Queen's Counsel, operating nationally out of Liverpool, Manchester, Sheffield and Chester.
Chris Ronan, St John's Buildings chief executive, said: "With close to 30 years' experience in police forces across the UK, Suzanne will add further expertise to our criminal team. Her passion for the law is exemplified by her extensive career in the police, and her move to the Bar. We look forward to welcoming her to chambers where she will strength our already reputable criminal law team."
Suzanne said: "St John's Buildings has an established reputation as a leading chambers, with its criminal team widely recognised as one of the best. I'm very proud to be joining SJB and, in particular, to be able to work alongside such an accomplished team."
::
Multi-award-winning digital agency Bring Digital has announced the addition of Sarah Rostron to its board, joining the business as digital strategy director.
Sarah joins following four years as digital director at MediaCom, where she managed cross-channel media planning and strategy for some prolific fashion, finance and travel clients.
Prior to her role at MediaCom, Sarah held the role of head of digital at Zuto, and has previously led brand activity for Berocca, Rennie and Alka Seltzer.
Now, she joins the board at a pivotal time in the growth journey. The company was recently named 'UK eCommerce Agency of the Year' at the UK eCommerce Awards 2020, and has enjoyed major client wins this year including Cotton Traders, Slater Menswear and American Golf.
On joining the agency, Sarah says: "I've been a fan of the work Bring Digital has been doing for some time, and I've been watching their journey with interest. On meeting the leadership team their passion for eCommerce, digital marketing and innovation was clear, and I'm excited to play a role in the next chapter of growth."
Founder, David Ingram, said: "We're delighted to have someone of Sarah's experience and talent joining the board.
"Her achievements within this space speak for themselves, and attracting someone of her calibre is a testament to the incredible growth journey we've seen over the last year."
::
National law firm Irwin Mitchell has made a further boost to its national construction practice with two senior appointments.
Edward Davies has joined as a partner based in the firm's Manchester office and Hannah Mycock-Overell joins as a senior associate in London.
The appointments will take effect this month and come hot on the heels of the recruitment of construction specialist Richard Allan who joined Irwin Mitchell as a senior consultant, partner level from Knights in September.
Edward Davies specialises in major construction, engineering and utilities projects and has more than 30 years of experience in this field.
He is rated by the Chambers legal directory for 2020 in the top category of leading construction & engineering lawyers in his region
Edward joins from Hill Dickinson where he worked since joining in 2009. Prior to that he was a partner at Masons – latterly Pinsent Masons – where he worked for more than 20 years.
At Hill Dickinson he had a wide remit, including a long-term secondment, for nearly five years, to the team managing the Panama Canal Expansion megaproject on behalf of the Panama Canal Authority.
He is a Fellow of the Royal Institution of Chartered Surveyors – appointed via the 'eminent practitioner' route – and an adjunct teaching fellow at the Manchester Business School. He will be based in Irwin Mitchell's Manchester office, but will have a national remit.
These two appointments take Irwin Mitchell's construction team to 13 with three partners currently.
The team is led by Mark Clinton and sits within Irwin Mitchell's national real estate practice which is headed by Adrian Barlow.
Irwin Mitchell's commercial and residential property departments will now consist of 26 partners and a team of more than 80 qualified staff from seven offices across the UK.
Adrian Barlow said: "We are delighted that Edward and Hannah are joining our construction team, which has already received a boost with the appointment of Richard Allan in September.
"They will both help with our clients' construction legal needs across England and beyond. Edward's immense experience and contacts will be invaluable as we build our practice further particularly in the North, whilst Hannah will push forward our team in the South bringing in her excellent construction technology skills."
::
Manchester-based Voicescape has bolstered its senior management team with the appointment of two industry experts, following a period of sustained growth for the organisation.
The business, which provides customer communication technology coupled with behavioural insights for UK social landlords, has appointed Gary Haynes as chief operating officer (COO) and Bill Williams as chief revenue officer (CRO).
Gary has 30 years' experience in professional supply side IT & consulting, with a strong track record operating at C-level in software businesses in the North West. He will be responsible for strengthening internal operations, which includes technical delivery, product engineering and customer success, as well as being part of the executive team driving business strategy and growth.
Bill has 25 years' experience leading teams in software sales, go-to-market strategies and driving long-term customer relationships.
He joins from Purple WiFi, where he was VP of global sales for more than seven years. As part of the executive team, Bill will be responsible for overseeing the sales and marketing strategy, driving revenue growth and bringing new solutions to market.
Chief executive, John Doyle, said: "Both Gary and Bill join at an exciting time for the business.
"The digital transformation of the social housing sector is gathering pace, especially as the pandemic compels providers to focus on more tailored means of tenant engagement and sustainability.
"Voicescape has seen growth among existing customers, who have added to their product suite. We've also had interest from other providers, who can see the tangible benefits of being able to reach more customers at a faster pace using our leading digital solutions.
"Bringing in two senior people of Gary and Bill's pedigree will, undoubtedly, strengthen our proposition, helping us to capitalise on the realisation within the sector that the needs and circumstances of individual customers are very different and subject to constant change."
Founded in 1998, Voicescape has been developing technology solutions for more than 20 years. The organisation helps social landlords build sustainable tenancies through more effective customer engagement and behavioural insight.
Gary said: "The opportunity to join a thriving, exciting business with great technology and great people, whilst combining my experience and approach to a new sector, meant the challenge was simply too good to miss."
Bill added: "I'm thrilled to be joining such a dynamic business at a time when the housing sector is really looking for new and innovative ways to digitally engage with their tenants while driving operational efficiencies within their teams.
"The COVID-19 pandemic has really sharpened the focus in many sectors. For Voicescape, it has made our ability to improve engagement between our customers and their tenants even more compelling."
::
Fast-growing care home operator, New Care, has appointed Anne Hughes, from Chester, as registered manager at its popular Grosvenor Manor Care Centre on Hatchmere Drive just outside the city centre.
In her new role, Anne takes responsibility for the state-of-the-art 81-bed care facility, its residents and 100-strong employee team.
She will work consistently to ensure the home provides the very best quality of care and that every resident receives person-centred individual care in a safe and dignified manner.
She is also tasked with ensuring the home complies with Care Quality Commission (CQC) regulations and will oversee ongoing training and development to ensure the team at Grosvenor Manor meets New Care's exacting standards and the needs of the wonderful community of residents who call the care centre their home.
Well qualified for her new role, Anne was previously home manager at a smaller care home in the North West. She is also a registered nurse with many years' experience, qualifying as an enrolled nurse in Scotland before completing her conversion course to registered nurse in Chester in 1992.
Anne, 59, said: "I am so pleased to be appointed home manager at Grosvenor Manor and look forward to working with a great team of people who love what they do, which is delivering exceptional care and an outstanding quality of daily life for our residents. Grosvenor Manor is very firmly established as one of the best homes in Chester and we will build on this further to ensure a safe and happy environment for residents and peace of mind for families and loved ones during these difficult times."
Commissioning director at New Care, Dawn Collett, said: "Anne was the obvious choice for this role – she has all the right qualities to lead our team and deliver the warm and personal care for which we are renowned. I am delighted to welcome her to the team."