People on the Move: Yourgene Health; Workspace Design & Build; Orka; AHR; Bexley Beaumont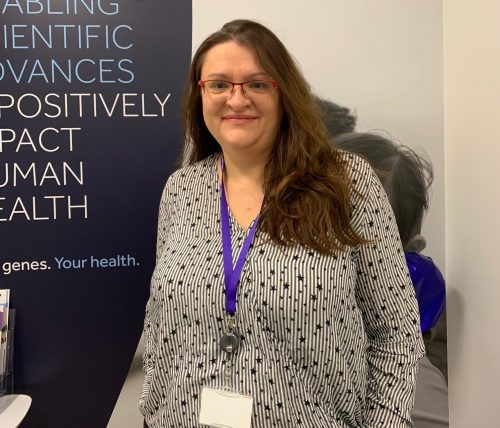 Yourgene Health, the Manchester-based international molecular diagnostics group, has announced the appointment of Dr Joanne Mason as chief scientific officer as a director of the company.
Dr Mason has been director of research & development (non-board position) at Yourgene since joining the company in December 2019, leading the development of next generation molecular diagnostics, particularly in the area of reproductive health.
She has been a champion of modernising diagnostics with the use of genomic technologies, having previously held positions as vice president biodiscovery with Cambridge Epigenetix, where she led the development of clinical epigenomic technologies and director of sequencing and sample acquisition for Genomics England, where she managed the delivery of samples and whole genome sequencing for the 100,000 Genomes Project.
She has previously acted as an advisor on the Department of Health (DOH) Rare Disease Policy Board and Forum the Medicines and Healthcare products Regulatory Agency (MHRA) Genomics for Diagnosis Forum and the UK National External Quality Assessment (NEQAS) – Genomics England Steering Committee, Genomics England Sequencing Advisory Board and Bioindustry Association (BIA) Genomics Advisory Committee.
Dr Mason also worked for Oxford University Hospitals NHS Foundation Trust where she set up and managed a NGS Core facility leading translational research, offering disease-specific diagnostic panels and introducing whole genome sequencing into the diagnostic setting.
Prior to this role, Dr Mason managed an NGS Core facility in Malaysia and led the Comparative Genomics group at Public Health England studying novel and dangerous pathogens. Dr Mason holds a PhD from Cambridge in Molecular and Cellular Biology.
Dr Bill Chang continues on the board as a director, in a new role as chief entrepreneur focusing on new scientific collaborations and business ventures for the group, and remains a significant shareholder.
Chief executive, Lyn Rees, said: "I am delighted to welcome Dr Mason to the board of Yourgene Health.
"Having worked together for the past year, we have witnessed the tremendous job she has done enabling the launch and commercialisation of key products such as the IONA Nx NIPT Workflow and the Clarigene SARS-CoV-2 test. Adding Dr Mason's extensive experience within molecular diagnostics to the board will help us deliver our new product development roadmap and further commercial successes."
::
Fit-out contractor Workspace Design & Build has hired design manager Nikhil Patel to join the Manchester operation following several large-scale project wins throughout the North West.
With 12 years' experience, Nik will expand the design department at Workspace, with elements of his role including to assist the estimating team during the tender process and having an involvement in live projects working closely with the architects and designers.
He will also assist other interior designers at Workspace with technical aspects of their projects, to ensure these are compliant with regulations and have a good level of buildability.
Nik, who has a wealth of experience in the industry, said: "I'm excited to join the Workspace team and can't wait to get started on the projects Workspace have got lined up. The company has shown incredible resilience over the past few months and I'm really looking forward to being a part of this well-established business."
Managing director, Russell Davis, said: "We're so proud and grateful to be in a position where we can expand our design team. Bringing Nik on board will allow us to drive the business forward through our design department and enhance our offering to all our clients."
Workspace Design & Build works with clients such as Bruntwood, Sixteen Real Estate, CERT Property and Loughborough University. Its projects are mainly within the commercial sector across the UK.
::
Orka, a Manchester-based technology platform for hourly workers, has hired Hayley Gee as its new head of product.
Hayley joins from MoneySuperMarket and will play a leading role in driving the growth of Orka's recently launched salary advance scheme product, Orka Pay.
The service was launched earlier this year to enable shift workers at partner organisations to withdraw up to 50% of their wages as soon as they have earned them, empowering people to take greater control of their finances and helping them to avoid high-interest loans.
Along with the focus on Orka Pay, Hayley will lead on the development of several new products already in the pipeline.
She will also be tasked with enhancing the overall user experience of Orka's flagship product, the work platform Broadstone.
The platform is used by some of the world's largest employers as well as around 50,000 shift workers in the security, cleaning and logistics sectors, helping them to find work and manage their shifts.
During her time at MoneySuperMarket, Hayley played a central role in creating innovation around financial wellbeing, using data and insights to better understand consumer spending patterns. With previous stints as senior product manager at the BBC and product owner at Booking.com, Hayley brings broad experience and in-depth knowledge of consumer finance products to the role.
Her appointment comes at a pivotal time for Orka, with the company targeting significant growth in the coming year as it looks to cater to the growing demand for temporary workers, a trend which has been accelerated in the wake of COVID-19.
Tom Pickersgill, founder and CEO of Orka, said: "Hayley is one of the leading product professionals in the industry. Her experience and creative vision will allow us to build on the high-quality service our customers and partners have come to expect.
"Recent events have only strengthened the need for truly flexible employment solutions and Hayley's appointment supports our growth strategy as we continue to expand the Orka product suite in the UK and beyond."
Hayley Gee said: "I'm very excited to be joining Tom and his team at such an important time in the company's journey and have been extremely impressed by the business and its vision so far.
"The products they are offering are completely unique and there is huge potential for growth, which I hope to drive forward in the coming months."
Alongside Hayley's appointment, Orka has made two further hires in its community team, which will help to improve customer experience and overall user journeys.
::
After 38 years with AHR, Martin Wright, managing director of AHR Architects, is announcing his retirement from the Manchester-based practice from June 30, 2021.
Martin joined the practice in 1982 and over his career led the Leeds office, the work in the food retail sector and was chairman for the practice's Central European board and as part of the development of this region, was responsible for the opening of the Warsaw office in 2005.
Since becoming managing director of the architecture practice in 2014, Martin has driven the company strategy which included the acquisition of residential specialist practice, PCKO in 2016.
He has decided that now is the time to hand over the stewardship of the architecture practice and Anthony Langan has been voted by the partners into the position of managing director, and picked up the mantle earlier this month.
Martin said: "I have been fortunate to work with some amazing people along the way, including clients, consultants, suppliers and colleagues.
"I have had a full career at AHR, with many great moments. I am very proud of our people and our work and take with me many fantastic memories and friends. I leave the business in the hands of Anthony Langan, who I wish all the very best."
Anthony joined the practice in 1990 and has been instrumental in developing AHR's extensive education portfolio. He said: "I'm looking forward to leading the architectural practice and building on Martin's hard work and I would like to personally thank Martin for all he has given and everything he has achieved at AHR.
"We are amid a pandemic which is accelerating change throughout architecture and construction.
"Firstly, I would like to thank all the staff for their exceptional work during this time, the experience has affirmed our confidence in AHR's teams, processes and technology.
"I am exceptionally proud of the practice and enthusiastic about our future. I do anticipate another challenging 12 months ahead, but also believe we will progress and continue our evolution to ensure we are able to seize upon the opportunities and exceed our clients' and our own expectations."
::
Innovative boutique law firm Bexley Beaumont, which launched in January 2020 and has its head office in Manchester city centre, has welcomed three new partners to the team, taking the total to 18 partners.
They have been joined by senior experienced partners Helen Woodford, Louise Carr and Darren Smith.
Bexley's unique model focuses on attracting the very best talent and creating and nurturing a team culture where quality, excellence and client service is of paramount importance.
Helen Woodford joins the team as a pensions partner. Helen has specialised in pensions law for more than 19 years.
Prior to joining, Helen was a senior member of Womble Bond Dickinson's pensions team. She has a broad variety of experience in advising pension plan trustees and employers on all aspects of pensions law.
Helen has longstanding relationships with global corporations with large ongoing defined benefit pension plans, to smaller entities with open or closed defined benefit arrangements, defined contribution occupational or personal pension plans and SSAS and SIPP arrangements.
Louise Carr joins the team as an employment partner. Louise has specialised in employment law for the past 20 years, predominantly acting for employers, with a varied client base from PLCs to SMEs and she has a particular specialism in the public and education sectors.
She advises across all areas of employment law, frequently appearing as an advocate in employment tribunals, with significant experience of managing complex multi-day discrimination cases.
Darren Smith also joins the team as a corporate and commercial disputes partner from Knights. Darren has spent most of his career as a partner in international legal firms acting for global, national and SME businesses supporting corporate clients facing claims.
He advises on investigations and prosecutions brought by regulatory bodies. In addition, Darren advises on policy holder insurance cover disputes and the defence of product liability claims.
Co-Founders Karen Bexley and Anna Beaumont said: "After a Summer of growth we are thrilled to welcome Darren, Louise and Helen to the Bexley Beaumont team.
"Their experience will enable us to expand our service offering and will be invaluable in supporting our clients as we are seeing an increased demand for commercial advice and senior experienced support.
"It is a testament to our ever-strengthening profile that we continue to attract such leading talent."