People on the Move: Appreciate Group; CTS; First Internet; JBH; Freshfield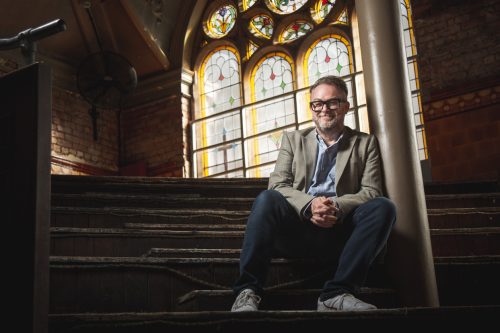 Appreciate Group, which includes the Park Christmas Savings, Love2shop and highstreetvouchers.com brands, has appointed highly-experienced marketing chief James Poole as the group's interim CMO.
James, who co-leads consultancy Project50 with Joanna Parnell, has provided retained strategic marketing support for Liverpool-based Appreciate Group over the past 18 months and will step into the new interim role from this week.
He joins the company's senior leadership team and will focus on helping to expedite Appreciate Group's bold future digital ambitions; developing a strategic new marketing and group proposition roadmap; and establishing new commercial partnerships.
"This is a crucial role at an exciting time for the business, so I'm delighted to be able to deepen Project50's strategic support for Appreciate Group by stepping into this interim CMO position," said James, who has 20 years' worth of international experience across financial services and travel and has led major digital transformation for a range of large consumer-facing brands.
"Appreciate Group is genuinely visionary in its market and really understands the shifting dynamics of its customers. Its digital journey has been incredible over the last two years, particularly so during COVID, and I'm grateful to have the chance to help them continue to drive this forward."
Chief executive, Ian O'Doherty, said: "As a business, we're continually evolving to meet the needs and challenges of the markets we serve, and James's experience as CMO – combined with his extensive knowledge of our business – will be key to helping us fast-track our marketing and product capabilities in this new, digital-first reality."
Project50 has been retained as strategy consultants to Appreciate Group for more than 18 months. In parallel with the interim CMO appointment, Project50's business strategy consulting engagement with Appreciate Group continues.
Appreciate Group is expected to make a full time CMO appointment in 2021.
::
Modernisation experts Cloud Technology Solutions (CTS) has hired Chris Bunch as chief operating officer and promoted Tom Ray to managing director.
Tom joined CTS in February this year as the business' first COO. His successor, Chris, joins from Cloudreach and will be working alongside Tom and CEO James Doggart to drive further growth at the business.
Chris worked at Cloudreach for nine years as part of the company's leadership team. His most recent role at the business saw him run the organisation's UK and European division. During his time at Cloudreach, Chris helped grow the business from a 10-person start-up to a 900-strong team.
At CTS, Chris will be responsible for scaling the business' Google Cloud Platform and Google Workspace offerings to UK and European markets, and helping CTS's clients spark modernisation with their IT infrastructure, enabling them to make smarter decisions with their data with technologies like machine learning (ML).
Since joining CTS, which has offices in Manchester, London, Edinburgh and Utrecht, Tom has been instrumental in helping the digital transformation specialist drive growth in key markets, including retail, financial services, public sector and manufacturing.
CTS is Google's largest dedicated European partner. It works with organisations including the Cabinet Office, The Financial Times and Village Hotels.
Chris said: "CTS has a great reputation in the market, having been a leader in the Google ecosystem since 2008, and being part of its further growth journey is an exciting prospect for me.
"Google has an incredibly competitive product offering that is empowering organisations to modernise with Kubernetes or to utilise data in unique and transformative ways. I look forward to working with CTS's impressive roster of clients to transform and modernise their ways of working using Google's solutions."
Tom said: "Almost immediately after I joined CTS, the UK went into lockdown and the drive towards digital for many businesses accelerated at a huge pace. The team at CTS rose to the challenge and it's been a great company to be a part of. Moving to a managing director role and leading the team towards the next phase of growth is a huge honour.
"CTS has demonstrated that it's a leader in cloud technology and modernisation. Now, the next step for us is to become a market leader in data analytics and the use of technologies like machine learning and artificial intelligence, to help enable truly data-driven organisations."
James Doggart said: "Chris's appointment has come at an exciting time for us. We're undertaking bigger and more exciting modernisation projects for new and existing clients and his experience will play an important role in how we take those projects forward.
"Meanwhile, Tom has been a huge asset to us since he started at CTS. His ambition and understanding of the collective vision that we and Google have means he's played an important role in helping us achieve our targets. Promoting him to managing director was an obvious decision."
::
First Internet has expanded its team with the appointment of business development specialist Andrew Redfern.
Andrew, 31, joins the Hale digital marketing agency following more than 12 years in B2B and B2C business development roles, as an in-house commercial lead and in consultative roles.
At First Internet his aim is to build on the success the award-winning outfit has enjoyed over the past few months – the 15-strong team has combined existing client growth and awards with new client wins across a number of sectors including tech, health and safety and chemical and beauty.
Andrew will be reporting to the board of directors including Julaine Speight, who said: "Our heritage is very much in the North West but over the last 10 months we have started working with clients much further afield and this is something we're keen to build on.
"Andrew has strong contacts across the UK as well as a proven track record in building existing businesses and start-ups, so he will play a very central role in our expansion."
Andrew said: "It's an exciting time for digital – public online behaviour continues to evolve and businesses need to embrace this, while adapting their everyday systems and marketing output to perform remotely. I'm really looking forward to engaging with First Internet's existing portfolio of clients and building new relationships that will build on the agency's hugely successful organic growth."
::
Following a flurry of new account wins, Manchester-based agency JBH has expanded its team by 10.
The new hires include three graduates that will add a fresh perspective, plus seven hires from agencies and brands across the region.
JBH's joiners are: Lauren Henley as digital PR manager from Every1 in Preston; Sophie Campbell as senior digital PR executive from Click Consult in Liverpool; Eva Cheng as digital PR executive, joining from AGY47 in Newcastle; Hannah Sheaf as digital PR executive joining from Mason Williams in Manchester; Laura Burns as digital PR executive joining from Nationwide Vehicle Contracts in Manchester; Tom O'Rourke as digital PR executive joining from Democracy PR in Manchester; Meg Granville as junior digital PR executive joining from Mason Williams in Manchester; and Robyn Munro and Chloe Maxwell as junior digital PR executives.
JBH said it will prepare the graduate level hires to be PR experts during a time where it is increasingly hard to enter the industry. This mixture of graduates and senior PR experts will help drive the agency's success, it said.
Many businesses were impacted by COVID and although challenging, the lockdown was a time where JBH said it thrived and was able to utilise its adaptability to continue to deliver high-quality campaigns.
JBH recently announced it had had its best six months ever and has taken on a raft of new clients, including D2C mattress brand OTTY and internationally-renowned genealogy brand MyHeritage.
Jane Hunt, co-founder of JBH – The Digital PR Agency, said: "The last few months have been crazy, we've won so many new accounts and now we are on a big recruitment drive to find the best PR talent in the North West."
JBH is also upscaling its office space in the Iconic Express Building in Ancoats to contain its ever-growing team.
::
North West PR and marketing communications firm, Freshfield, has recruited experienced marketing and senior management professional, David Adams as chief operating officer and head of brand.
David, who lives in Southport, previously held the position of head of brand consultancy at Fat Media in Lancaster, as well as playing a lead role on its senior management team.
Working across Freshfield's offices in Preston and Manchester, David will work alongside the firm's chief executive, Simon Turner, on its leadership and growth strategy, directing all business operations.
He will also oversee Freshfield's brand development service, advising clients on matters such as brand positioning, creation of values and brand strategy.
Simon Turner said: "We are thrilled to have secured someone of David's calibre and experience.
"Freshfield has a strong foundation with a great client portfolio and team. David will play a key role building on this and developing the Freshfield of the future, creating an environment for success for our clients and our people. He will also play a mentor and adviser role to the team, which is invaluable."
David has racked up 25 years' experience working in director and senior management roles both client-side and in a number of leading North West digital, marketing and PR agencies.
This includes founding the Manchester-based marketing consultancy, The Savvy Partnership, which operated from 2004 to 2013, as well as sitting on the board of Manchester Digital for six years.
During his career, David has worked with clients including the NHS, Regus, EDF Energy, Medical Schools Council, Age Concern, L'Enclume, Urban Splash and Sure Start.
He said: "Freshfield has an excellent reputation and it was quite clear early on in my discussions with Simon, just what the potential was at the firm.
"We very much have a shared vision for the business and I'll be looking to use every one of my 25-plus years of agency experience to build on these strong foundations and ensure our aspirations are realised while maintaining the values Freshfield has become known for.
"We believe our full-service capability, strong sector experience and commitment to service makes us the ideal partner to help businesses navigate the current challenges, while planning for the future."
Simon added: "While the pandemic has presented some short-term challenges, we are seeing green shoots of recovery, which has included a number of new project wins and growing enquiry levels. However, we are realistic enough to know there will be some economic twists and turns ahead.
"It's a changing landscape and we feel it's the perfect time to make such a significant appointment. David will help Freshfield evolve and grow through this next decade."
With offices in Winckley Square, Preston, and Spinningfields in Manchester, Freshfield is a full-service PR and marketing communications firm employing 17 people. Its capabilities include marketing advice, brand strategy, PR, content marketing, social media, video, design, digital development and search marketing.
Freshfield specialises in a number of sectors including business support and professional services, manufacturing and tech, property and regeneration and the public sector.