People on the Move: Clear Law Solicitors; Mobica; Britplas; Morecrofts Solicitors; MEPC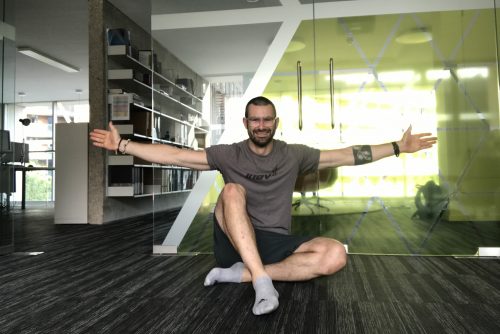 Clear Law solicitors has welcomed health and wellbeing expert, Tom Gallon, to the business to head up its new employee wellness programme.
With more than 15 years' experience under his belt, Tom is set to provide consistent mental and physical support to the ever-growing Clear Law team.
The new initiative extends Clear Law's already extensive employee benefits package and will allow staff members to seek advice from a permanent, in-house, coach.
Having the same constant support figure will enable stable progress for team members trying to achieve long term goals, as well as instant support for any day-to-day issues.
Further offerings from the programme include mobility, posture, and exercise classes which will take place multiple times and days per week. Nutrition and wellbeing advice will also be available, alongside access to a personal tracking app.
The in-house app provides workout videos, top tips, and educational blogs to keep staff on track with their plan. Documenting a food diary, progress photos, and habits are all additional options that can be used to monitor staff's personal journey.
Wellbeing in the workplace has always been of great value to Clear Law and now, more than ever, it is vital that staff are supported by their employers to ensure a happy and healthy team. Appointing Tom to lead the programme is the perfect move for the company and will bring a whole new level of support to the wider team, it said.
Tom's wide-ranged skillset covers everything from movement and nutrition coaching to counselling and mindfulness. He said: "We all 'know' that our health and wellbeing is important, but it's often the first thing to fall by the wayside after our working day is over.
"That's why, even though we 'know' health and wellbeing is important, 74% of UK adults have felt so stressed at some point over the last year they felt overwhelmed or unable to cope and 63% of UK adults are overweight or obese. The statistics are frightening and they go on."
He added: "As I see it, my clear objective is to try and positively impact the health and wellbeing of people, no matter how big or small that impact might be.
"There is no downside to improving your health and wellbeing, not for you and certainly not for your business. Changes do not have to be big, they don't have to be disruptive to your working day, they can be as big or small as you want or can manage and you can feel supported to make those changes through the steady and permanent presence of a health and wellbeing coach.
"You're going to spend about a third of your week at work, so why don't we make it as healthy as possible – there is no downside."
::
Wilmslow-based global software services company, Mobica, has appointed Gary Butters as its new chief commercial officer.
Gary will lead on Mobica's global sales and marketing strategy as the company gears up for a major period of growth during 2021.
With more than 30 years' experience in software services sales, he brings a wealth of industry knowledge – having previously held roles as chief revenue officer at KERNEL Business Transformation, chief sales officer at ThoughtWorks and VP of UK and Europe for Ciklum.
Gary will be responsible for building relationships with new and existing customers, as Mobica seeks to provide its chip to cloud software engineering expertise across several emerging areas of technology – such as IOT, edge computing and AI.
He will also be working with some of the world's leading organisations operating in sectors which include automotive, silicon and FinTech.
Based in Wilmslow, with offices across Europe and the US, Mobica employs more than 800 people and partners with the world's leading technology companies.
Gary said: "This is an exciting time to be joining Mobica as the company is solving challenges and opening up new opportunities for global market leaders.
"We're helping to build solutions across a variety fields, from connected devices for smart cities to intelligent mobility in autonomous vehicles. This is an opportunity to work with ambitious organisations who want to bring some of the most innovative and disruptive technologies available today to market. I'm very much looking forward to being part of this next phase of growth."
Chief executive, Simon Wilkinson, said: "I'm delighted to welcome Gary to the senior leadership team. We are in the middle of a connectivity and mobility revolution and Mobica is well positioned, with its breadth of tech expertise, to play a leading role in this.
"We're also helping to put the North West firmly on the map when it comes to leading in tech."
::
Commercial glazing contractor Britplas has appointed Ben Woodward to the new position of sales and estimating director.
Ben, who has been with the Warrington-based business since 2015 and previously led the pre-construction and estimating department, will be responsible for the overall sales strategy for the Britplas Group, heading up the sales and estimating teams and leading new business development.
Having doubled its turnover over the past five years to some £27m, Britplas carries out the design, manufacture and installation of glazed façades to large commercial developments throughout the UK and also supplies a specialist patented window to the mental health sector.
Current commercial projects include the £250m Kampus mixed-use development in Manchester city centre and the new Edinburgh St James Quarter for main contractor Laing O'Rourke.
The new role will oversee the sales functions of both the commercial and healthcare divisions of the business for the first time.
Britplas managing director, John Blackwell, said: "Ben has been an integral part of the senior team at Britplas for some years now.
"He has an in-depth understanding of our markets and shares our vision for future business growth. I congratulate him on this well-deserved promotion."
Ben said: "I am delighted to be stepping up to the position of sales and estimating director. Despite what has been a challenging year for most businesses, we have a firm strategy in place supported by an excellent team and I am looking forward to the next stage of our development."
::
Morecrofts Solicitors has recruited seven new members to its award-winning family law team.
The seven paralegals and trainee legal executives will be based across the firm's network of Merseyside offices as Morecrofts continues to strengthen its team in response to a growth in client instructions, despite COVID-19 restrictions.
The new recruits include Rebecca De Stefano, Abbie Gilfoyle and Roisin Egan, all based in Liverpool city centre, Hannah Beardmore, Kirsty Holland and Lauren Deeley Risk, working out of the firm's Wirral office, and Josh Bourke, supporting the family law team in Allerton.
All interview and induction processes have been undertaken via video calls and online assessments, allowing Morecrofts to recruit candidates from across the region and beyond and also structure the process more flexibly.
Morecrofts was named Family Law Team of the Year at the latest Liverpool Law Society Awards in 2019.
The new appointments also coincide with the awarding of three training contracts to Kathy McQuillan, Millie Gordon and Erin Spadafora, bringing the total number of trainees at Morecrofts to 11.
Meanwhile, trainee solicitor Alex Parkington has also recently qualified and will join the commercial and litigation department.
Alison Lobb, managing partner at Morecrofts Solicitors, said: "The pandemic has raised enormous personal and professional challenges for all of us and our focus as firm has been on ensuring the best possible service to our clients and protecting the wellbeing of our staff.
"Part of that commitment involves continuing to find innovative ways to attract and hire the brightest and best young talent to constantly drive our service levels forward and support the needs of our existing teams, who have all adapted so well and embraced the opportunities around virtual working.
"Virtual recruitment works well for everyone, as candidates don't need to travel and we can arrange interviews in a more flexible way to fit with people's diaries. The seven new recruits performed magnificently well to rise to that challenge and were able to give a great account of themselves."
She added: "While some of the usual social and physical interactions of office life are not currently available, we are doing all we can to help them settle in, with clever use of technology, and they are already an important part of the Morecrofts team."
::
MEPC has appointed a senior development manager to support the creation of a new business district within NOMA, a 20-acre mixed-use neighbourhood in central Manchester.
Dan Hyde joins MEPC from Kier Property, where he was also a senior development manager and helped deliver a number of landmark office projects, such as 3 Sovereign Square in Leeds and Eleven York Street in Manchester.
Prior to joining Kier Property, Hyde had held senior roles at GVA Bilfinger and Knight Frank, before which he was a professional rugby player.
MEPC is the development and asset manager for NOMA. The international business of Federated Hermes is the investment manager and manages the 20-acre neighbourhood on behalf of an institutional investor.
Paul Pavia, development director at MEPC, said: "We are delighted that Dan Hyde is joining the MEPC team to drive forward the NOMA project, just as we commence the next exciting phase of new-build development.
"Dan reinforces our local presence and brings with him a strong understanding of the Manchester office market, with a proven track record of delivering high-quality commercial real estate. He also understands placemaking and the need to deliver buildings and places that truly and positively respond to the climate change agenda."
Dan Hyde said: "MEPC and Federated Hermes put sustainable and responsible development at the core of what they do and 4 Angel Square will be one of the first operationally net zero carbon office buildings to come onto the market, so I am thrilled to be joining MEPC at what is a hugely exciting stage in the delivery of NOMA."
Chris Taylor, chief executive real estate at the international business of Federated Hermes, which owns MEPC, said: "Dan's appointment comes at an exciting moment for the MEPC team as it establishes itself as the leading regional placemaking developer in the UK during a phase of growth for the business."
Manchester City Council is currently reviewing an updated strategic framework for the latest phases of NOMA. In total, the NOMA new-build master-plan is 1.2 million sq ft.
The 20-acre neighbourhood is helping extend Manchester city centre northwards and will feed into the £1bn Northern Gateway regeneration project, where Far East Consortium is delivering more than 600 homes as part of the first phase.