Coronavirus business round-up: Latest news across the North West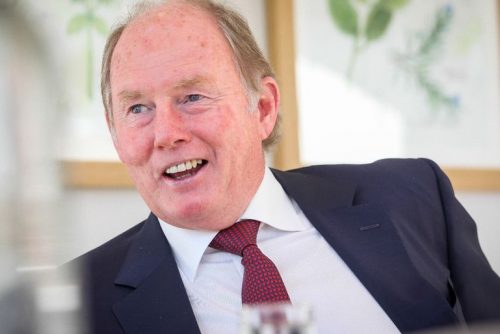 Steve Morgan, founder of housebuilder Redrow and lifelong Liverpool FC fan, has given rival club Everton's charitable organisation £750,000.
Everton in the Community has received a total of £1.5m in funding from the Steve Morgan Foundation and the Government's Community Match Challenge initiative to support the charity's essential work in helping the city's most vulnerable people during, and post, COVID-19.
Introduced in July 2020 by the Department for Digital, Culture, Media & Sport (DCMS), the Community Match Challenge invited philanthropists, foundations and grant making organisations to put forward new funding applications with a generous offer to match funds raised on a pound-for-pound basis from a £750m support package for charities with the overall aim of supporting those who are most vulnerable and have been hardest hit by the coronavirus outbreak.
Steve Morgan Foundation made his donation to Everton in the Community after learning how the charity plans to increase its essential services to vulnerable people through enhanced community support, with a specific spotlight on mental health and education.
The club's official charity has recently partnered with the foundation to collaboratively deliver an early intervention programme in South Liverpool to tackle the barriers facing young people in attaining a good education and this new COVID-19-focused match-funding will see Everton in the Community able to work closely with its official partner to further deliver intense programmes of support over the course of the next six months and positively impact thousands of lives of people who have been directly affected by the pandemic.
The need for mental health support has never been more essential, with evidence that the direct and indirect impacts of COVID-19 have increased the risk of suicide – data from across Merseyside shows a 30.5% increase in suicides from March-August 2020 in comparison with the same months in 2019.
Everton in the Community chief executive, Richard Kenyon, said: "This funding will enable us to tackle some of the social inequalities in our city head-on and allow us to help more people in need.
"Thanks to Steve Morgan Foundation and the Government's Community Match Challenge initiative, Everton in the Community can have an even greater positive impact on the lives of thousands people across Liverpool City Region.
"The funding will also move us closer to bringing our much-needed mental health facility, The People's Place, to Liverpool 4 and we are more committed than ever to providing first-class support relating to suicide prevention and positive mental health.
"Together with the Steve Morgan Foundation we are committed to addressing the inevitable increase of mental health-related issues as a result of the pandemic."
Steve Morgan said: "My trustees and I have seen first-hand the wide ranging grassroots support that Everton in the Community delivers across Liverpool City Region and are proud to be working with this charity with which we have so many aims in common.
"COVID-19 has made a deep impact on communities which were already experiencing significant disadvantage and proactive, professionally delivered targeted support is needed now more than ever."
::
Livv Housing Group delivered poppy posters to hundreds of residents, ensuring they could still commemorate Remembrance Day and honour the fallen, despite current COVID-19 restrictions.
The Knowsley-based housing association provided Royal British Legion poppy posters to more than 800 residents in its supported and extra care schemes.
Livv residents, who would usually purchase and proudly wear poppies, were able to display posters of poppies in their windows instead, showing their respect for those who fought and lost their lives to protect our freedom.
Watch Factory resident, Barry White, said: "We're pleased that, despite lockdown, we've still been able to mark Remembrance Day by displaying our poppy posters in our windows. It's important for us to still have the opportunity to remember those who lost their lives in the two world wars and in combat since."
In addition to producing and delivering the poppy posters, Livv Housing made a donation of £1,600 to the Royal British Legion's Poppy Appeal.
Martina Devlin, head of independent living, said: "While this is a year like no other, all of us at Livv Housing Group recognise the importance of commemorating Remembrance Day.
"We are thankful for those who made the ultimate sacrifice to defend our freedom and way of life and we appreciate how significant Remembrance Day is to our residents. We knew that we needed to find a way for them to honour the day, despite the coronavirus restrictions.
"Sadly, the pandemic has made it near enough impossible for our residents to purchase a poppy in person, so we've decided to bring the poppy to them in a COVID-secure way and also give a donation to the Royal British Legion."
::
The North West appears divided on the issue of working from home, as a new survey shows that 58% of the region's workers are perfectly happy working from home for as long as necessary, while 41% don't like working from home, or admit they miss the office.
Clear regional differences of opinion were also revealed in the survey by Wrexham-basedoutsourced communications company, Moneypenny. While 58% of workers in the North West said they like the home working experience, only 48% of Scots and 44% of Welsh enjoy it.
Across the UK it seems that older workers favour working from home a lot more than younger workers – 63% of 55-64-year-olds and 57% of 35-44-year-olds said they're happy working from home, compared with 44% of 18-24-year-olds.
The Moneypenny survey suggests that it's the human factor that people miss most from not being in the office, as 37% of North West workers surveyed said they miss their colleagues, although this was a lower proportion than workers in other parts of the UK – 54% in Northern Ireland and 53% in Wales.
A further 22% of North West workers said they don't miss anything from the office, while 17% miss their office desk or chair and 13% miss the routine that keeps them productive.
When looking at the practical side of working from home, 46% of those surveyed in the North West said they'd received additional equipment, while 37% have received no extra equipment or software, compared with 25% in the West Midlands and 25% in Northern Ireland who received nothing.
Joanna Swash, Moneypenny chief executive, said: "We were surprised by the mix of opinions from workers on the experience of working from home and it's clear that companies need to work harder than ever to keep employees motivated and engaged, particularly for those younger workers who need more support than their more experienced colleagues."