People on the Move: Trunk; Merrick Solicitors; ResponseTap; Workhouse; Make Events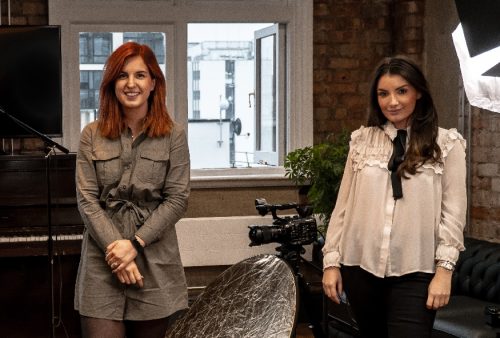 Manchester-based content specialist, Trunk, has made two new senior hires to support the business's ambitious growth plans heading into 2021.
Alex Martin has joined as marketing manager and will lead the agency's digital marketing strategy to attract new business, while Hannah Evison will be responsible for providing strategic direction and adding value to clients in her role as group account director.
Alex brings a wealth of B2B marketing experience, having previously managed all in-house marketing and campaign implementations along with a full company rebrand at Axon Garside.
Hannah has spent the past decade working in client services both as a consultant and agency-side across a wealth of global clients, with experience managing large budget-integrated campaigns for brands such as Decathlon, One4all Gift Cards, and the Peel Group.
Managing director, Adam Britton, said: "We're thrilled to have appointed two new senior members of the team as we head into the final quarter of the year.
"The new hires signify much more to us as a business than just the growth of our head count. We are so incredibly proud of how we've adapted over the past six months, continuing to produce powerful content for our clients, during what has been a difficult time for so many.
"Alex and Hannah joining the business allows us to focus on attracting client partners that are a good fit for us, producing outstanding work, and building long-lasting relationships, all of which support our exciting plans for 2021 and beyond."
Alex Martin said: "I was attracted to Trunk's creative approach, combining film, animation and creative technology. This way of working allows for greater creative freedom in what we can achieve for our clients, but also in our own marketing.
"I'm excited to be on board, helping build the Trunk brand and attract new business as we head into the new year."
Hannah Evison said: "Having worked in client-facing roles at various agencies throughout my career, I was excited about the opportunity to help Trunk develop its client services function as it grows and brings on board more strategic accounts.
"I was impressed by Trunk's service offering, talent and ambitions for the future, so to be a big part of the next phase for them was an opportunity I couldn't pass up."
::
Family lawyer Keira Hand has joined the growing team at Manchester-based Merrick Solicitors, after practising family law in Cheshire, where she also did her training and qualified.
She said: "It was always family law that I wanted to do.
"You get a feeling that you are helping people.
"It's people's lives, their families, their children, their marriage, their home and their money.
"The work you do has a big impact on the people that you are working with, which means it can be difficult, but also really rewarding."
November has been a momentous month for Keira. Not only did she join Merrick, she also took part in a Zoom call with Hollywood A-listers.
Away from work Keira is a season ticket holder at Wrexham AFC, which has been taken over by Deadpool star Ryan Reynolds and fellow actor and producer Rob McElhenney. Ahead of the takeover the pair met with trustees of the previously fan-owned club in a 'get to know you' online meeting.
Keira said: "It was quite surreal. They seemed to be really nice and genuine.
"The first question anyone asked was 'why Wrexham?'. They said they didn't want to buy a club that was already winning things, they wanted a club they could build up and help."
Merrick principal Amanda Merrick said: "We are delighted Keira has joined the team at such a critical time. She shares our passion for family law and wants to do the very best for families who are making important decisions against the backdrop of an ongoing global pandemic and all the complications that has brought."
::
ResponseTap, a call tracking technology provider, has appointed Paul Wood as its VP of sales, as the company continues to expand its suite of contact centre technology solutions.
Wood will work with existing and new ResponseTap customers in sectors including financial services, insurance, retail and travel.
He joins the Manchester-based SaaS business from Noble Systems, the unified contact centre solutions company, where he was head of sales.
Prior to this, Wood held strategic sales roles at Iris Software Group and ReachLocal UK. With more than 25 years of sales experience, Wood has a strong track record in developing and successfully implementing high growth sales strategies in the tech sector.
ResponseTap chief executive, Ross Fobian, said: "We are delighted to welcome Paul to the team. His unrivalled knowledge of the contact centre space, along with his clear leadership abilities, will be fundamental to the direction and growth of the business moving forward.
"Having recently launched our contact centre product Ember, Paul's experience will be instrumental as we target businesses who can benefit from phone call personalisation."
Wood said: "Joining ResponseTap at such a pivotal time for the business is hugely exciting. The ability to personalise phone call interactions is a gamechanger for the industry, and a real differentiator for brands looking to increase revenue from phone calls.
"I look forward to leading the sales strategy as our suite of call centre tech solutions becomes even more powerful."
::
Lancashire agency Workhouse has made two senior hires to expand its digital team, with intentions to continue its recruitment drive in the coming months.
The integrated agency has appointed John Paul Toher as head of digital and Ryan Gibson as social and content lead, with both appointments part of ambitious plans to elevate the agency's digital offering and build on a reputation that has been 28 years in the making.
Toher brings 16 years' experience and joins from BJL, where he headed up the agency's digital output for clients including Asda, Ronseal and BASF.
He will be responsible for leading Workhouse's digital team of designers, developers and strategists to deliver world-class products, services and campaigns for clients that are underpinned by commercial and creative rigour.
Gibson joins from Bugler Smith and has been brought in to grow the agency's social and content offering.
Over the past 10 years he has worked with clients such as Dulux, Revolutions Bars and Pets At Home. He will work closely with Workhouse's digital, design and client services teams to lead on developing best-in-class social and content strategies that help clients to achieve their business goals.
Workhouse managing director, Martin Meadows, said: "I'm very excited by these appointments, which are part of the long-term vision for Workhouse and demonstrate our commitment to investing in the best digital expertise for clients in the built environment sector and beyond.
"Clients really value our holistic view of the marketing landscape, identifying the channels and technologies that are most suitable for engaging their audiences in new and innovative ways to deliver memorable brand experiences.
"Digital plays an important part of the marketing mix, and with John Paul and Ryan on board we're well-equipped to work with clients in a much more strategic and collaborative way to help them overcome today's business challenges."
Toher, who also assumes a role in the agency's leadership team alongside Meadows and marketing director Nicky Jepson, said: "I'm delighted to be joining an agency with such a rich heritage, but one that also has its eyes firmly on the future with a collective vision for delivering the very best work for our clients."
Established in 1992, Workhouse employs more than 30 staff and works with clients such as Stax Trade Centres, Crown Paints, Topps Tiles, Mix Interiors and Sanipex Group.
::
Make Events continues to fight back against the global pandemic with another promotion, with Emily Hume becoming senior events producer.
As part of their PIVOT strategy created in response to the global pandemic, Make Events has seen its virtual event offering increase in demand and the company respond to client needs with the creation of new revenues streams requiring new hires and recognising growing talent within the existing team.
Founder and chief executive, Holly Moore, said: "Emily is the quickest person to progress from events co-ordinator to senior events producer in the history of the company, it is often a four to five year process.
"It is testament to Emily and all her hard work that she now moves into this senior role, as where COVID has brought challenges to many, it has also given others the opportunity, if they choose to take it, to shine. This promotion gives Emily the recognition she deserves both amongst the team and within our industry."
Emily started her career on the venue side of events moving into agency in 2017 as event co-ordinator at Make Events.
During the last few years at the company Emily has made her mark, rapidly climbing the ladder as she took on a successful secondment in marketing and then moving into the role of events producer before her promotion this year.
Emily said: "Working at Make Events has changed so much during the pandemic and it has been an honour to support with the growth of the business. It is so lovely to be recognised with this promotion and I am excited about the next step and continued progress here."
Over the past eight months Make Events has added virtual events, a content studio offering graphic design, branded printing, video creation and photography, expanded its prop shop, created a bespoke gift box solution and re-branded its sister company, HM Events, offering private parties.