Debenhams to wind-down stores chain after JD Sports pulls out of talks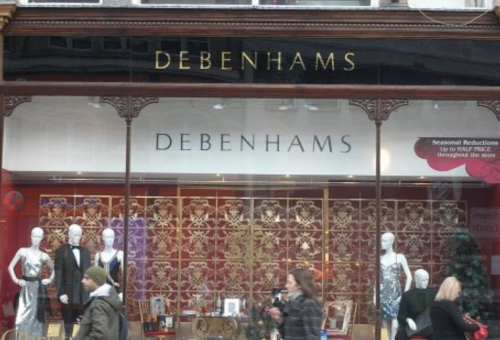 High street chain Debenhams is to wind-down its 124 stores, which could lead to up to 12,000 job losses.
It announced the move after Bury-based sports and athleisure retailer JD Sports ended talks over a possible takeover.
In a brief statement this morning (December 1), the group announced: "JD Sports Fashion Plc, the leading retailer of sports, fashion and outdoor brands, confirms that discussions with the administrators of Debenhams regarding a potential acquisition of the UK business have now been terminated."
The decision is believed to be linked to the collapse into administration of Philip Green's Arcadia Group, which involved concessions in some Debenhams stores.
Debenhams currently employs around 12,000 staff.
Its stores will stay open for now to clear stock, although administrators are continuing to seek a buyer for the business.
However, they warned previously that unless a buyer is found, administrators could liquidate the business.
The chain operates 13 stores throughout the North West – Liverpool, Chester, Manchester, Trafford Centre Manchester, Preston, Blackpool, Bolton, Warrington, Bury, Oldham, Stockport, Barrow-in-Furness and Ellesmere Port – employing many hundreds of staff.
Mayor of Greater Manchester, Andy Burnham, said today: "Arcadia and Debenhams workers are now facing a Winter of real uncertainty, but I want to assure them that Greater Manchester will do everything that we can to support them.
"The Growth Company and their brilliant EmployGM service has already helped people across the city-region who have seen their jobs impacted by the pandemic. I'd encourage anybody affected by the collapse of Arcadia and Debenhams to get in touch with EmployGM and take advantage of the support that is on offer."
Mark Hughes, chief executive of The Growth Company, said: "Following the news of the collapse of Arcadia and Debenhams we know that many thousands of retail workers now need help to find new roles or develop new skills.
"Sadly, the announcements of the closure of well-known high street brands are unlikely to be the last. Every sector is being impacted by the pandemic, and the retail sector is being hit particularly hard.
"Along with our partners, the Growth Company is here for Greater Manchester people and businesses who need our support during these tough times.
"Our service, EmployGM, is there to signpost the support they need. Advice and help is also available for retail businesses that are in distress, potentially providing them with additional support and funding to safeguard jobs."
To get help from Employ GM visit www.employgm.org
Frank Ofonagoro, director at business advisory firm Quantuma's Manchester office, said: "This year has been incredibly tough for retailers, particularly for those who operate outdated, predominantly multi-site bricks and mortar models like Debenhams.
"For a long time now, the retailer has been struggling with store footfall and keeping up with its nimbler, often online focused competitors, but COVID-19 has been the straw that has broken the camel's back with its obvious impact on physical store traffic.
"Unfortunately for Debenhams, the writing has been on the wall for a while now.
"Its existing administrators have clearly explored all options available which might have salvaged part of the business and preserved some employee jobs.
"The withdrawal of JD Sports' interest today signalled a point of no return for Debenhams, and has resulted in the company entering into formal liquidation."
It emerged last week that JD Sports was involved in exclusive talks to buy the struggling high street chain.
Debenhams entered a 'light touch' administration in April this year, following a previous administration process a year earlier.
However, administrators had warned that unless a buyer could be found, liquidation was likely.
Debenhams has already shed around 6,500 jobs since the Government imposed lockdown measures in March when the coronavirus pandemic started to take its toll.
It closed 20 stores after the original lockdown was lifted, and was trading from 124 stores.
Administrators are believed to have valued Debenhams at £300m.
Retailer Mike Ashley, who owns the Sports Direct brand, is understood to have had a £125m bid rejected recently.