Fashion brand builds customer base and reduces interim losses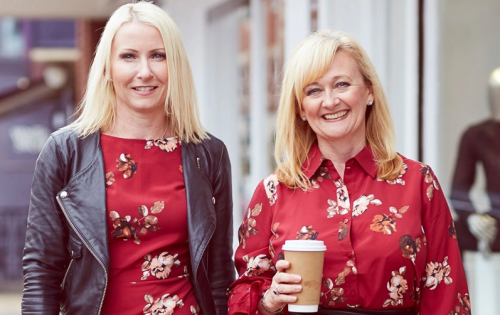 Online fashion brand Sosandar reported strong interim revenue growth and an acceleration of Autumn sales, today.
The Cheshire-based business founded by former fashion journalists and co-chief executives Ali Hall and Julie Lavington announced figures for the half year period to September 30.
Revenues for the six month period were 52% better at £4.284m, compared with £2.819m in 2019, while pre-tax losses reduced from £2.786m last year to £1.102m.
Gross profit of £2.24m was a 48% increase on the prior year's £1.51m level. The company said its net cash of £4.30m as at September 30, 2020 demonstrated continued careful cost management.
Sosandar reported high levels of customer engagement with repeat orders during the period up 88% year-on-year.
It introduced a rapid expansion of its product range into more casual styles to reflect the lockdown mood, with great successes seen in denim, loungewear and knitwear.
The business also achieved a reduction in its returns rate, from 49% to 42%, and a successful launch on John Lewis and Next websites with good sales across all product categories.
Since the trading period, Sosandar also managed to record its best month of revenue in October. Monthly sales for September to November increased by 115% compared with the average for the prior five months, and it set a new daily record for revenue in November.
There was a 17% growth in revenue versus the same three month period last year, delivered with a 49% reduction in marketing spend and a reduction in cost of acquisition of 52%.
A 28% increase in new email sign ups in just three months has further strengthened the company's database and should underpin sales for future months.
By November 30, it enjoyed a strong cash position of more than £4.0m.
Ali Hall and Julie Lavington said: "We are delighted to be reporting strong revenue growth and a significant improvement in EBITDA, despite one of the most challenging periods ever for the retail industry.
"It is a real achievement and testament to the fantastic team we have built at Sosandar, that we have delivered increased sales, better cost efficiency, better engagement with customers, grown our database and quickly expanded our product range, whilst at the same time significantly reducing marketing spend.
"From September onwards, we cautiously increased expenditure on new customer acquisition and trading has quickly gained momentum. We are very pleased to be exceeding the record highs seen last Autumn on half the marketing spend."
They added: "As one would expect, we are now selling a much wider range of casual and at-home product than before.
"However, the Sosandar customer has also not lost a taste for glamour, with sales of sequins, leather, fur coats and knee boots remaining strong.
"Looking ahead, whilst there remain short term uncertainties due to COVID-19, our long-term focus has not wavered and continues to be on the development of our product, infrastructure and service, alongside, most importantly, further building our customer base.
"The scale of our opportunity is substantial and we are well placed to deliver on our ambition for Sosandar to be a long-term, sustainable success."