North West business briefs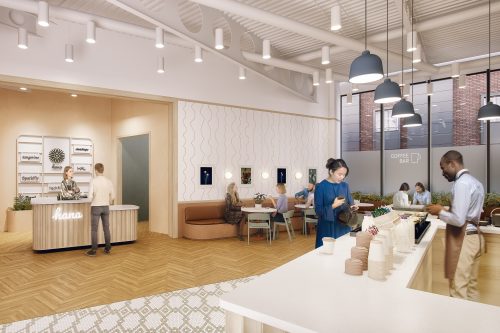 Real estate investment manager Barings has signed a management agreement with flexible workspace group, Hana, at its Landmark office development in Manchester's St Peter's Square.
Hana will design, build and operate the flexible space called Hana at St Peter's Square, which is expected to open in mid-2021.
Hana, a subsidiary of CBRE Group, will open its second location in Manchester totalling approximately 32,000 sq ft at Barings' award-winning 180,000 sq ft development, which offers 14 floors of BREEAM Excellent and Wired Score Platinum certified, highly efficient office space in the prime core of Manchester City Centre.
Since its launch by CBRE in the UK in 2019, Hana operates a few London locations and its first Manchester facility is set to open in January 2021. Hana partners with landlords to meet the rapidly growing demand for flexible office space by developing and operating workspaces that include enterprise-grade private office suitdes, conference and events space, and a small portion dedicated to traditional co-working.
Ian Mayhew, managing director at Barings, said: "We are incredibly proud to be partnering with Hana, a brand which aligns perfectly with our design strategy and focus on delivering a world-class business environment. Hana's workspace experience, which includes conference and meeting room facilities and a coffee bar, will also be attractive to occupiers within the rest of Landmark, enabling them to easily flex their space requirements up or down in response to increasingly dynamic business needs."
Paul Nellist, EMEA managing director, Hana, said: "We could not be more excited to be partnering with Barings, an innovative institutional landlord at a Class A building that provides the amenities occupiers desire."
::
Panthera's clinical trial sites in Preston, North Manchester and North London began dosing volunteers in the Phase III PROVENT trial which will evaluate AstraZeneca's long-acting antibody combination, AZD7442, for the potential prevention of COVID-19.
The trial will include adult volunteers who have no history of COVID-19 and have an increased risk of infection, including those over 60, a BMI of more than 30, a chronic medical condition, taking immunosuppressive medications or those more likely to be exposed, such as NHS workers, or those living in shared accommodation, such as students or the Armed Services.
Panthera's dedicated research sites were selected to take part in the trial because of their experience in enrolling and supporting volunteers. The trial of AZD7442 single dose innoculation will run for a year and looks to recruit 5,000 volunteers globally.
The aim of the trial is to evaluate the safety and effectiveness of a combination of two long-acting monoclonal antibodies – man-made versions of naturally occurring human antibodies of the immune system – in preventing COVID-19 infection.
The "antibody combination" differs from a vaccine as it provides antibodies, rather than prompting the body's immune system to make them. The treatment is aimed at helping those people with a compromised immune system, who cannot be vaccinated, vaccine hesitant and those who are unlikely to respond to a vaccination.
::
M&Y Maintenance and Construction, a wholly-owned subsidiary of Liverpool-based Regenda Group, has been awarded a contract with Wigan Council to develop Brackley House site following a re-tender due to the collapse of Cruden Construction last July.
The works are due to start in on the £1.9m contract development this month. The development will see 17 new affordable homes constructed in Goose Green, Wigan and are scheduled for completion in November 2021.
M&Y will also be working closely with Wigan Council to provide opportunities to that make a difference to the local community – it is anticipated there will be apprenticeship roles available and a project to support charities.
Gill Kelly, M&Y Maintenance and Construction managing director, said: "M&Y are delighted to be picking up the reins of this development project with Wigan Council to help increase the supply of good quality affordable homes in Wigan."
Cllr Terry Halliwell, cabinet member for housing and welfare at Wigan Council said: "The redevelopment of this site brings it back into beneficial use and also helps us to meet housing demand."
::
Scientists at the Alderley Park Lighthouse Lab in Cheshire processed their six millionth test over the festive period, the equivalent of providing tests for one-in-10 people in the UK.
The facility, operated by Medicines Discovery Catapult and launched last April, plays a key role in the Government's national COVID testing programme and is now able to process more than 50,000 tests a day.
For Prof Chris Molloy, CEO of MDC, the achievement is a major milestone spanning 10 months of hard work. Prof Molloy, who led the formation of the national Lighthouse Labs network, said: "The Alderley Lighthouse was home – day and night – to an army of 300 volunteers from across the region who answered the call to action when it was launched up in April last year.
"We now have a team of over 500 contract staff at Alderley Park, many of whom are at the beginning of their careers. Passing six million tests has been a monumental achievement, demonstrating the quality, determination and sense of purpose of our staff in coming together to help the country in a time of adversity.
"It was all the more gratifying that we met the milestone over the festive break, as the lab team continued to work normal shifts over Christmas and New Year."
::
The Manchester office of private equity firm LDC has invested in Omniplex, a London-based eLearning solutions provider with offices in China, to support its growth strategy.
LDC is backing the business's existing management team, led by chief executive Matthew Lloyd. Under his leadership the business has experienced strong growth having increased revenues 36% year-on-year. LDC's support will enable the management team to further consolidate its position as it targets further organic growth and explores complementary acquisitions.
The transaction was led by LDC's Aziz Ul-Haq, Jacob Leone and Dale Alderson. As part of the deal, Aziz will join Omniplex's board as a non-executive director. Ken Hills, who was a senior board executive on LDC-backed workforce management software business Mitrefinch, will join Omniplex as a non-executive chairman. Financial details of the investment are undisclosed.
Matthew Lloyd said: "Omniplex offers organisations a market-leading all-in-one digital learning solution. Partnering with LDC gives us an opportunity to further consolidate our position by investing in our services and people. This is the next step in our journey to expand globally and truly transform learning in the workplace."
LDC was advised by BDO (corporate finance and financial due diligence), DWF (legal), PMSI (commercial due diligence) and KPMG (tax). Omniplex was advised by Signia Corporate Finance (corporate finance) and TLT (legal).