Transformation masterplan unveiled for Stretford Mall and town centre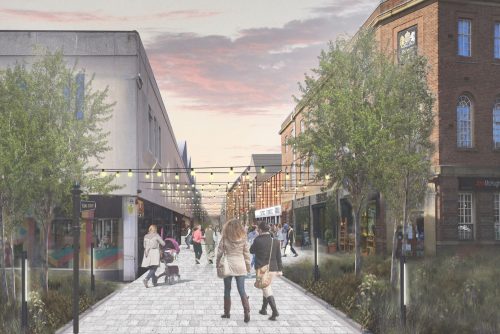 Manchester-based Bruntwood Works and Trafford Council are consulting with residents over an ambitious multimillion-pound masterplan to transform Stretford Mall and the surrounding area.
The initial proposals are being shared following feedback and responses collated over an extensive 15-month public consultation with the local community.
Residents are invited to provide feedback on the plans via the Stretford Mall Public Consultation website, with the consultation window open until February 5, 2021.
The masterplan, which is being put forward by the joint venture between Bruntwood Works and Trafford Council, will provide places to play, work, shop and live in Stretford town centre, as part of the wider Stretford Masterplan and the Area Action Plan (AAP).
It includes plans for the historic King Street to be reinstated to provide a thriving high street, as well as improved transport links, pedestrianised streets, more greenery and open spaces, and a reconfigured town centre with better connections to the Bridgewater canal.
The plan, which covers more than 27 acres and comprises five neighbourhoods – Victoria, St Ann's, Lacy Street, Stretford Centre and Stretford House – also includes a phased redevelopment of Stretford Mall to provide an evolved retail and leisure offering to a rejuvenated King Street.
The plans include repurposing the Lacy Street area which will unlock the connection between the town centre and the canal – an important green infrastructure and recreational route.
There are further plans to provide up to 800 varied residential units around Stretford Mall and St Matthew's Church, which will include affordable housing.
More green meeting areas will be created with public squares and open spaces, with proposals for a green biodiversity corridor including a Library Square and a 'Central Park' at the heart of the town centre. Plans will also create improved access to the Bridgewater canal.
With a focus on attracting more local businesses to the area, the plans include proposals to create a 'Makers Yard' hub for small independents and the evening economy, complete with outdoor seating, eateries and bar areas.
The masterplan follows three rounds of public consultation in 2020, with thousands of local residents taking part.
The planning application for the Stretford Mall and Lacy Street masterplan, the first schemes to be developed to turn the plan into reality, is due to be submitted in February.
Cllr Andrew Western, leader of Trafford Council, said: "I am hugely excited by the wide-ranging regeneration plans for Stretford and I know local residents also share that excitement.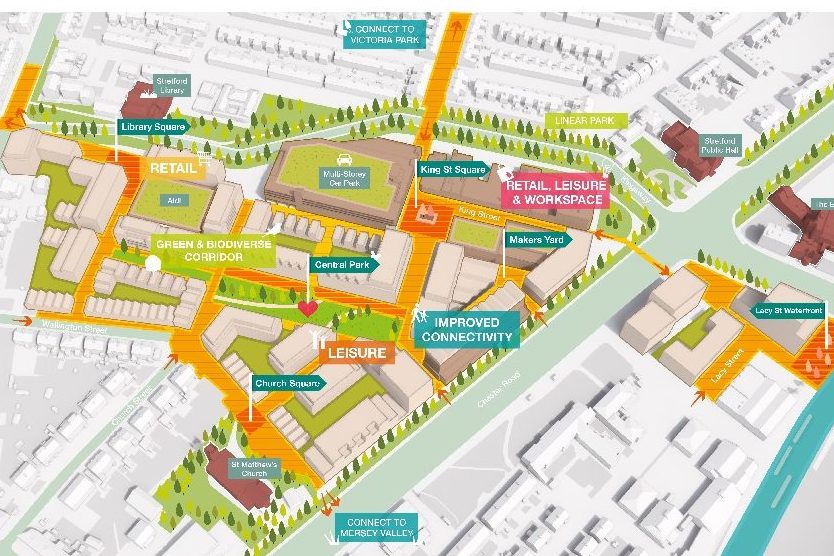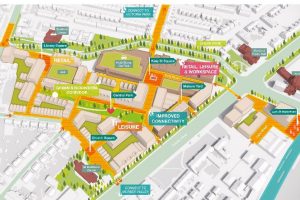 "Trafford Council has placed regeneration at the heart of our corporate priorities. Stretford has enormous potential, making it one of the most exciting towns in the region. By sharing ideas and plans with the local community, we've ensured residents are at the centre of proposals for its future."
He added: "The proposals will significantly improve connectivity, create valuable green and open spaces, and hubs for people to gather and interact. It will also help attract local independent businesses and exciting retail and hospitality brands, while enhancing the lives of local residents and visitors."
Andrea George, town centre and consumer brands director at Bruntwood Works, said: "One key theme to emerge from the public's feedback is the importance of bringing back a vibrant high street, which will be the beating heart of the town.
"We plan to do this by reinstating King Street and delivering the right blend of retail, leisure, workspace and mixed use space to meet the needs of the community, where local independents can be neighbours with exciting brands."