Developer announces affordable housing delivery panel for city scheme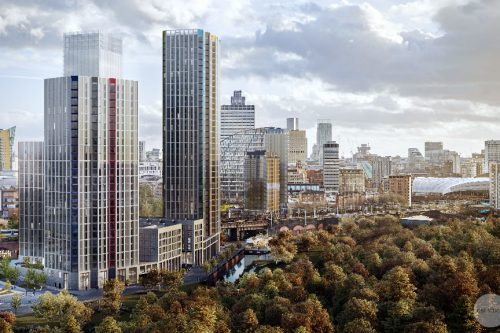 Far East Consortium (FEC) has today (January 20) announced its partner panel for the delivery of affordable homes across the Red Bank neighbourhood of the Northern Gateway.
Future affordable delivery across the Red Bank neighbourhood will be procured through this panel, including FEC's ambition for more than 800 new affordable homes delivered over the next 10 years.
Avison Young, on behalf of FEC, launched a marketing exercise in September 2020, to identify a registered provider housing partner or partners, to help deliver its affordable home ambitions.
The three parties that the developer has subsequently appointed are, Trafford Housing Trust, part of L&Q, Great Places Housing Group, and The Guinness Partnership.
Subject to agreement, the panel will run for a minimum three-year period, with an option to trigger a further three years on a rolling basis, to complete the Red Bank programme.
The Northern Gateway, a joint venture partnership between FEC and Manchester City Council (MCC), will deliver up to 15,000 new homes across North Manchester over the next 15-20 years, 20% of which are outlined as affordable.
The project is divided into a series of neighbourhoods, with Red Bank being one of the first to be progressed for development and investment by the partnership.
Nicola Rigby, principal at Avison Young, said: "Red Bank represents one of the biggest affordable urban housing opportunities outside of London, so we are very pleased to announce that we have secured three highly experienced partners to assist FEC in its delivery and roll out.
"The first affordable housing opportunity to be progressed at Red Bank is at Victoria Riverside, and is due to start on site in Summer 2021. Engagement with the panel on this opportunity is commencing immediately."
Hilary Brett-Parr, project director at FEC, said: "The quality of bids received were outstanding and we are grateful to all organisations that took part in the process.
"Our three panel members will each be able to bring something extra to the table from their experiences across the UK and their input will be invaluable in helping to shape our proposals for a new mixed community in Red Bank. We are keen to get started with our new partners on board and hope to be announcing further progress in Red Bank over the coming months."
Catriona Simons, chief executive of The Guinness Partnership, said: "This is part of our ongoing and long term commitment to providing homes and building communities in Greater Manchester, where we already own 12,000 homes, and we are looking forward to working together over coming years."
Matthew Harrison, chief executive of Great Places, said: "As a long standing Manchester-headquartered housing provider, Great Places has a deep commitment to the city and its people. This opportunity allows us to build on many years working in the city to improve housing opportunities for Mancunians.
"The chance to be involved in the long term development of world class integrated residential neighbourhoods fits our social and business model perfectly and we're very excited to be involved."
Larry Gold, chief executive of Trafford Housing Trust, said: "We are committed to tackling the housing crisis in the North West, and these new homes will form a significant part of delivering on that commitment."
Fiona Fletcher-Smith, group chief executive at L&Q, said: "When Trafford joined the L&Q Group in 2019, it was the start of an exciting new chapter for us in the North West – as we work together to invest in delivering high quality homes and thriving communities where people can afford to live.
"This exciting opportunity at Red Bank forms an important part of our wider plans for the region, and we look forward to working closely with FEC."