Funds dwindling as battle to rescue Wigan Athletic continues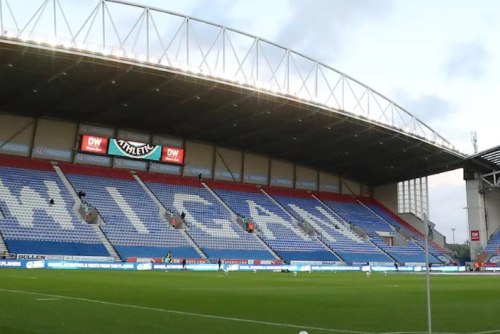 Wigan Athletic FC had £1.132m of funds available at the end of 2020, following the club's administration last year.
A report filed by joint administrators Begbies Traynor showed the club had managed to pay its football creditors £5.345m as the League One side battled to find a buyer to rescue the business.
Figures from the report showed that, in the period following Begbies' appointment, between July 1, and December 31, 2020, the club's income was £12.802m.
Expenditure for the same period was £11.669m.
Income was boosted after joint administrators managed to raise £9.269m through the sale of several players.
The English Football League (EFL) also contributed £1.73m to the club, while club shop sales generated £145,836, and TV/streaming income from games totalled £280,762.
On the expenditure side, payments to football creditors was the biggest outgoing, at £5.345m, followed by wages and salaries totalling £3.597m.
Payments to football agents came in at £120,000.
The joint administrators' unsuccessful bid to overturn a 12 point deduction by the EFL, for entering administration, through an appeal process cost a total of £403,833, made up of £228,833 in counsel fees, and £175,000 in legal fees.
The expenditure does not include time costs of £1.27m to Begbies Traynor, which is charging £370.86p per hour for handling the administration and sale process, although these will not be paid by the club.
Wigan entered administration on July 1, last year, less than a month after being transferred to new ownership following the sale of the majority shareholdings of the Wigan Athletic Group from International Entertainment Corporation (IEC) to Hong Kong-based Next Leader Fund LP.
The joint administrators' report reveals the new owners were interviewed over the circumstances of the administration, and no further action is planned.
Within a week of the administration 50 inquiries had been lodged to buy the club, but after securing a preferred bidder the club was put back on the block after the preferred party failed to lodge the required paper work and funds for the bid to proceed.
The deadline for bids was extended, and on September 30, joint administrators announced they had chosen an offer from a Spanish group.
However, earlier this month, the rescue fell at the final hurdle when the Spanish demanded a 50% reduction in the asking price at the very last minute.
Begbies Traynor said it is now in discussions with several parties in a new effort to secure a buyer.