People: DWF; Northern Industrial; IoD; Kinaxia Logistics; Anwyl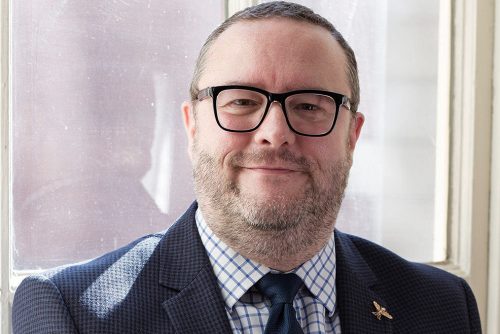 Dan Monaghan has joined Manchester-based global legal business, DWF, as director of clerking for its advocacy business, DWF Advocacy.
Dan is a seasoned clerk with more than 25 years of experience. He spent 22 years at Cobden House Chambers where his most recent role was deputy director of clerking. Prior to that, he was at King's Chambers and Kingsgate Chambers.
Stephen Pritchett, head of DWF Advocacy, said: "We're delighted that Dan has joined our business in this newly-created role. He brings a wealth of experience in heading a clerking team and diary management to help support our barristers and advocates.
"He will, undoubtedly, play an instrumental business development role in the next chapter for DWF Advocacy which is one of projected substantial growth."
Dan said: "After over 25 years working in Chambers, I am delighted to be joining DWF to head up the clerking team in the advocacy business. DWF Advocacy is full of talented individuals who have a great reputation in the market. I am keen to help them develop and take the business into the next phase. This is a new challenge and one which I relish."
DWF Advocacy is a connected services business. It is a streamlined advocacy service, operating as an alternative to the external Bar and traditional chambers.
::
Blacburn-based Northern Industrial has promoted Lee Birch from sales account manager to business development manager.
Lee's new role will include promoting the international spare parts and repairs exporter's new SparesVault service to customers across the world.
It will also see him working with clients to help them develop obsolescence strategies to keep legacy equipment up and running with maximised productivity and lowered downtime risks.
Lee said: "Obsolescence can be a major global problem for manufacturers unless handled with a robust, forward-thinking strategy.
"While its estimated that downtime costs UK manufacturers £180bn per year, we believe SparesVault will be a gamechanger in helping businesses minimise the impact of potential breakdowns."
Northern Industrial is a multi-award-winning provider of new, reconditioned and obsolete parts and repair services, exporting to 146 countries.
Sourcing from more than 1,350 manufacturers, the company covers in excess of 200,000 part numbers and holds approximately £10m of stock.
::
The Institute of Directors (IoD) has appointed a new chair and vice chair to head its North West region.
Steve Bennett takes up the role of chair, and Nina Sawetz becomes vice chair.
Steve will work with chairs and ambassadors across IoD branches in Greater Manchester, Cheshire, Liverpool, Lancashire and Cumbria, providing connections, professional development and influence for directors across a wide range of organisations.
Together, he and Nina will join branch members and senior branch managers to represent and amplify the views and experiences of North West directors within the IoD's influential policy voice programme.
Steve is the founder and MD of TransitionPlus, an executive search, career management and board level consultancy.
He is also MD of Business of Science, a national science and innovation group which promotes the commercial development of science and the growth in STEM skills.
He said: "The IoD is a leading influential business organisation and now is the time for us to renew our focus on supporting directors across the North West as businesses look to recover and rebuild from the challenges posed by the COVID-19 pandemic.
"I am honoured to be taking on this role and look forward to personally engaging with our members and working with all directors to ensure the North West region comes back stronger in the months to come."
PR professional Nina is founder and MD of The Press Index, a directory used by journalists to find businesses for media stories.
She is also MD of communications consultancy Future which provides corporate publicity for CEOs and brands.
Nina said: "I'm excited to join Steve in leading the IoD's North West region, helping members to connect and learn from each other and develop professionally as directors as we all move forward and adapt to this turbulent economic climate."
Natalie Sykes, head of the IoD's English branches, said: "We are very pleased to have Steve and Nina on board as a new driving force in our North West region.
"They will be key to supporting our members who represent a diverse range of sectors but who all face similar challenges in recovering and rebuilding during 2021."
::
Kinaxia Logistics has created three senior roles in its finance team in line with the group's increased breadth and scale.
Mike Lyons has been appointed group governance director after moving from his post as finance director at Trafford Park-based AKW Group, which became part of Kinaxia in 2018.
His new role sees him working with managing directors, finance directors and sales teams across Kinaxia's business units with a focus on risk management, compliance and assisting with contractual and service level agreements and new large accounts.
Mike spent 20 years at AKW Group in a variety of finance roles, during which the business has increased turnover from £5m to more than £30m.
Gary Thompson has joined Kinaxia as regional finance director for the North.
He assumes responsibility for Kinaxia companies AKW Global Logistics and AKW Global Warehousing, Bay Freight in Stalybridge, William Kirk in Macclesfield and Fresh Freight in Gateshead, and will provide direction and support to their existing finance teams.
Gary has extensive transport and warehousing sector experience, most recently at Bibby Distribution, where he held a number of senior finance roles over seven years.
Before that he worked at XPO Logistics Europe and API Group and TDG.
Sharon Deakin has joined Kinaxia as group financial controller. She previously held senior financial and commercial leadership roles at several logistics and warehousing companies, including senior vice president finance at Ceva Logistics.
Kinaxia's group finance director, Ben Warrillow, said: "Mike, Gary and Sharon have a wealth of expertise and a deep understanding of the industry.
"Their appointments will greatly benefit the wider group by strengthening the capacity and capability of our finance function in line with the increasing breadth and scale of the company."
Kinaxia comprises 13 freight and logistics businesses across the UK with more than 1,600 staff and in excess of 800 vehicles.
The group, which has its headquarters in Macclesfield, has two million sq ft of warehouse facilities nationwide, offering contract packing, e-fulfilment, returns management and storage services.
It has seen significant and continued growth over recent years, with annual revenues now approaching £200m.
Kinaxia was recently recognised as one of Britain's leading mid-market private companies with its inclusion in the 16th annual Sunday Times PwC Top Track 250 league table, based on sales.
::
Homebuilder Anwyl has created a new position designed to future proof supply chain relationships and ensure the consistent and ongoing quality of its new homes.
Tom Grundy, commercial director at Anwyl Homes Lancashire, in Chorley, will take on the mantle of housing procurement director for the whole of Anwyl's new homes business, including the Cheshire and North Wales region.
He's already been working with manufacturers and suppliers in recent months to ensure Anwyl has access to quality materials at the best competitive prices and to mitigate any potential impact of the COVID pandemic or Brexit on the supply chain.
Tom, who joined Anwyl Homes Lancashire three-and-a-half years ago, said: "My key aim in this new role is to lead the development and implementation of group supply agreements that generate best total value for the business. I will also be in charge of continually improving performance in all facets of our supply chain."
His promotion comes in a year when Anwyl's Lancashire region, which launched its first development in 2018, is set to double output to almost 200 new homes, while the much longer established Cheshire and North West business is forecasting 474 legal completions.
Mathew Anwyl, housing managing director, said: "As our homes division continues to grow, the need for us as a business to remain competitive whilst ensuring we continue to build quality homes with quality materials becomes increasingly important. Whether it be in the fabric of the home or the finishes within them, it is important that we source and purchase the quality materials we need at the best competitive prices, utilising our bulk buying power.
"Tom's new role is a specific response to this challenge and will ensure consistency across all areas of the homes business."
Tom will also continue in his role as commercial director for Anwyl Homes Lancashire, but will be assisted on a day-to-day basis by a newly-appointed commercial manager.
Tom began his career as a quantity surveyor after graduating from the University of Bolton. In 2017, he was one of the first people employed to establish Anwyl Homes Lancashire, which now directly employs 40 people, is active at eight locations in Lancashire, Merseyside and Cheshire, and has offices at Buckshaw Village, Chorley.
The Cheshire and North Wales region is based at Anwyl's St David's Park headquarters in Ewloe, Flintshire and is currently building homes at 11 locations in Cheshire, North Wales, North Staffordshire, and North Shropshire.