Gigaplant development to be key part of creating a permanent home for the battery industry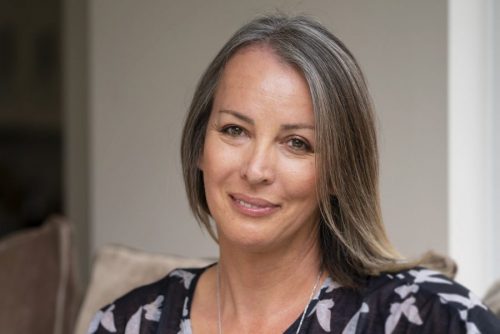 Plans to build the UK's first EV battery gigaplant on the site of the former Blyth Power Station in Northumberland are expected to be transformational to the North's industrial base.
Battery specialist Britishvolt is making one of the largest-ever industrial investments in the UK, expecting to spend £2.6bn as it creates the 16th-largest building in the world.
The cell manufacturing plant will have the capacity to produce lithium-ion batteries for up to 450,000 vehicles. It will also produce a huge spark to the local area, the regional economy and the UK's automotive industry.
Britishvolt's chief strategy officer Isobel Sheldon said: "It's only second in comparison to the Tesla gigafactory in Nevada, so we're really bringing a huge amount of industrial capacity for this green revolution to the North East."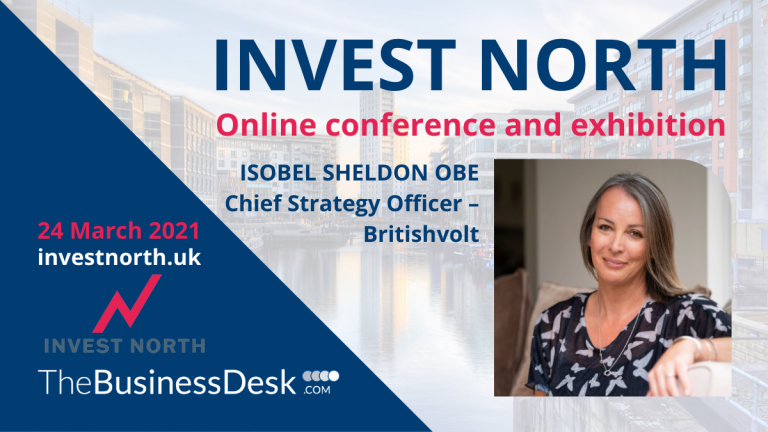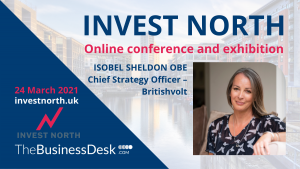 Sheldon, who was awarded an OBE for services to motor vehicle battery technology in the 2021 New Year's Honours, has 20 years' experience in battery design and development and is a globally-renowned automotive battery specialist.
She will speak at the Invest North virtual conference on March 24, which is bringing together the business and policymaking communities to set the agenda for what comes next in the North.
Work is scheduled to start on site in late summer this year, with its first phase up and running by the end of 2023 and the site to be fully operational in 2027.
At 250,000 sq metres, it will be the fourth largest building in the UK, behind only three car manufacturing sites – Jaguar Land Rover in Solihull, Nissan in Sunderland, and Toyota in Derby.
Sheldon wants the gigafactory to match not only the size but also the impact of these sites, which are hugely important for jobs and investment both directly and throughout the supply chain.
"In 1984, Nissan made a significant investment in vehicle manufacturing, which transformed that area of the world and made it much more prosperous than it was after years of decline," she said.
"We at Britishvolt intend to have the same effect in the region around Blyth.
"This isn't about just bringing a large international company that will not be sticky and could move away again. This is investing for the long-term future in that area. That's going to have a broad economic benefit in the North East."
The site is expected to employ up to 3,000 people directly and a further 5,000 people in the supply chain, when it is running at capacity. But its impact is already starting to be felt.
She said: "Those jobs don't just come with the impact of getting the facility finished and up and running at the end of 2023, and then ramping up that production for 2024. We're also looking at the construction project too.
"We're trying to capture as many local businesses as we can to make sure that that economic benefit is felt in 2021 and 2022, not just when we have got the facility up and running.
"It's such a huge undertaking and it's going to be so important, both in the North East and the whole of the North."
The team at Britishvolt sees the gigaplant as much more than a manufacturing facility that will support the automotive industry.
She said: "There have been a number of different thoughts on how you can bring battery capacity to the UK and one of those is maybe to encourage an existing manufacturer to come and put a facility here. That's not a sticky way of doing it. You're not developing IP, you're not really creating a long-term permanent home for the battery industry."
The multibillion-pound investment is a long-term play for the manufacturer that will also create generational change as it builds a supply chain.
"If we're going to make that sticky, we need more than just producing cells that will be sold out to the automotive industry and other industries, too," she said. "We have to build the supply chain, which is really, really important to the business plan."
Britishvolt is focused on its environmental, social and governance (ESG) requirements and is putting that at the heart of its plans as it builds its factory and its relationships.
She said: "Co-locating that supply chain, making sure that we interrogate supply chain to ensure that our materials are sourced ethically, and from locations that aren't causing environmental damage elsewhere in the world is really important."
The battery industry traditionally loops a lot of products through conversion processes in China, where environmental standards are often lower or less rigourously enforced than in the UK and Europe.
She added: "We need to repatriate some of those conversion processes here into the UK so that we can control those emissions much, much better – and, of course, control costs, which improves our market position."
The social part is also crucial, with a desire for its positive impact to extend beyond just being a large employer in the region.
She said: "We're looking to influence and reach out into the local community and provide educational opportunities, and make sure we're bringing the local population with us as we go through the construction and setup phase of this facility.
"I think an awful lot of these industrial investments get landed on local populations and they don't have an opportunity to really understand how this is going to affect the landscape of their communities and also the landscape of the land over time.
"We don't want this just to be a success for UK plc and support and defend the automotive industry, in the UK and in Europe, and help those companies compete better.
"We also want to make sure that the story of Britishvolt coming to the Blyth region actually has a really positive effect on the local population and local communities – and we can work hand in hand to create a better, brighter future for everybody."