People: Together; All Together NOW!; Recognise Bank; Walker Sime; Simpson Millar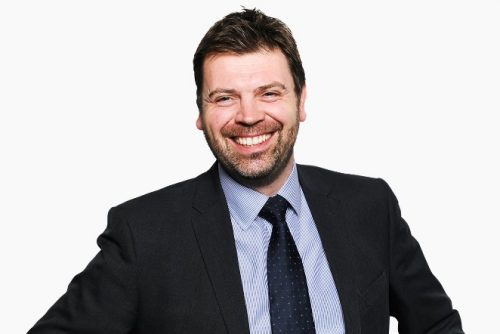 Specialist lender Together has hired a highly experienced industry professional as a regional account manager for the North.
James Briggs, who has worked in the specialist market for more than two decades, brings a wealth of knowledge of the industry to his new role.
Previously, he has held senior positions for specialist finance companies including national account manager, head of business development and specialist distribution manager.
James has had held the roles of operations manager for a specialist distributer and started his career as a mortgage adviser for a high street bank, giving him valuable experience "on both sides of the fence", said the married dad-of-one.
He said he was looking forward to forging strong relationships with intermediaries across the North of England and Scotland to make a valuable contribution to Together's continued growth, despite major challenges facing the industry because of the COVID pandemic.
James said: "All businesses in our sector had a hugely challenging 2020 but what particularly impressed me about Together is how the business also turned these challenges into an opportunity, investing in technology to boost efficiency, while maintaining its common sense approach, which has resulted in an even better service to its partners.
"Together truly appreciates the value of relationships with packagers in the specialist space and I'm excited to start working closely with partner firms to help identify growth opportunities, provide support and win business."
Sundeep Patel, head of intermediary sales at Together, said James's knowledge, relationships and expertise would help Together to realise its future growth plans.
He said: "James is well respected and a big name in the specialist lending industry and we're delighted to welcome him to our business at what is an exciting time for us. His CV speaks for itself and we're looking forward to his undoubtedly important contribution to Together as we move into 2021 and beyond."
::
One of the Liverpool Echo's top sales managers has joined the team at the free health and disability newspaper, All Together NOW!
Helen McLoughlin is the charity's firs development officer and takes immediate responsibility for all advertising, sponsorships and funding opportunities.
McLoughlin said: "I've been fortunate to have had a long and rewarding career with the Echo, Trinity and Reach. Now I'm really looking forward to ensuring that All Together NOW! becomes an even better publication that can help even more people and organisations across the region."
One of her first targets is to forge more relationships with public sector bodies.
"All Together NOW! is perfectly placed to help health trusts and councils get vital messages to huge numbers of readers who are faced with disability and long-term health issues," Helen said.
More than 60,000 copies of the paper are picked up mainly at supermarkets and hospitals across Merseyside and Cheshire.
All Together NOW! was launched in 2005 with funding from the former North West Development Agency, Liverpool Chamber of Commerce, and a number of other grants.
Since then the newspaper has gone from strength to strength, winning a string of community and media awards, and attracting funding from local charitable trusts including the Steve Morgan Foundation, John Moores Foundation, PH Holt Foundation, Eleanor Rathbone Charitable Trust, Medicash Foundation, the Duchy of Lancaster Benevolent Fund and the Liverpool Metro Mayor's Emergency COVID-19 Fund.
Funding for McLoughlin's new role has been provided jointly by the Government's Department of Digital, Culture, Media and Sport and the Steve Morgan Foundation.
::
Recognise Bank has announced the appointment of Anita Maclean to join its executive team.
Anita's role will focus on the development and execution of the bank's future strategy. Anita will also work closely with the CEO, Jason Oakley and deputy CEO, Bryce Glover on a range of key projects linked to the successful development of the Recognise franchise following the bank's authorisation at the end of 2020.
Recognise, a subsidiary of AIM-listed City of London Group, will offer financial services to the UK SME sector and the personal and business savings markets. It has recently commenced lending activities for business owners and entrepreneurs.
Anita has 28 years of experience in strategic leadership across corporate and commercial, investment and digital start-up banking sectors. She joins from the digital SME-start up Revverbank, where she headed up operations for two years.
Prior to her role at Revverbank Anita was chief operating officer at Santander Corporate and Commercial Bank, where she worked for 12 years. Her experience also includes 14 years in investment banking in frontline advisory and capital markets roles at BNP Paribas, Deutsche Bank and Baring Brothers, as well as entrepreneurial roles, founding, developing and successfully selling a number of SME businesses.
Anita said: "I am thrilled to join Recognise, a customer-centric challenger bank that genuinely values and recognises SMEs. More than ever, this is a pivotal time for entrepreneurs, and I look forward to developing the bank's strategy alongside a highly experienced team with a clear and unique vision."
Bryce Glover, deputy CEO of Recognise, said: "We are delighted to welcome Anita to our team, whose extensive sector knowledge and experience will help drive Recognise's future strategy forward. In addition to her banking knowledge, Anita's entrepreneurial mindset — a key component of the bank's DNA — will be a great asset for Recognise."
The bank will offers a relationship-led proposition delivered through dedicated relationship managers based in Manchester, London, the Midlands, and Leeds.
::
Manchester construction consultancy Walker Sime has appointed Caroline Bacon as director of people and culture.
Caroline, who has been with the company for 18 years in various administrative and HR roles, will now oversee all of central services. The business has promoted her to the board, reporting to founders Dez Walker and Jon Sime as well as managing director Duncan Firth.
Walker Sime was founded in Manchester in 1999 and employs more than 80 people, offering a variety of expert consultancy services from quantity surveying and project management to bills of quantity and construction design management.
The company has offices in Liverpool and Leeds as well as its Manchester headquarters. Its clients include Peel Holdings, Muse and Bruntwood as well as many public sector clients across the region.
Dez said: "This last year has seen some huge challenges across our industry, but as Walker Sime moves into its third decade the business is continuing to grow – and it is our people that will drive that growth.
"Caroline has been an integral part of the development of the company. Her expertise, focus on ensuring we have the very best environment, training and support for all our staff – and her professional, personable approach means we knew without a doubt that she was the best person to manage and oversee everything to do with our people – HR, equality diversity and inclusion, and culture."
Caroline said: "I joined the company in an office manager role when there were just eight employees, and am so proud to have been part of the business journey. As we come back together in our offices this year, our people will be more important than ever and I'm looking forward to supporting and developing the career path of every member of the team to ensure they all have clear and focused opportunities to develop their roles and ensure the business remains strong and successful."
Dez added: "Our business culture would not be where it is without Caroline's incredible input, drive and personality. Caroline has helped develop the DNA and style of the business into what it is. From the day she joined she has always put our people first and been the glue in joining every part of the business."
::
Law firm Simpson Millar has announced the expansion of its national professional negligence and dispute resolution team with the appointment of associate barrister-at-law Alana Graham to its contentious probate team.
She brings more than 20 years' experience to the role advising clients on tax planning, wills, trusts and contentious probate.
Called to the Bar in 1993, Alana pursued a career in law after graduating with a BA (Combined Honours) degree in History & Political Science.
She also has an LL.B (Hons) degree and the Degree of Utter Barrister, and was instrumental in the landmark Tod v Barton case – the first case on the Hague Convention – which involved the validity of a deed of variation to a will.
A published author, Alana has written two chapters in the latest edition of Tolley's Tax Planning, focusing on family investment companies and the tax issues which must be considered when a company plans to trade overseas.
Robert Godfrey, who heads up the firm's dispute resolution team, said: "Alana has an impressive background and extensive legal knowledge in this field.
"Throughout her many years of experience she has received high praise for her approachable, warm approach at what is often a very difficult and emotional time for her clients.
"Her appointment is reflective of our ongoing commitment to building a team that is dedicated to providing expert advice and accessible legal services to our clients at the key moments in their lives. We're delighted to welcome her to the team."
Alana, who is based out of Simpson Millar's Manchester office, said: "It is particularly important in the contentious probate arena that we provide a personable and accessible service to our clients. I am privileged to be joining Rob and the wider dispute resolution team."