Boohoo swoops for Debenhams brand in £55m acquisition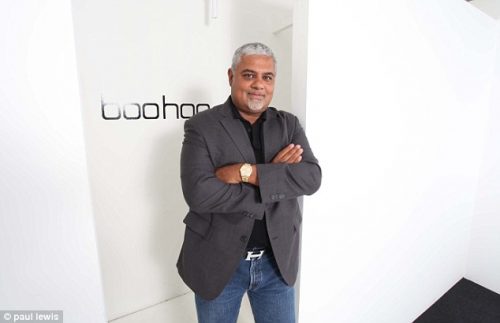 Boohoo, the Manchester online retailer, has acquired the brand and website of high street chain Debenhams in a £55m cash deal.
It does not involve any of the chain's remaining 118 stores or almost 12,000 staff.
Debenhams has an established online platform with approximately 300 million UK website visits per annum. This makes it a top 10 retail website in the UK by traffic.
Boohoo said it intends to rebuild and relaunch the Debenhams platform, helping further the group's ambition to lead the fashion eCommerce market, and grow into new categories including beauty, sport and homeware through:
Marketplace: Creating the UK's largest marketplace across fashion, beauty, sport and homeware. The group plans to expand the range of products sold via the Debenhams marketplace by maintaining existing marketplace brand relationships and adding new brands over time. The relaunched marketplace will also provide an exciting new route to market for the group's existing brand portfolio
Beauty: The group will continue to operate the current wholesale model, but will also look to add new beauty brands via the marketplace model
Own brand fashion: Debenhams' own fashion brands will be absorbed into Boohoo's current brand portfolio and sold via the core Debenhams site and their own pureplay websites
Boohoo chief executive, John Lyttle, said: "The acquisition of the Debenhams brand is an important development for the group, as we seek to capture incremental growth opportunities arising from the accelerating shift to online retail.
"We have developed a successful multi-brand direct-to-consumer platform that continues to disrupt the markets that we operate in.
"The acquisition represents an exciting strategic opportunity to transform our target addressable market through the creation of an online marketplace that leverages Debenhams' high brand awareness and traffic through the development of beauty and fashion partnerships connecting brands with consumers."
Mahmud Kamani, Boohoo executive chairman, said: "This is a transformational deal for the group, which allows us to capture the fantastic opportunity as eCommerce continues to grow.
"Our ambition is to create the UK's largest marketplace. Our acquisition of the Debenhams brand is strategically significant as it represents a huge step which accelerates our ambition to be a leader, not just in fashion eCommerce, but in new categories including beauty, sport and homeware."
Debenhams is expected to relaunch on Boohoo's platform in the first quarter of fiscal year 2022.
In order to allow for the winding down of Debenhams' operations, Debenhams will continue to operate its website for an agreed period before the relaunch on the group's platform and a licence has been granted to allow for the winding down of Debenhams' retail stores – when they are in a position to re-open – for an additional period.
The transaction will be financed through the group's existing cash balance, which stood at £386.9m on December 31, 2020.
Boohoo will only be acquiring the brands and associated intellectual property rights – the transaction does not include Debenhams' retail stores, stock or any financial services.
In Debenhams' most recent financial year to August 31, 2020, its online business generated unaudited online net revenues of approximately £400m.
The transaction is not expected to contribute to Boohoo's revenues over the remaining five weeks of the current financial year 2021, and is expected to incur modest start-up losses.
Debenhams went into administration for the second time last April, and began liquidation proceedings last month after failing to find a buyer for the group which has been badly hit by lockdown closures since the pandemic began last year.
Bury-based JD Sports was briefly involved in exclusive talks over a possible deal for the Debenahms business last November, but withdrew after a less than enthusiastic response from its shareholders.
Mike Ashley's Frasers Group has also been an interested party, having failed to strike a deal when Debenhams first went into administration in April 2019, but his approaches had been discouraged.
Boohoo has already bought several high street brands out of administration including Oasis, Coast and Karen Millen.
Debenhams' demise would signal the end of the 242-year-old retail business.
It has flagship stores in many cities, including Liverpool and Manchester, and towns throughout the North West.
Russ Mould, investment director at Manchester investment platform AJ Bell said: "Boohoo buying Debenhams' intellectual property and website continues its strategy of picking up well known brands on the cheap.
"While the target's woes have been well documented, many people will be surprised to learn that it is still a top 10 retail website in the UK by traffic.
"Boohoo's management already has a proven model and should be able to slot Debenhams into the company's way of doing things relatively quickly.
"It also gives Boohoo a new growth opportunity by taking it into the beauty sector which means it can target the same customer base with two different product streams. Longer term there are also opportunities to cross-sell home and sports products to the same target market.
"It remains to be see if the Blue Cross sale is going to have a future, but one cannot rule it out as many people still associate that phrase with Debenhams and the opportunity to pick up a bargain, which Boohoo could use to its advantage to attract traffic.
"Sadly, this transaction marks the end of Debenhams on the high street and more job losses in the sector."
Bohoo shares rose 4.35% on market opening following today's announcement, to 346.98p per share.
Law firm TLT, which has a Manchester operation, advised Boohoo on the transaction.