Plans in for city centre residential conversion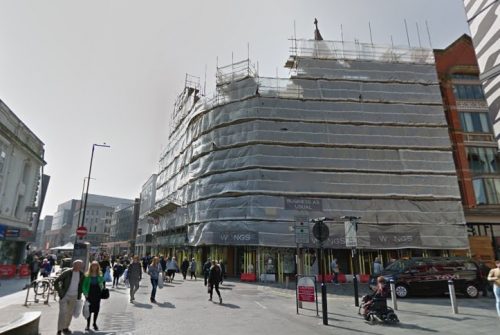 Plans have been lodged to convert vacant commercial space at a central Liverpool site into new accommodation.
Chicago Buildings, on Whitechapel, is in the heart of the city's retail quarter, close to the Liverpool One shopping centre, and next to the Metquarter shopping site.
The applicant, Sara and Hossein Asset Holdings, want to transform the upper floors and part of the lower ground floor of the five-story building from retail spaces into 13 one-bedroom apartments, six two-bedroom apartments and five studios, as well as a residents' gym.
The proposed apartments would be located around a new atrium, starting at second floor level, accessed from an existing entrance off Whitechapel comprising a lift and new staircase, and from an existing entrance off Stanley Street up a staircase.
The existing retail units at ground floor level would remain unaffected.
Chicago Buildings sits within the Castle Street conservation area, but the plans have raised no objections as the proposed change of use will preserve the area's character and appearance.
City planners have calculated that the scheme would require payment of £68,826 by the developers towards the planting of complementary street trees and provision of public art as part of the overall scheme.
Subject to certain agreements, planning officers have recommended approval for the scheme at next month's planning committee.