Property round-up: Bruntwood Works; Caro Developments; Cushman & Wakefield; Forbes Solicitors; Knight Frank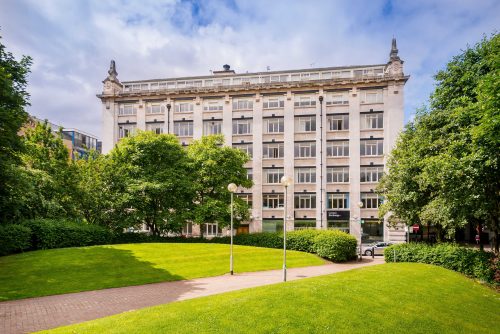 X

Register for free to receive latest news stories direct to your inbox
Register
Bruntwood Works has reported strong market activity across its properties in the Liverpool City Region.
Despite ongoing COVID-19 restrictions, customer enquiries, viewings and deals are all performing robustly as more business owners begin to make plans for a return to the workplace in Spring.
The number of deals secured in the final quarter of 2020 were identical to the volume of deals in the same period in 2019, with the ratio of new and expanding customers also matching last year's figures.
Viewings and enquiries across the portfolio, which includes the Cotton Exchange, the landmark Plaza building and Burlington House in Crosby, are also now approaching pre-pandemic levels.
Among the new arrivals are marketing automation specialist Marcloud Consulting at Cotton Exchange and insurance brokerage Waltons at The Plaza, while existing customers such as educational recruitment firm SupplyWell have expanded their footprint at Cotton Exchange in recent months.
Tony Reed, head of commercial at Bruntwood Works in Liverpool, says the trend reflects the dynamism of Liverpool's entrepreneurial community as it continues to adapt in difficult circumstances: "Despite the incredibly challenging times for so many people, we are meeting business owners every day who are looking for new ways to develop their operations and ensure they are in a strong position once we move out of the COVID-19 era.
"The Cotton Exchange and Burlington House have proven especially popular as, now more than ever, businesses value the community aspects of such buildings and some adopt a 'hub and spoke' approach, with a central headquarters and an additional presence in outlying locations. Our plans to invest in The Plaza and develop the communal ground floor space as part of our Pioneer programme have also led to an increase in enquiries there."
Bruntwood Works' portfolio also includes Cotton House, Queen Insurance Buildings, which incorporates Queen Avenue, Exchange Court, adjacent to Liverpool Town Hall, and St Hugh's in Bootle.
::
Fit-out of 127 apartments at Caro Developments' latest luxury residential scheme in Liverpool is now under way.
Practical completion of Poet's Place on Great Homer Street, the northern gateway into Liverpool city centre, is expected in the second quarter of this year.
The £14.5m scheme provides a mix of studio, one- and two-bedroom homes with undercroft parking and is expected to let strongly, says Caro director Steve Smith.
"Our research shows that people want the convenience of a well-located and well-connected home, but without the downsides of noise, expensive parking and congestion. Poet's Place fills what is a big gap in the Liverpool market and we'll be revealing prices and availability soon," he said.
The development is next to the £150m Project Jennifer scheme which includes a new Sainsbury's superstore and district retail centre. It is opposite the 100-acre Everton Park.
Smith added: "People are re-assessing how and where they live in light of the pandemic and we can offer a central location but with plenty of green space in the locality. Along with the homes' high standard of design and fit-out, we know this will be a key attraction."
The scheme was certified as wind and water-tight in December and work is now progressing through the fit-out of the first floor apartments. Work will progress floor-by-floor throughout the Spring.
Caro Developments will manage the lettings directly. The scheme's professional team is: Architect Falconer Chester Hall; Simply CDM; employer's agent and QS WYG Management Services; Newry Construction; M&E PSD; ADS Structural; fire WSP; acoustics Wardell Armstrong; structural warranties RoyleMac10; building control Assent Building Control; PB Sustainability.
::
Take-up of logistics space in the UK reached record breaking levels by the end of 2020, as e-commerce continued to be the undisputed driving force behind the sector's growth, according to Cushman & Wakefield.
Take-up volumes for the year reached almost 49.8 million sq ft eclipsing the previous record of 40 million sq ft achieved in 2008 and 2018. Take-up levels in the North West during 2020 hit 4.7 million sq ft, an increase of 32% on the previous year.
E-commerce, led by the likes of Amazon, was the driving force of demand throughout the year as the sector rushed to secure additional space to meet soaring online sales during the COVID-19 pandemic.
It accounted for almost 38% of total annual take-up – including parcel delivery and postal operators – an all-time high. Demand across the North West originated from all major sectors with manufacturing accounting for one third of deals signed.
Availability in the region fell by more than 40% in the past 12 months to 7.4 million sq ft, well below the long-term average of 9.3 million sq ft. This lack of supply is apparent for larger units, with only eight buildings in the North West capable of accommodating requirements of 200,000 sq ft and over.
Rob Taylor, partner, logistics & industrial at Cushman & Wakefield in Manchester, said: "Despite the unprecedented challenges in 2020 brought about by the COVID-19 pandemic and Brexit, we saw the sector respond to the opportunities positively with record levels of take-up, as well as continued rental growth and increasing land values.
"With a number of new entrants coming into the industrial market in 2020 and early 2021, we see this trend set to continue. In the first few weeks of 2021 we have already seen a continued strength in the depth of demand and with further speculative development confirmed and proposed in the region, we hope to see a strong figure again for 2021."
::
Forbes Solicitors advised on £22m-worth of commercial property deals in December 2020, as the total value of monthly transactions returned to pre-COVID levels.
Despite trading restrictions imposed by the Government's coronavirus tiering system and a second national lockdown in December, the firm's commercial property team recorded its busiest month of 2020.
Instructions were completed throughout the North West and across a range of different sectors, including construction, medical, warehousing and retail. Deals involved a mix of land and property purchases as well as company share sales.
The value of the largest deals ranged between £4m to £10m, while a flurry of sub £1m value deals was driven by residential and industrial construction projects and the restructuring of property portfolios.
Adam Bromley, partner and head of commercial property at Forbes Solicitors, said: "The most noteworthy aspect of the strong end-of-year uptick in commercial property deals is not so much the total value of deals, but the fact that we saw demand across such a mix of different sectors.
"This shows companies are adapting to the impacts of the pandemic and that there's growing levels of confidence to invest in and strengthen businesses.
"There's still much market uncertainty, however, whilst this may have slowed or stopped deals previously during COVID-19, we are now seeing much more eagerness amongst businesses to explore how deals can be structured to weather the storm. This has included more flexible and transparent negotiations, as well as pandemic-specific clauses inserted into agreements."
::
A shortage of Grade A logistics space is expected to push rents to new levels in the North West, according to a market update from Knight Frank.
Unprecedented demand from e-commerce and logistics services providers saw 5.6 million sq ft taken up last year – a 17% increase on 2019.
Industrial partner Sam Royle said: "Prime rent last year was £6.95p sq ft, but with supply constraints, particularly for larger units, there will be continued rental growth and we expect to see rents for Grade A big box in core markets reach £7p sq ft plus."
Sam added: "We start 2021 strongly with a number of live requirements in the market and around three million sq ft currently in solicitors' hands and with online trends continuing expect continued momentum this year with strong levels of take up.
"The main issue is going to be the dearth of good quality stock in the market and limited development pipeline.
"At 280,000sq ft, Panattoni's scheme at Wingates, Bolton, is the largest speculative unit available currently under construction, and with practical completion in June, this prime logistics building will be well positioned in a market where new-build supply is increasingly out of synch with the nature of demand.
"With occupiers' preference continuing to focus on Grade A accommodation, the lack of new-build supply will also likely result in design and build becoming ever more prevalent in 2021."