People: Dow Schofield Watts; Mazars; Wrights Food Group; FT Select; Grant Thornton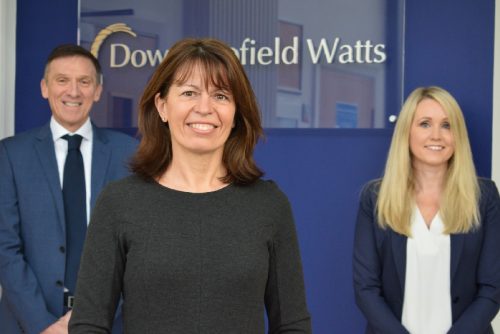 Jill Jones, the former North West Regional managing partner of RSM, has joined fast-growing advisory firm Dow Schofield Watts as non-executive director.
Her appointment will further strengthen its board and support its national growth plans.
Jill was regional managing partner of RSM from 2013 and more recently was also a main board director and acting COO until her departure in June 2020.
She has more than 30 years' experience in accountancy, having started her career at Deloitte, Haskins & Sells in the North West.
On the Dow Schofield Watts' board, she joins fellow non-executive director Heather Lauder, the former banker who oversaw the turnaround of Northern Rock and the Co-op Bank's retail arm, the group's CFO Nicole Burstow, COO Richard Evans and the six founding directors.
With 78 professionals and offices in the North West, Leeds, London and Aberdeen, Dow Schofield Watts ranks as one of the UK's leading independent accountancy firms.
Jill said: "I have known Dow Schofield Watts for many years and have always held them in high regard. They are a well-respected, quality team delivering great client service. They combine ambition with integrity and share my own strong belief in the value of ethical standards and good governance."
James Dow, founding partner, said: "Jill is well known and highly regarded within professional services. Her experience in helping to grow and build RSM's business regionally and nationally will be invaluable in supporting Dow Schofield Watts in the next stage of its strategic development."
::
Mazars, the international tax, audit and advisory firm, has appointed David Hilton as office managing partner in Manchester, while also promoting Nick Nesbitt to partner.
Having trained and worked in the city for 18 years, and with Mazars throughout, David has developed strong and lasting relationships with clients and peers across the North West. He will focus on sustaining the firm's momentum in Manchester, where, during the past two years, the team has nearly doubled in size from 117 to 205. David will also continue the building of a leadership team in strategic growth areas including tax, advisory, audit and restructuring.
David succeeds Tim Hudson, who has been responsible for overseeing a period of unprecedented growth during his tenure. Tim is a prominent member of Mazars' UK and global leadership teams. He has recently been re-elected for a further four-year term in the role as chair of the international supervisory board (group governance council) and he will continue to support a range of listed and large clients in the UK and abroad.
Nick Nesbitt, who joined Mazars as a graduate trainee in 2009, has worked across many of the firm's UK offices. From his current base in Manchester, Nick has been responsible for growing the firm's financial planning proposition in the North West.
He has led the development of the firm's healthcare financial planning specialism, which he will continue to grow alongside the firm's existing privately-owned business focus over the coming years.
David Hilton said: "It's an honour to take on the office managing partner role in Manchester, and I'm very fortunate to be working with such a talented group of partners who share my vision for growth.
"This year has been challenging for many of our clients, but we are looking forward to supporting them for many years to come. We continue to invest in the city and our team.
"Our current partner group represents both our deep pool of home grown talent and our attractiveness as destination for talented professionals from across the industry. We have welcomed new partners in Tarifa Simpson, Chris Martin, Steven Abbott, Julien Irving and Nick Nesbitt in recent months, and we are actively looking at a range of opportunities to grow and develop our team."
::
Wrights Food Group has appointed a new managing director as it continues to expand the business into new markets and develop more industry partnerships.
The Crewe-based food manufacturing specialist, which supplies savoury and sweet bakery products as well as ready meals to some of the UK's leading retail and hospitality operators, has appointed Ian Dobbie into the new role from this month.
Dobbie is an experienced board director having held a 20-year role as UK managing director and then CEO of global bakery business the Délifrance group, specialising in the supply of frozen bake-off products. He has also held senior positions at Associated British Foods, CPC/Bestfoods and Northern Foods.
Working alongside the company's chairman, Peter Wright, and the board of directors, Dobbie will focus on further growth across all sectors and developing a strategic plan for the next stage of business expansion.
He said: "While this is a challenging time for all businesses, it is also immensely exciting as we build on almost a century of Wrights food production across our Crewe facility which has the capacity to grow alongside the agility to innovate and move quickly on customer briefs.
"Developing new partnerships and launching new products has been a key focus of the last 12 months and I'm keen to lead the team in further strategic growth while continuing to invest in, and perfect, our new product development to introduce even more first-to-market products."
Chairman Peter Wright, added: "As an established food manufacturer we are growing, evolving and entering new markets. Ian's appointment marks a new chapter in almost a century of producing quality 'family favourites' for hospitality, retail and food-to-go markets and I know Ian is absolutely the right person to maximise the many opportunities that are open to us."
::
Cheshire-based FT Select has appointed Malcolm Nicolls as a non-executive director, signaling ambitious plans for the boutique telecoms recruitment company.
Malcolm has a background in electronic engineering and brings with him a wealth of experience and insight from his successful career spanning many years in the telecoms industry, which includes senior appointments at Nokia and Nortel.
More recently working for Nokia Network's €21bn organisation of 90,000 people, he led more than 25 critical internal business transformation projects worldwide.
Working with boards and senior executives in Asia, Latin America, China, the US and Europe he solved strategic growth, organisational change and complex business profitability challenges.
FT Select managing director, Richard Thomas, said: "We are so lucky to have Malcolm in the leadership team and he's already made a huge impact. He shares our values and vision at FTS, and he will help us shape our strategy and propel our expert telecoms recruitment company to market leaders in modern communications recruitment over the next few years."
::
Business advisory firm Grant Thornton UK has promoted Paul Wilson to partner in its North West practice.
Paul has worked as a VAT director in the firm's tax team for the past four years. He has been based in the region for 13 years of his two-decade career – which has been focused entirely in VAT – and before that worked in London and New Zealand.
He has experience advising a broad mix of clients including FTSE 100 companies, multinational businesses, and owner-managed businesses. Paul has particular expertise in manufacturing, technology, real estate and private healthcare, and is a recognised expert in international supply chain advisory. This has led to him leading several of the firm's Brexit readiness projects for its client base.
Grant Thornton has also announced two further promotions within the North West team.
Louise Gannon and Paul Bamber have both been promoted to director. Louise now leads the not-for-profit corporate tax team and has more than 13 years' experience advising both charitable and corporate organisations.
Paul joins the leadership group within audit that has overseen significant growth through 2020 and is targeting further expansion in 2021. He has 20 years' experience advising businesses across a broad range of sectors including privately owned, PE-backed, AIM-listed, and international groups.
The North West practice has its headquarters in Manchester and recently reaffirmed its commitment to the city by announcing a new 15-year lease which will see its 350-strong Manchester team based at the Landmark office development at St Peter's Square.
Paul Wilson said: "I am hugely excited to be taking the next step in my career with Grant Thornton. The strength of the tax team in the region was a major draw when I joined the firm in 2017, so I'm incredibly pleased to step up to partner within it.
"The region's businesses have faced a year like no other during 2020. But the result of the Brexit negotiations, and the start of life in earnest outside of the EU, presents fresh challenges for many internationally trading businesses. Timely, reliable, clear advice is the ask from all business leaders and Grant Thornton is committed to providing that."
Carl Williams, North West managing partner for Grant Thornton UK, said: "Paul's promotion to partner comes at a time of significant potential disruption to international supply chains, when our region's globally trading businesses need assured counsel. I'm pleased to see him make the step up to partner and to continue to offer real insight and guidance to our client base."