People: Forward Role; HLF Berry Solicitors; Breathe Technologies; TiE UK North; Ultimate Visual Solutions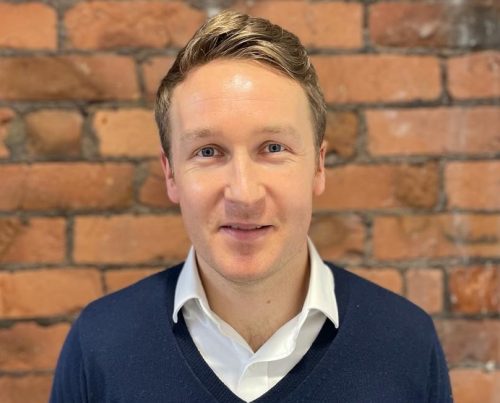 Forward Role, the Manchester-based tech, marketing and digital recruitment agency, has appointed Alistair Collier as its technology recruitment director.
Alistair has spent the past 15 years embedding himself in the technology and change/transformation recruitment market across the North West, proudly being a co-lead of the Change Management Institute in the North and co-founding the Manchester Change Forum.
Forward Role managing director, Brian Johnson, said: "We are very excited to have Alistair joining us to support our growth strategy. He brings a strong reputation in the technology and change market and a track record of leading high performing recruitment teams.
"We've already started to see a trend towards clients accelerating their transformational journeys as a result of COVID and this appointment allows us to support them at the most senior levels of their businesses."
Alistair said: "I'm very excited to be joining such an amazing brand. The blue chip client base of Forward Role across its traditional functions gives us a wonderful platform to build on and there is a desire, ambition and quality about the business that fills me with excitement.
"With a solid footprint in the technology space, our aim is to grow the teams and expand our proposition to support a wider clientele. Manchester's tech scene continues to blossom and our transformation and growth mirrors a lot of our potential clients. It's great to join Forward Role on this journey."
::
Residential conveyancing specialist Helen Taylor has been appointed as a senior conveyancer by Chorlton law firm HLF Berry Solicitors, looking after a range of property matters for clients in the area.
In her new role Helen will be dealing with all aspects of residential conveyancing and property, working out of the firm's Chorlton office alongside Paul Hannam, HLF Berry Solicitors partner.
"We're delighted that Helen has joined our team and we welcome the expertise she brings with her," said Paul Hannam.
"As a firm, HLF Berry Solicitors, together with our predecessor firm Robin Burman and Co, has been providing legal services across the Manchester area for 100 years and more – and we have a reputation locally for being proactive, knowledgeable, approachable and dependable on all matters of law."
The company provides services that span family law, commercial law, wills, probate, Court of Protection, charities, education law, ecclesiastical law and conveyancing law.
With previous experience in a wide range of residential conveyancing property matters, Helen has worked for other law firms across the country as well as in banking before joining HLF Berry Solicitors.
She said: "I am really enjoying my work for HLF Berry Solicitors so far and am excited about working with the team at the Chorlton office on an ongoing basis.
"Obviously, the coronavirus pandemic is having an impact on us all and it'll be even better when we're able to get back to working face-to-face with clients.
"Despite working remotely, I've already been able to assist clients in the local area with their property transactions to ensure the process is as smooth as possible."
Paul added: "Joining a new law firm at this time is undoubtedly challenging, but Helen has been brilliant, handling it all professionally, approachably and efficiently."
::
Claire Umney has been appointed as managing director of Warrington-based Breathe Technologies to drive the company through its next phase of growth.
Joining the executive team, Umney will deliver the company's sustainable growth objectives as it builds on its high-tech, automated handling solutions and software offerings.
Bringing Conveyor Networks and imio Software under one brand identity, Breathe Technologies, was the strategic decision of company executives to address the requirement for a holistic automation and software offering in the UK marketplace.
Umney joins Breathe Technologies from international software solutions provider, AEB, where she worked for 12 years, most recently as strategic initiatives director. She has also held roles at CEVA Logistics and TNT.
David Carroll will become CEO, where he'll take a more strategic and supportive role, while exploring further opportunities and partnerships for Breathe Technologies.
The rebrand and restructure comes at a pivotal time for the retail industry.
David Carroll said: "2020 saw a seismic shift in the retail industry, and we've seen just how important the ability to adapt and change quickly is.
"The future of automated handling solutions lies in flexibility and adaptability, and AI-led systems will soon become the norm. We're increasingly seeing software at the heart of the warehouse. We want to ensure that our brand reflects the broad ranging high tech solutions and software we offer."
He added: "Claire's 20+ years' experience in logistics, supply chain and technology, particularly her background in supporting customers with designing and deploying logistics solutions, as well as her business management experience for an international software solutions company, makes her the perfect fit to take Breathe Technologies forward. She has energy in abundance, a clear desire to provide a great customer experience, and a tenacity to make things happen."
Claire Umney said: "The managing director role really excited me as I am entrusted to continue David's legacy and lead the continued growth and development of the business and its people. The company's collective skillset and obvious commitment to continued success gives us a solid foundation and a great platform to move onwards.
Breathe Technologies provides technology solutions to retail, e-commerce, distribution, and manufacturing workplaces. Its clients include QVC, Pets at Home, Amazon, Yodel, Ultimate Products, Debenhams, WHSmith, Unilever, and Johnson & Johnson.
::
TiE UK North has appointed a new president, with Tony Walker replacing the outgoing Vikas Shah.
Established for almost a decade TiE (The Indus Entrepreneurs) UK North each year works with hundreds of businesses and some of the most influential CEOs and founders across the North of England. Tony, a TiE UK North board member since May 2019, is deputy director at The University of Manchester's Masood Centre.
He said: "I feel very proud to have become president of TiE UK North, a chapter of TiE Global, which is one of the world's largest entrepreneurs networks.
"TiE UK North is a highly respected organisation that has a global reach and I am looking forward to continuing the fantastic work of the chapter and giving back as much as I can during my tenure."
TiE, a non-profit venture devoted to entrepreneurs in all industries, at all stages, from incubation throughout the entrepreneurial life cycle, was founded in 1992 in Silicon Valley by a group of successful entrepreneurs, corporate executives, and senior professionals with roots in the Indus region.
Tony, an experienced director having worked in the higher education industry for the majority of his career, said TiE's mission of fostering entrepreneurship through mentoring, networking, education, funding and incubation is now more important than ever.
"Entrepreneurship is so vital in every region throughout the world," he said.
"The more we can educate younger people about entrepreneurial solutions to the economic recovery, health care, medicines and more, the better. It's also about making sure that the younger generation have opportunities when they are leaving school, college and university and people practicing that entrepreneurial mindset is a solution to this."
::
Video wall technology experts Ultimate Visual Solutions (UVS) has responded to increased demand for its products and services by adding software development and IT engineer Daniel Tindle to its team.
Daniel brings a wealth of experience in relevant software development and will be assisting in the expansion and builds of UVS's Lucidity video wall controller and software products.
He completed his degree in computing and software at UCLAN and has a background in software advancement for a range of applications.
Steve Murphy, managing director of UVS, which is based in the Business First – Burnley Business Centre, said: "Daniel is the latest recruit to the expanding UVS team and brings a wealth of experience in relevant software development to UVS.
"He has been recruited to help deal with the increasing demand for Lucidity video wall controllers and software and will also assist in controller hardware testing."
Daniel said: "I am delighted to be joining UVS at such an exciting time, with businesses adapting to deal with the effects of COVID-19 and an online service becoming more and more important."
UVS provides video wall displays and audio visual solutions to a range of clients across the UK and the rest of the world.