Property group Bruntwood hails 'resilient year'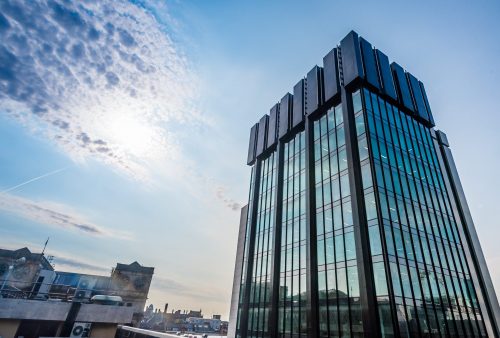 Bruntwood has revealed a resilient performance last year, buoyed by progress made in its SciTech network.
The property group saw its underlying profits edge up slightly to £40m for the year to September 2020.
It boosted its cash reserves by more than 50%, to £26.3m, and still had undrawn facilities of £50m.
Chris Oglesby, chief executive of Bruntwood, said: "The nature of our business means we do not measure success over annual accounting periods but over much longer time-horizons. But despite this, we showed great strength and resilience in 2020, with the underlying performance of Bruntwood improving during the UK's greatest economic crisis of modern times."
The group is split between its workspace division Bruntwood Works and its science park arm Bruntwood SciTech, which is a joint venture with Legal & General.
Bruntwood's turnover fell 16% to £135m, which it mainly attributed to the impact of "the one-off nature of the 'develop to sell' car park and hotel at Circle Square" in its 2019 figures.
It recorded a valuation loss of £21.2m on its nearly-£1bn Bruntwood Works portfolio as it invested capital to maintain its portfolio's value position.
The group saw revaluation movements in its joint ventures and other accounting provisions meant it recorded a statutory pre-tax loss of £18.9m, compared with a pre-tax profit of £51.8m in 2019.
Despite the obvious challenges caused by COVID-19, and the much-debated uncertainty around the long-term strength of city centre office markets, there were still a number of positives for the Manchester-based group.
Rental income continued to perform strongly and grew overall by 2% during the financial year.
The group continued to progress with its long-term investment into new developments and the transformation of its existing portfolio.
Bruntwood SciTech's portfolio of innovation districts, which includes Birmingham Health Innovation Campus and Manchester Science Park, increased turnover by one-third to £40m and its portfolio value rose 20% to £527m.
Oglesby added: "As the pandemic struck, we worked quickly to deliver a new strategy – stabilise operations, support customers, and manage costs.
"We accelerated the Works and SciTech propositions to support crucial areas of the economy. We got closer to customers, deepening relationships and navigated the pandemic together."
The ongoing expansion and evolution of Alderley Park in Cheshire continued at pace, with the UK's largest single-site life science campus being selected as the location for one of the Lighthouse Lab national COVID-19 testing centres.
Elsewhere in the North West, Bruntwood SciTech took a 25% stake in Sciontec Liverpool, the public-private partnership supporting the growth of the city's science and technology sector within Liverpool's £2bn Knowledge Quarter.
At Manchester Science Park, its Citylabs 2.0 building reached practical completion while work began on the £21m redevelopment of the Base building.
Within Bruntwood Works, the £50m Pioneer investment programme continued to gather pace with Blackfriars House opening in Manchester in March, and with the city's first smart-enabled building, 111 Piccadilly, nearing completion.
Pioneer aims to create workspaces that support organisations in their efforts to improve employee wellbeing, social connection and collaboration, and the sustainability of their operations – strategic business priorities that the pandemic has served to accelerate.
In October 2019, in the latest step in its long standing partnership with Trafford Borough Council, Bruntwood Works acquired Stretford Mall and Stamford Quarter in Altrincham for £50m.
Bruntwood Works secured planning permission for the new Lumina Village neighbourhood in September 2020. The 12-acre site encompassing the former Kellogg's headquarters will deliver 750 new homes, 200,000 sq ft of office space and a new hotel.
The current financial year began with the launch of three new businesses – Unify, Unify Energy and CubicWorks – that effectively in-source the facilities management, fit-out and utilities services Bruntwood can offer to its 2,600 customers.
As part of its strategic partnership with Manchester University NHS Foundation Trust, the city council and Manchester Health and Care Commissioning, Bruntwood began consultations on plans for two new transformational projects at hospital sites in North Manchester and Wythenshawe in December.
This month, Bruntwood Works, in partnership with Trafford Borough Council, unveiled its multimillion-pound masterplan for Stretford Mall and town centre that will include reinstating the King Street high street, a village-like mix of open spaces, a 'Makers Yard' hub for small independents, waterfront bars, restaurants and new housing.