Vehicle manufacturer to take on 17 new apprentices in 2021 intake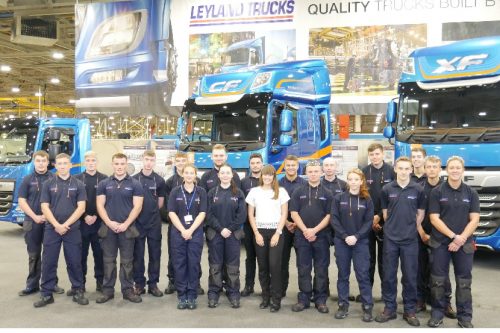 Lancashire manufacturer Leyland Trucks has opened recruitment for its apprenticeship scheme, planning to take on a minimum of 17 to strengthen its team, and coinciding with National Apprenticeship Week.
Leyland Trucks, based at Croston Road in Leyland, is recruiting 10 assembly operatives, four automotive engineers, two design engineers and one fabrication and welding engineer, having recently offered permanent positions to the 29 apprentices that completed their courses in 2020.
Each year, the company projects how many apprentices it needs to hire to fill skills gaps left by those retiring from the business and to meet new and emerging skill requirements, opting to introduce young talent to ensure they become an integral part of the succession planning of the business.
Leyland Trucks said it is committed to supporting and nurturing people who join the scheme, and during the 2020 lockdown enabled its apprentices to continue their education by working with local colleges to deliver lessons remotely.
All apprentices worked extremely hard and completed their qualification within the timeframe allocated.
Depending on the type of apprenticeship undertaken, and the area where the apprentice is due to work, the duration of an apprenticeship with Leyland Trucks lasts between two and five years.
On successful completion of the apprenticeship, the individual receives a recognised qualification which can then be used to progress their education and career further within the business.
The apprenticeships are available to GCSE school leavers who achieve a minimum of five 9-4 grades at GCSE, including maths, English and science. Applicants for the design engineering will need a minimum of CCC at A-level/BTec – equivalent to 96 UCAS points – from an engineering related qualification.
Leyland Trucks HR director, Ivan Shearer, said: "Every year we bring on a new stream of local, young talent who fully embrace our apprenticeship programme, throwing themselves into the world of engineering, and every year we get excited afresh about how much value they might each bring to the industry.
"Our current apprentices – like us – weren't prepared for the turbulence the pandemic would inflict on the earliest days of their careers, but they each showed commitment to the programme and we were able to reward those graduating with the offer of permanent positions with the company.
"It's essential that we retain such dedicated individuals and provide them with the opportunity to work with us for the long term."
::
Also marking National Apprenticeship Week, Knowsley-based property restoration business the Forshaw Group is assisting five of its female members of staff with apprenticeships, to enhance their careers within the business.
The firm has partnered with Sysco Business Skills Academy to deliver these apprenticeships for the next 18 months.
Amy Meath, Lauren Cooper, and Danielle Seddon will be upskilling their existing expertise in customer experience, with Natasha Hurley to progress her career inh human resources. Mollie Murray will also be furthering her training with the restoration team.
Managing director, Liam Hanlon, said: By helping these young women enhance their careers in their specialist roles, we hope this will encourage other local companies to undertake apprenticeship training for their staff."
::
Oldham College is showcasing 'work ready' learners whose career hopes have been put on hold by COVID-19 to mark National Apprenticeship Week 2021.
The FE provider has around 150 young people currently itching to start apprenticeships with local employers across a range of sectors – including construction, health and social care, IT, digital, management and many more.
It will be sharing daily video case studies across its social media channels to attract potential employers this week.