Virtual reality entertainment group planning for strong pandemic recovery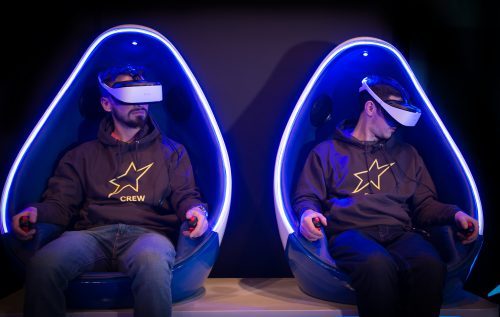 Salford-based virtual reality entertainment group Immotion said it is confident its market will see a strong recovery later this year as vaccine programmes start to take effect.
The business revealed a new contract today, to provide a new Undersea Explorer VR Theatre at Clearwater Marine Aquarium in Florida, USA, which is expected to open next month.
It will include interactive pre-show exhibits, as well as a 22-seat VR theatre where customers can enjoy the group's 'Swimming with Humpbacks' VR movie.
The installation will be part of the aquarium's new Whales: 'Living with Giants' exhibit.
Clearwater Marine Aquarium is one of the leading aquariums and marine life rescue and research facilities in Florida and was featured in the films Dolphin Tale and Dolphin Tale 2.
The facility is dedicated to the rescue, rehabilitation and release of sick and injured marine animals, public education, conservation and research.
With more than 750,000 annual visitors historically, it has recently completed an $80m upgrade to its facilities and the Undersea Explorer VR Theatre will be a centrepiece of the new exhibit space.
Immotion said the Clearwater Marine Aquarium agreement allows for a 50:50 revenue share with the partner, along with a monthly fee to Immotion to defray installation costs. The contract will initially be for 12 months, with scope to extend, including the addition of new content to refresh the experience for guests over time.
Group commercial director, Rod Findley, said: "We are absolutely delighted to be partnering with Clearwater Marine Aquarium on this milestone installation.
"It is a signal that institutions are looking forward to the post-pandemic world and making bold steps to give their guests the newest and most exciting experiences.
"We're honoured to be part of the first exhibit to go into the new $80m expansion at the aquarium. With Undersea Explorer operational in March, we will be well poised to take advantage of the Spring and Summer traffic."
The group also provided an update on its international locations as part of today's announcement.
In the USA, Immotion has 23 partner locations – 20 of these are open, with 18 operating its VR installations. Two further partner locations remain closed completely and a further one partner site is mid renovation.
It said trading at its operational USA aquarium partner sites is encouraging for the time of year and given the overall trading environment.
In terms of future developments, Immotion has seen a significant uplift in enquiries from potential new partners and is in discussions in relation to a number of larger sites in the USA, in line with its stated strategy of focusing on fewer, but higher traffic, sites, which can support larger interactive installations, and which are a more integral part of the Partner offering.
While the UK LBE (location-based entertainment) business, including its own ImmotionVR entertainment centres, is sadly still closed, the group is hopeful that, as progress is made with the UK vaccination programme, it will benefit at least from a strong Summer of trading and would hope that it may even see some earlier easing of restrictions.
It said: "We believe that there will be considerable pent up consumer demand for out of home entertainment and the UK leisure market should benefit from a significant 'staycation' season if it opens up for the Summer."
Installations at Sealife Sydney and Melbourne are open, and trading is picking up as Australia enters its Summer season. In addition, the company expects to open a Tower Coaster at the landmark Sydney Tower Eye in the next few weeks.
Immotion said that, while its LBE business has experienced very challenging trading conditions as a result of the various lockdowns and restrictions, it is increasingly optimistic that as vaccine programmes take hold in the UK and USA, and as we move towards the Summer in both countries, there will be a strong recovery: "We believe that the longer-term prospects for our LBE business remain attractive."
Following the successful UK launch of the Let's Explore home entertainment business in the fourth quarter of 2020, the company sold more than 11,000 units in the build-up to Christmas. The quieter post-Christmas period has given the group the ability to take a breath and focus on optimising the supply chain, which should see significantly reduced product cost and the opportunity to plan for growth.
Stock has been bought forward at sufficient scale to allow Immotion to achieve around a 40% reduction in product cost and this will support a USA launch of the Let's Explore Oceans product later this month.
Sales of Immotion's UV Uvisan disinfection cabinets, in response to the coronavirus pandemic, continue to grow, with success in a number of sectors including education, film and TV production and businesses utilising VR headsets in both leisure and B2B applications.
The company has invested in the creation of a proprietary ambient UV room disinfection system, which uses UVC ultraviolet light, combined with a proprietary tablet-driven, wireless control and safety system, to offer a simple to install and cost-effective room disinfecting system.
The new product has the ability to disinfect an un-occupied room and its surfaces in as little as 10 minutes, making it ideal for both overnight use and, particularly, for rooms where rapid turnaround between user groups is required.
For example, it says it is ideal for school and university classrooms, offices, multi-user recording and post-production studios, operating theatres and laboratories to name a few.
The system has been installed and tested in a university environment and is currently in the final certification process.
Along with the Uvisan UV disinfecting cabinets, the company will be able to offer a range of products for safe and easy disinfection of rooms, surfaces and equipment and will look to scale up this activity through 2021, working with carefully selected partners.
Mr Findley added: "As capacity restrictions are lifted, we are confident our Location Based Entertainment business will recover quickly and return back to delivering solid revenues.
"As far as new partnerships go, we are very pleased with the level of inbound enquiries we are seeing for larger installations, a number of which we believe will come to fruition during this calendar year."