Architect completes latest schemes to create 51 new homes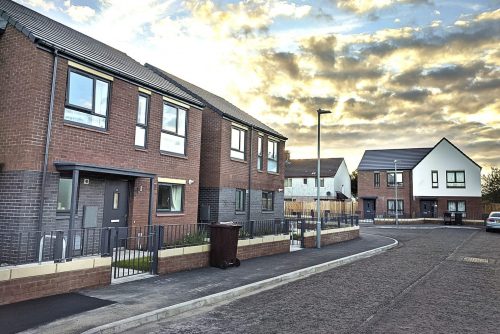 Liverpool architects Brock Carmichael has completed work on two schemes that have created more than 50 new homes.
It has completed work with Plus Dane Group, Knowsley Borough Council and main contractors Vistry Group on 43 new homes in Shacklady Road, Pentland Road and Trecastle Road, Northwood, Kirkby, Liverpool.
Homes are a mix of family housing, eight one-bedroom apartments and six two-bedroom bungalows.
The development brings an unused urban brownfield site back into use on the edge of existing housing. It provides new, high quality homes with frontages that give a stronger sense of community, urban cohesion and a better sense of place, with improved connections to Northwood Forrest Hills and its fishing lake.
John Cassell, partner at Brock Carmichael, said: "Brock Carmichael is often a catalyst in turning the vision for a site, community or building into reality. That usually involves bringing a team together consisting of a housing association, council, contractors and increasingly these days, residents and communities. This project for Plus Dane is an excellent example of what can be achieved when you work together."
Work began on site in January 2018 and is now complete, families have moved in and are already enjoying their new surroundings. The development of 43 homes at Shacklady Road forms part of Knowsley Council's Growth Strategy and was the beneficiary of a £1.38m grant from Homes England.
Brock Carmichael has also seen its plans to transform a small development plot into homes on Holly Road, Liverpool, for Sanctuary, become reality.
The site was previously occupied by a large Victorian house demolished in part and surrounded by other Victorian era Neo-Georgian and Gothic style villas.
The scheme provides eight new build apartments and a further two-storey duplex building formed from an existing building.
All nine homes are cottage flats 'walk up' arrangements for individual external front doors around a courtyard configuration and of a vernacular design. All buildings are two-storey and with associated external space, car parking and landscaping.
John Cassell said: "Brock Carmichael is really proud of the work we've undertaken at Holly Road to take derelict land and buildings and create new homes for the community."
He said the firm has always seen social housing as a key foundation for the practice and is currently undertaking a wide variety of work where councils and social housing providers are wanting to make more effective use of their built assets.
Brock Carmichael is working on a range of other major social housing projects in the North West including 57 homes in Ellesmere Port and the completion of Blacon Parade, Chester, a group medical practice with 16 apartments for Sanctuary, and Cheshire West and Chester Council.