A shoe shop with no shoes is next step in retailer's fightback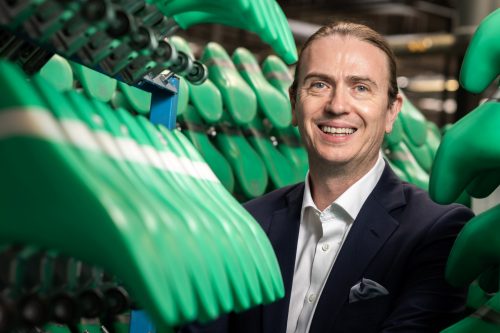 Retail is undergoing rapid change and disruption, but if Hotter Shoes' chief executive Ian Watson has his way, there are big strides still ahead.
His vision is for a shoe shop with no shoes.
Watson has a clear view of Hotter's stores becoming "experiential centres" that uses technology to make them inventory-free.
3D technology would measure the customer's feet, and assess whether arch support is needed, then augmented reality would project the image of the shoe onto the foot. The chosen pair would be manufactured and delivered to the customer's door the next day.
The model would mean that millions of pounds isn't tied up in stock "on the off chance that someone is going to walk in, needing a size 9 1/2 in a slim fit and having the specific style they want", he said.
But before we get ahead of ourselves, let's take a step back.
Hotter has made huge strides in the transformation that Watson was brought in to oversee two years ago.
His first year in post was about pushing forward with a digitalisation strategy as he sought to balance that with managing a chain of stores in a declining high street sector.
His second year has been dealing with the forced acceleration of transforming the business, as stores closed – first through lockdown restrictions and then through a CVA which was needed to keep the business on its feet.
Watson said: "As strange as it sounds, the second period was easier than the first because people are much more accepting that there is a change required, and there's a change required that is quick.
"We spent a lot of time agonising over the CVA route and clearly it's hard when you've got to let so many of your colleagues leave. But you've got a duty of care for the 600 people that you do employ and therefore it was the right thing to do."
The business shrank. It closed 59 stores and now has only 17 stores and six concessions, its Skelmersdale factory went from 300 people to 200, and annual sales – which had been above £90m for several years – came in at £45m.
Watson said: "All businesses have to go through some level of restructuring at some time, but then once the restructuring is over, you've got to grow. You can't cut yourself to glory."
There are now positive signs. Online sales in the six weeks of Christmas trading were up 27% and in the financial year that began three weeks ago, the forecasts are for a 31% growth in sales.
He said: "We've got to grow – we've got to grow digitally and we've got to grow by developing great products that we're all passionate about delivering to the consumer.
"That's the bit we're really instilling into people – if you don't care, nobody else will, so let's do the best job that we humanly can.
"It genuinely is pretty exciting. There are more ups than there are downs.
"But it is a rollercoaster. Don't let me give you the impression this is a breeze."
It has been an extremely tough year for retailers, and footwear retailers have taken a good kicking. Clarks and its 320 stores went through a CVA in November, Dune has this month launched its CVA proposals to keep its 218 locations trading, and Office has permanently closed some stores as its South African owner's two-year mission to restructure or offload the chain drags on.
Hotter completed its £3m CVA in January and Watson is now keen to put his best foot forward.
But the retailer's challenges are not just about the high street, Covid, or Brexit, which has seen it suspend its "limited" online sales to Europe for the first quarter of the year.
It needs to grow a brand whose average customer age was in their early 70s and its product range was built around comfort.
"The historical view of Hotter is it's just for the people who have relaxed to the point where they've almost given up on what they look like, and therefore we're challenging those perceptions now in a positive way," he said.
"Actually when you are ultimately comfortable with yourself and you've given up on on thinking about the preconceptions of others, you're free to be whatever you want to be. Being comfortable does not mean that you have given up on any style element.
"We've improved the products from a from a technical perspective and a comfort perspective but we've significantly spent a lot of time on our styling."
The recruitment of Claire Pearl as chief product officer 18 months ago, who had been a buying and merchadising director at The White Company, Phase Eight and most recently Hobbs, was one of several senior appointments that have been key to the repositioning of the brand.
He said: "Over 180,000 customers joined our database last year and they had an average age of 54. You can see that the shift we're making in the product portfolio is starting to pay off in the demographics that we're bringing into the brand.
"We've not lost sight of our 73 year-old customer, but we're also making sure that we're having products which are attracting new people in."
Watson is excited about the product ranges in development that customers will have on their feet later this year, the collaboration with polymer producer BASF on Infinergy technology to give the shoe rebound properties you would find in running shoes, an iOS app with measuring technolgy and augmented reality that will launch in April, and investment in automation that will accelerate improvements in manufacturing quality and shorten turnaround times.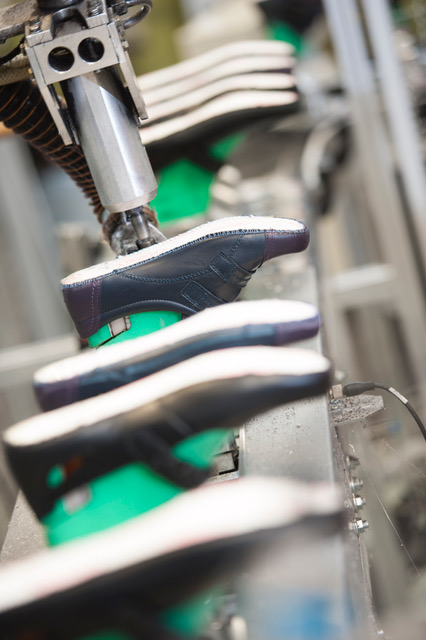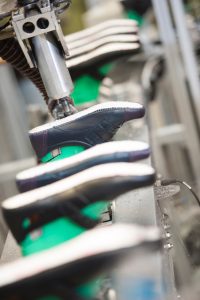 "When I joined the business we had a service proposition that said if you place an order we'll deliver it between five and seven days," he said.
That mindset in 2019 was a hangover of the catalogue sales business it was for its first 40 years before Hotter opened its first shop in Southport in 2001.
"Now we've got a service proposition that if you place an order before six at night you'll get it next day. We really want to push that out and we want to get it to midnight, and then where's next?
"It's all linked to the users we're attracting – today's digital user is not waiting seven days."
Watson's focus on people is not just about the increasing expectations of the four million people on his database, but about the 500 people the business employs.
"The people who were working in our distribution centre through lockdown one kept the business going," he said.
"I'm more thrilled for them that we got through the year and we've got a much brighter future in front of us. Without these people's commitment, we could have been a very different story."