North West Business Briefs: TalkTalk; Equilibrium Financial Planning; Trafford Council; Farjo Hair Institute; Electricity NW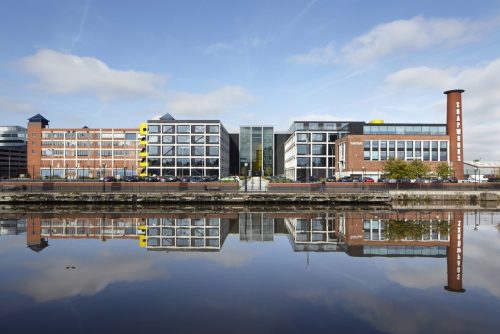 Salford-based communications group TalkTalk is to take on more than 50 young people on six-month work placements as part of the Government's Kickstart Scheme, with the possibility of converting them to full-time roles.
The scheme is run by the Department for Work and Pensions (DWP) and will last until the end of 2021. It provides funding to create new job placements for 16- to 24-year-olds on Universal Credit who are at risk of long-term unemployment, having been hit hard by the COVID-19 crisis.
TalkTalk, which was taken private last December following a £1.112bn takeover by Toscafund Asset Management, is offering roles across all areas of the business, including customer relations, communications, technology, and administration initially, with the potential to extend into other departments later in the year.
The group will also be selecting applicants with the help of The Prince's Trust, a charity which supports young people on their journey through education and workplace training.
All placements will be paid Real Living Wage for 25 hours a week over the six month contract period. TalkTalk will review the placements once the six month contract ends, with the potential to place those on the Kickstart Scheme into full-time positions.
Daniel Kasmir, chief people officer at TalkTalk, said: "Thanks to the Kickstart Scheme we're able to provide some much-needed opportunities for young people in our area to gain real-life work experience, learn new and transferable skills, and workshop their CVs so they can secure a fantastic job in the future, be it with us, or elsewhere."
::
Equilibrium Financial Planning is rolling out a new series of workshops for primary schools as it reinforces its commitment to bettering the financial education of children in the UK.
The workshops are based on Wilmslow-based Equilibrium's financial literacy resource which it created in 2017, titled Libby's Big Aeroplane Adventure. The resource is a book which tells the story of central character Libby, who flies from Toronto to Manchester to visit her grandparents, with the family having a financial budget to work to during her stay.
The book – which has had nearly 3,300 children engage with it since its launch – aims to boost children's understanding of finances and numeracy in a fun way, and help teachers plan lessons.
The workshops will be hosted by former headmaster David Evans, who was also involved in the creation of the book. David has previously given evidence to a Parliamentary Inquiry into the importance of teaching financial skills to young people.
Debbie Jukes, partner and head of client care at Equilibrium, said: "Since launching Libby in 2017, we've had a great response to the book. Creating and delivering workshops based off its content has been a brilliant way to further expand on the teachings in the book and help give students a more rounded, thorough understanding of financial literacy."
During the pandemic, Equilibrium turned Libby's Big Aeroplane Adventure into a free, downloadable e-book, to assist families and caregivers who were home-schooling children. The first workshop will be held in early 2021. Primary schools which are interested in bringing Libby into their classroom can visit https://equilibrium.co.uk/charity/educating-the-nation/ or email askus@equilibrium.co.uk
::
Trafford Council has said a huge thank you to the Armed Forces for helping deliver more than 5,000 COVID tests to front line health and care staff in the borough.
Council leader Andrew Western and chief executive Sara Todd wrote to Major Gordon Law to thank him for all the help and support his team had provided. Sara met up with Major Law at Trafford Town Hall to say thank you in person and to hand over the letter to him and his team, which leaves its base at Trafford Town Hall this Friday, February 26, after six weeks.
Sara Todd said: "We cannot thank Major Law and his team enough for their support during these tough and challenging times. The work that has been carried out in Trafford by the Armed Forces has been fabulous. They have delivered more than 5,000 lateral flow tests and that is an incredible number.
"Our frontline staff and other workers have been kept safe thanks to the hard work and professionalism of the Armed Forces. We have nothing but high praise and deep respect for you all."
Cllr Andrew Western, said: "In working together, we have demonstrated that collaboration lies at the very heart of rebuilding our communities and achieving the best possible outcomes. On behalf of Trafford Council, I would like to express my deepest gratitude to the Royal Regiment of Scotland, the Royal Marines Reserve from Merseyside and the Royal Navy Reserve Unit from Yorkshire, for your help and solidarity."
::
A Manchester hair clinic says it is the first in the UK to introduce two state-of-the-art UV air sterilisers in a move that it hopes will help keep patients and staff safe from coronavirus and stave off any potential infections.
The Farjo Hair Institute, whose famous patients have included Coronation Street star Alan Halsall, ex-Manchester City manager Peter Reid and Cold Feet actor John Thomson, says it is the UK's first centre of excellence combining hair transplant surgery, hair loss medicine, hair research and hair restoration education.
Despite operating in the city for more than 27 years, like many businesses in the region the clinic was forced to close due to the coronavirus pandemic. Surgeon and founder of the institute, Dr Bessam Farjo, said: "Despite a temporary closure due to lockdown restrictions, we are thankful to once again be open and continuing to help our patients when needed.
"The safety of both our staff and our patients had been our utmost priority, and for this reason, we are operating a careful and responsible level of service to make sure our facilities are 'COVID-secure' The introduction of two new air sterilisers is but another measure we're taking to keep everyone safe, as well as following social distancing guidelines and using equipment/PPE (personal protective equipment) as recommended by the Center for Disease Control (CDC) USA and NHS UK etc."
Air sterilisers provide dynamic indoor air disinfection for enclosed spaces such as hospitals, pharmacies, labs, waiting rooms, schools, offices, retail stores, gyms and more, helping to keep both staff and customers safe.
::
Electricity North West is supporting the Government's COVID vaccination programme by giving all staff paid time off to have the jab.
The Stockport-based network operator has announced that any employee who is invited to have the vaccine can take time off work in company time, at short notice and on full pay.
Furthermore, the company – which has continued to operate throughout the pandemic as an essential service to homes, businesses and organisations such as the NHS – is also offering rapid lateral flow testing to all colleagues who can't work from home to support the test and trace programme. Staff can take the tests before they head to work or following a shift and have results in 30 minutes.
Peter Emery, Electricity North West's chief executive, said: "I'm proud of how all my colleagues have stepped up to keep the region connected and provide an essential service throughout the pandemic. I cannot thank them enough for all that they do.
"As we hopefully are moving into a recovery stage of this pandemic, it's vital that we repay their support by making it as easy as possible for them to have the vaccine. We also hope that providing access to testing will bring added peace of mind and reassurance for our key worker colleagues on the front line and further reassures all our customers of the steps we are taking to ensure their safety."