Everton's bid for £505m ground approved unanimously by Liverpool City Councillors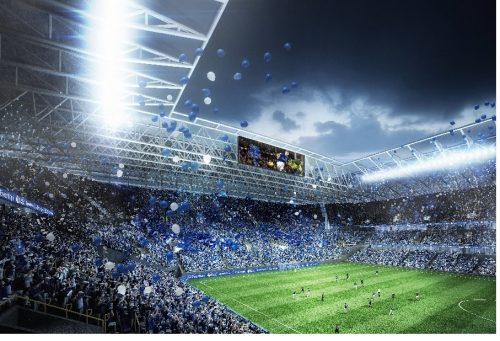 Liverpool City Councillors have unanimously approved plans for Everton FC's proposed £505m stadium.
The scheme will now automatically be referred to the Secretary of State by the council as standard practice, due to the sheer size of the proposals which could be the largest development on site in the country if and when work starts.
Robert Jenrick could decide to call in the scheme for a public inquiry, but if not, government considerations usually take about 21 days.
Councillors reached their decision as part of this morning's specially-convened planning committee – described by committee chair Cllr Tricia O'Brien as "historic deliberations" – to consider the club's plans for a 52,888-capacity ground at Bramley-Moore Dock, next to the River Mersey.
The almost three-hour-long meeting also unanimously approved plans for the club's legacy redevelopment of its current Goodison Park stadium, with all 10 councillors voting in favour.
Objections to the stadium scheme had been raised by Heritage England but, welcoming the plans, Cllr Steve Radford described Everton's proposals as an "overwhelming positive case".
He added: "It's the right thing for the city, it's the right thing for Walton, it's the right thing all round. The heritage harm is leaving the site derelict."
Cllr Joe Hanson said: "I find it a little bit insulting that we have Heritage England, who don't live in Liverpool, ask for a call in that could put that scheme in jeopardy. It will bring life back to that dock area."
He said the plans will also have a massive impact on the Ten Streets regeneration plans nearby in "what will be a boom time for North Liverpool".
Cllr Hanson added: "Everton have presented a compelling case. Our officers have done incredible work.
"The docks are important to us, but should not be allowed to stand in the way of progress.
"The dock was, in effect, a coal yard. I am delighted that Everton are prepared to spend an awful lot of money to protect a North Liverpool dock."
Cllr John Prince said: "This is a really ideal solution for what, at the moment, is a totally derelict site. Everton have gone out of their way to design this stadium in line with all the historic needs."
Ahead of the vote, Liverpool City Council planning officer, Peter Jones, outlined the Grade II-listed elements of the site, but told councillors: "Heritage should not be treated as an embargo on development."
He said, in the view of the council officers, the public benefits of the stadium proposals outweigh any harm to heritage assets.
All councillors who spoke to the committee, including self-proclaimed Liverpool fans, praised the club, and council officers, for their diligent work and excellent presentations.
Closing the meeting, chair Cllr O'Brien, thanked the committee for its time and patience, adding: "I hope that's going to be taken into account when this matter is going to be passed to the Secretary of State, who may or may not decide to call it in.
"But I think the very extensive debate and really excellent groundwork that has been done by our own planning officers and Everton Football Club, who I think have really demonstrated that they are a power for good in our community, is all going to be taken into account."
The club has formulated its plans for Bramley-Moore Dock over a three-year period, taking in two public consultations that involved more than 63,000 people.
A total of 52 sites were considered, including public and privately-owned locations, but Bramley-Moore Dock was considered the only suitable site.
Everton chief executive, Prof Denise Barrett-Baxendale, described the proposal as a "once in a generation opportunity to regenerate the city".
The overall scheme will deliver £750m-worth of private investment, and so far, the club has already spent £39m on its plans.
A new stadium will offer much bigger matchday revenues for the club.
The current capacity of Goodison Park is 39,572. That includes 31,000 Everton season tickets, with a 17,000-strong waiting list. The new ground will be able to hold 52,888 spectators.
The club said its Bramley-Moore Dock plans meet all 17 sustainable development goals set out by the United Nations.
Construction work, which is estimated at three years, involves infilling of the current disused dock, but, to retain the site's heritage, the dock walls will be repaired before the void is infilled with half a million tonnes of sand, from the River Mersey.
Plans also include the installation of photovoltaic panels on the stadium roof.
The club estimates its People's Project scheme, which also includes the regeneration of the Goodison Park site, will help create 15,000 local jobs and attract 1.4 million visitors each year.
The club's proposals for Goodison Park have been designed to ensure a legacy for the area.
Plans include a mix of housing, a youth enterprise zone, an education zone, and a health zone. There is also provision for supported living, a retail and leisure element, office space, and the retention of key features of existing public art, such as the Dixie Dean statue and the Holy Trinity statue to ensure Everton's historic role in the community is celebrated and to continue to attract visitors to the site.
The club has been searching for a new home for more than 30 years.
In 1990 plans emerged for a possible ground share with neighbours Liverpool FC at a proposed £125m stadium built on Kirkby Golf Course, which were eventually dismissed.
Since then there have been failed attempts to build a new ground on Kings Dock, next to the Royal Albert Dock tourism complex which was mooted in 2000, and most recently, in 2006, in Kirkby town centre, supported by supermarket giant Tesco.