People: Flow Creative; GCA Altium; Taylors Solicitors; Kay Johnson Gee; Yobah; Fluent Money Group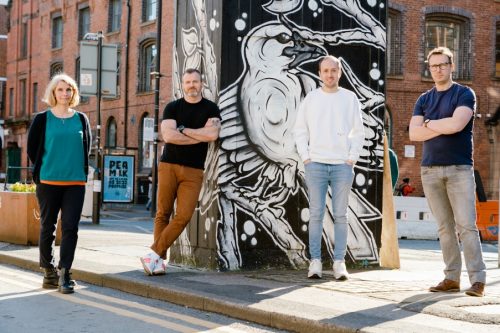 Following a raft of new client wins Manchester agency, Flow Creative, has made three senior hires to help bolster its offering to include strategic brand consultancy as well as the design and animation work it's well known for, helping to ensure a more integrated service to clients.
The growing agency has taken on Mark Higginson as head of creative, who will lead the charge on brand strategy and design, Jamie Angel as partnerships manager who will be responsible for building stronger client partnerships and Emma Shaw as studio manager, who brings extensive creative project management experience into the mix to ensure smooth running of this vital element of the business.
The award-winning agency welcomes NICE, the health and social care organisation, financial services experts Fluent Money Group, green energy technology specialists Kiwi Power and hearing aid manufacturers Oticon to its family of clients, joining existing clients such as Arts Council England, the National Lottery Heritage Fund and the BBC.
Now in its fifth year, the agency has seen impressive growth over the past few years, which has led to the business expanding into a large, multi-functional studio space in the Northern Quarter.
Flow's founder and creative director, Karl Doran, said: "We've had a phenomenal period of bringing in new clients and building relationships with existing ones, and I'm really excited to grow our talented team with the addition of Emma, Mark and Jamie. They bring with them a wealth of experience and skills that will help us manage this new demand and to push Flow to the next level."
Emma Shaw said: "I'd watched Flow develop as a company from the start and was always really impressed by their fearless creativity. Working with them now, I have also learned that they are an awesome team of people with integrity and a desire to use their powers for good."
Mark Higginson said: "The ambition and direction Karl highlighted for Flow is what really stood out to me when first sitting down to discuss things. We both agreed that the role of an agency in these times has evolved and is needed more than ever."
Jamie Angel said: "Having seen and heard so much about the work Flow produces, I was really excited to join the team. I've always been impressed by Flow's creative energy."
The three hires take Flow Creative to seven full-time team members.
::
Global investment bank GCA Altium has announced a series of promotions across its UK offices, with Dominic Orsini and David Edwards both becoming managing directors in Manchester.
Since joining in 2012, Dominic has been involved in a number of high profile software and tech-enabled services transactions. During the past six months he has advised on the secondary buyouts of Mobysoft from Livingbridge and CIPHR from LDC, as well as on Eque2 securing investment from WestBridge.
David joined GCA Altium in 2009, and over the past 12 years has established a leading role in deal origination at the firm. He now leads a national function focusing on sourcing and securing new transactions across the UK and internationally and has been responsible for originating transactions across a range of sectors including technology, digital media, e-commerce and business services.
Alongside the new MD, GCA Altium has announced two further director promotions. In Manchester, Tom Battersby will take on the role, while Declan O'Connor has been made a director in London.
Tom has completed a wide variety of deals since joining GCA Altium in 2014, across both buy-side and sell-side M&A and private equity transactions, as well as carve outs and public company takeovers.
The firm has also made Matthew Furness and Gabrielle Worrall vice presidents in its Manchester office.
Chief executive Phil Adams said: "All of the promotions announced today have been richly deserved for the outstanding work that they have produced for the firm and our clients. The promotions also highlight the excellent staff retention that we as a business continue to cultivate.
"With both our managing director and director promotions involving individuals that have been at the firm for nearly a decade or more, this evidences our fantastic company culture, and I look forward to building on this with each of them in their new roles."
::
Taylors Solicitors has strengthened its team with the arrival of a commercial disputes partner.
Stuart Farr has joined the practice, with offices in Manchester and Blackburn, from national firm Knights where he was a partner.
Before that role, Stuart was the head of the dispute resolution team at Clarke Willmott's Birmingham office. Prior to that he headed the commercial disputes team in the Manchester office of Laytons. He has more than 25 years' experience in the field and has featured in the Legal 500.
Stuart specialises in advising individual and business clients on contractual disputes, product liability and professional negligence matters. He also has a niche practice in shooting and conservation matters and is a member of the British Association for Shooting and Conservation.
He becomes the eighth partner at Taylors, which is exclusively focused on commercial law. Taylors' managing partner, Elaine Hurn, said: "Stuart is an astute operator with vast experience. He is a perfect fit for Taylors and his appointment is great news for our clients.
"Stuart is not just a litigator, as over the years he has become the trusted go-to adviser to many clients, helping them address a range of business-related and private matters."
Stuart works with clients across sectors including manufacturing, printing, consumer
services, retail and distribution.
He said: "I'm excited to have joined Taylors and to returning to working in the North West. When the opportunity arose to join the firm I needed no persuasion because of its excellent reputation as a commercial law practice and the quality of its people. I am looking forward to helping existing clients and to expanding our offering both regionally and nationally."
::
Kay Johnson Gee, a firm of accountants established in Manchester in 1948, has appointed a new managing partner.
Alex White has taken the reigns as Julian Beressi has decided it was time for new blood to take the helm.
Alex joined the firm in 2015 as tax partner where he has been instrumental in developing the extremely successful tax department, which he will continue to head up in his new role.
Formerly, Alex has held positions with CLB Coopers and PWC.
Julian Beressi said: "After more than 15 years as managing partner I felt it was time that someone else takes the role. Alex has decades of experience so the firm is in very capable hands.
"Over the past couple of years we've grown well as a firm, and this was helped by introducing both our tax and corporate finance arms, both of which Alex has been instrumental in."
He added: "I retain my position as partner in the firm looking after my clients and will continue to lead the forensic accounting department.
Alex White said: "I'm delighted to be appointed to this position at a time when the firm is doing so well. Over the past 12 months we've won some great new clients, and during the pandemic, grown our headcount by seven.
"It's great that Julian is staying with the firm to provide his expertise and guidance. Over the next 12 months we have exciting plans for the firm, which go hand in hand with our membership of the Xeinadin Group, a collection of over 105 accountancy practices across the UK and Ireland."
::
Manchester-based technology growth firm Yobah has added to its team with the appointment of strategic sales specialist Gladwin Thomas.
Originally set up in 2013 by founder and CEO Paul Sanders, Yobah began life as a small consultancy firm but has grown to become a provider of cybersecurity and cloud-managed strategic consultancy and services to businesses including MoneySuperMarket.com and The Co-Op.
Gladwin joins the firm with considerable engagement experience on transformation programmes for enterprises, across diverse solution portfolios spanning best in class software platforms, outsourced technology and convolution of enterprise technology adoption – from previously hugely complex 'black box' approaches towards transformation, right through the transition, to more consultative, incremental and value-driven models.
He joins a core team of specialists which includes CEO Paul Sanders, CTO Ian Wright, COO Darren Jones, marketing consultant Natalie Asprey and a unique network of associates with the 'hard to meet, in-demand' skills required by Yobah's growing fintech client base. He will bring his background in enabling transformation in diverse financial services to support strategic growth for Yobah and its clients.
Paul Sanders said: "Now, more than ever, financial services businesses are looking to adapt, whether that's being a challenger, transforming existing structure or creating new and innovative solutions.
"Gladwin has a wealth of experience working with businesses seeking transformation through the adoption of cloud technologies and platforms and we are delighted to bring him on board to maximise our growth plans for 2021."
::
Fintech business, Fluent Money Group, has appointed experienced financier John Hardman to head a newly-launched division dedicated to the provision of bridging finance.
John joins as managing director of Fluent Bridging with a remit to establish the new arm of the business and fulfil ambitious growth plans.
With a background in finance and banking spanning more than 30 years, he is well positioned to cement strong relationships between Fluent and lenders active in this sector.
During his time working in corporate banking and with smaller niche companies, John developed a granular knowledge of short term property finance, enabling him to deliver his expertise across transactions of all sizes, geographies and complexity.
As a premier introducer of both bridging and development finance into specialist lenders, John will lead a team of experts at Fluent Group to grow the bridging division in a burgeoning market to become the 'go-to' broker for both bridging loans and ground-up property development.
The Fluent Bridging brand will complement existing divisions of the group which have built reputations for technology, credibility and first class relationship building, leading them to be responsible for completing approximately 25% of all second charge mortgages in the UK.
Fluent Money (2nd charge mortgages), Fluent Mortgages, Fluent Lifetime (equity release), and Fluent Protect (insurance) are managed from the company's headquarters at Horwich, near Bolton, and company CEO Kevin Hindley is looking forward to John making a major contribution to the business.
Kevin said: "At a senior level we took the strategic decision to expand and develop into the bridging market because it complements our existing offering and solidifies our position as one of the leading mortgage brokers in the UK.
"We're pleased to welcome John to the team and look forward to him working with our highly professional and regulated lender partners to deliver a high quality product and service."
John said: "Each member of the Fluent senior management has real pedigree and a track record of success so it's an honour to be asked to join the group and build the short term property finance arm.
"My first role will be to embark upon a swift recruitment drive, targeting high calibre, experienced individuals who will steer clients and brokers calmly through what can be a stressful process, providing sound advice and guidance as they go."
John previously held roles with RBS, Santander, Barclays and Aldermore Bank, and more recently Bridging Finance Solutions where he held the head of sales role.