Digital security group sees sales and profits rocket as momentum continues into 2021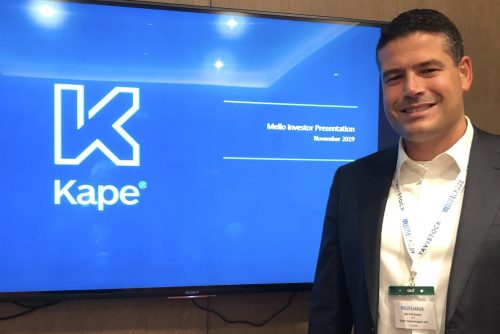 AIM-listed Kape Technologies, the Isle of Man-based digital security and privacy software business, reported stellar results for the year to December 31, 2020, today.
Revenues almost doubled, from $66.060m in 2019 to $122.212m for 2020. Pre-tax profits also accelerated, from $2.799m the previous year to $7.326m.
The company has also reported a strong start to trading for its current year, predicting it will generate revenues of between $197-202m and adjusted EBITDA of between $73-76m for the full year.
Turnover was driven by a 31% increase in organic growth in the digital privacy segment and a full year contribution of its acquisition of Private Internet Access (PIA).
Kape said it managed to achieve 50% extra savings from the integration of PIA.
The group finished the reporting period with a cash balance of $49.9m and net cash of $11.1m.
It achieved an increase in subscribers to 2.52 million by December 31, 2020, compared with 2.31 million the previous year, with an 83% retention rate, up two per cent on 2019.
During the year the group raised additional growth capital through a successful $115.5m fundraising in October, which was both oversubscribed and upscaled, which helped expand its investor base across the UK, Europe, US and Israel.
Earlier this month Kape announced the $149.1m acquisition of Webselenese, based in Tel Aviv, Israel, in its biggest takeover to date.
It said the deal will deepen the group's go-to-market capabilities, bringing Kape closer to the consumer through unrivalled insights and expertise, to support its product development roadmap.
Chief executive, Ido Erlichman, said: "2020 marks a key year in Kape's progression with strong growth across the business.
"We have successfully completed the integration of PIA realising cost savings which were 50% higher than we anticipated, alongside strong traction in new users in Q4.
"Our product development efforts have accelerated as we launched a complete privacy and security suite, providing our users with a wider set of Kape products available from one point of purchase."
He added: "Pleasingly, we have made a strong start to 2021.
"We accelerated our M&A activities with the highly strategic acquisition of Webselenese last week, our largest acquisition to date.
"Kape is also experiencing strong growth momentum across all our business units during the first quarter of the year and we expect these trends to continue as we deliver on our strategic roadmap."