Skills City to fast track careers of 450 people across the region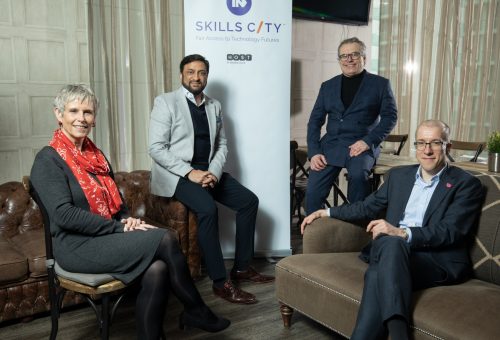 A new scheme will aim to boost tech skills across underrepresented and disadvantaged groups and fast-track 450 people into digital careers.
Skills City comprises leading digital technology bootcamp academies, working in collaboration with employers at all levels to create a clear pathway to jobs and diverse talent recruitment.
Based at HOST, the Home of Skills & Technology at MediaCityUK, it aims to provide fairer access to digital and technology career starts, creating a diverse technology talent pool in the region.
The number of women in tech roles is still largely underrepresented with only 17 per cent of females in the sector. In a bid to readdress gender inequality Skills City has committed that 50 per cent of learners will be represented by women.
Those from an ethnic minority background or who are financially disadvantaged, adults on career breaks including return to work mums, are also encouraged to explore the opportunities available at Skills City as alternative routes to finding employment in the tech sector.
The Skills City Learner Charter commits to securing skilled job offers for all its cohorts.
A dedicated team of employer engagement managers and community skills coaches will be working across the region's businesses large and small, with all learners completing an employability programme and industry projects as part of their training.
The technology training will be delivered by Skills City's partner academies including the Raytheon Cyber Academy, AWS re/Start, University of Salford, Unity 3D Academy and Black Codher, a specialist software engineering academy for black women.
Mo Isap, CEO of IN4.0 Group, said: "We understand that offering training courses is not enough, especially now when unemployment is at an all-time high, and while many career routes have been shut down, digital skills continue to be in demand.
"We will be launching recruitment in April and building a community of tech talent from the most diverse and underrepresented backgrounds to support them through their journey into employment.
"By working in collaboration with the government, local authorities and employment partners, our mission is to support people from across Greater Manchester, the North and the UK with overcoming the barriers into new careers in tech."
Skills City is also collaborating with Salford City Council to launch Kickstart Digital which will provide digital skills development to young people employed on the government's six-month Kickstart employment scheme.
Salford's City Mayor, Paul Dennett, said: "Salford is committed to becoming a digitally inclusive city where no-one, young or old is left behind. No-one should be excluded from opportunities in the latest industries or everyday life just because they cannot get online or do not feel confident using the latest technology.
"Skill City is a key part of our Digital Everyone ambition to ensure local residents have access to cutting edge training and development to realise their full potential and create a better, fairer Salford."