North West Business Briefs: Peel Ports; Brabners; BrightHR; PAM Life; Daish's Holidays

X

Register for free to receive latest news stories direct to your inbox
Register
Peel Ports is the first port group in the UK to take delivery of an autonomous unmanned survey vessel, which completed its first successful trial at Crosby Marine Lake, North Liverpool recently.
Peel Ports offered Sefton Council the first trial of FITZROY's services which provided hydrographic charts of Crosby Marine Lake, located a short distance from The Port of Liverpool. Its survey capabilities were able to provide valuable data of the lake bed which will feed into the upcoming planned dredging operations.
The trial also provided assurance to Peel Ports that the quality of the data is equal to that of previous surveys conducted by manned vessels.
Developed by L3 Harris and featuring pioneering technology, the 4.5m vessel, named FITZROY, weighs one tonne and carries multibeam sonar equipment capable of hi-resolution seafloor mapping, down to 100m. It is designed to provide autonomous solutions to improve working efficiency on the water to gather data about the marine environment and can be used for hydrology research, scientific exploration, hydrographic survey, emergency search and rescue and other tasks.
It uses GPS location tracking to follow pre-set waypoints and mission parameters, navigating autonomously while intelligently avoiding obstacles up to 50m ahead.
Russell Bird, deputy group harbour master, said "This recent investment show Peel Port's commitment to innovation in the marine environment whilst reducing emissions and enhancing safety.  The use of autonomous and remote vehicles is growing exponentially, and we are delighted to be leading that charge in the Ports sector."
::
Independent law firm Brabners has reaffirmed its commitment to developing young talent by retaining 11 newly-qualified solicitors from its latest cohort of trainees.
The intake represents the largest number of freshly qualified solicitors that Brabners has taken on in a single year. The cohort also includes a record number who have come though Brabners' sponsored programme, having previously been paralegals within the North West firm.
The news comes as Nik White, himself a former trainee solicitor at Brabners, has been re-elected, unopposed, as managing partner for a second three-year term. Nik, who last year celebrated 25 years with the firm, was appointed managing partner in May 2018 alongside chief executive Robert White.
Since then, under this senior leadership team, the firm has delivered a sustained period of growth, despite the economic impact of COVID-19, and continues to attract a growing list of high profile clients. It has also been named a Sunday Times Top 100 Places to Work firm.
Nik White said: "Committing to retain such a high proportion of our trainee solicitors, so far in advance of their qualification later this year, demonstrates our confidence and willingness to invest for the future. We're delighted that this group have decided to stay at Brabners and we look forward to helping them to develop their talents further and supporting the progression of their careers."
::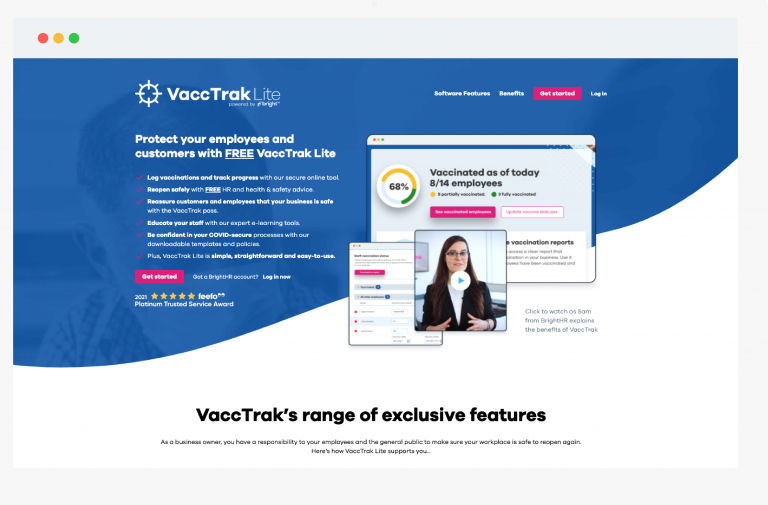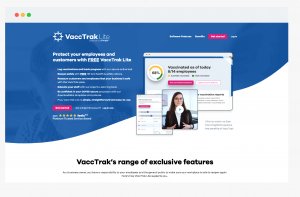 Manchester-based BrightHR has built and released a free business support tool, VaccTrak Lite, to help employers transition from lockdown and reopen premises safely.
VaccTrak Lite is a free suite of online tools which allows employers to track the progress of coronavirus vaccinations in their business, speak to expert HR and health and safety advisors for free, access employee training materials on the available vaccines, download COVID-secure policies and document templates and provide their employees with a 'VaccTrak Pass' once vaccinated.
Alan Price, BrightHR CEO, said: "The wide-scale vaccine rollout is uncharted territory for employers and currently many are confused as to what part they should play and how they can protect their workforce and customers as restrictions start to ease.
"This is why BrightHR has created VaccTrak Lite. It's been a challenging year for business owners and through our brand new tool we want to assist them in reopening safely and making it easier for them to run their businesses."
He added: "We are already supporting over 5,000 businesses and 30,000 employees through our premium VaccTrak tool, and we hope free access will help many more."
::
A personalised wellness app is adding 5,000 users a month as awareness about physical and mental health and wellbeing rockets as a result of the pandemic, helping the Warrington company behind it triple in size to 20 staff over the past year.
PAM Life was founded in 2019 by entrepreneur James Murphy and has recruited app developers and wellness professionals as well as appointing a managing director, Matthew Shaw. He has joined the business after a career in the payments industry.
Matthew said PAM Life is gearing up for continued growth amid the increasing focus by businesses, organisations and individuals on health and wellbeing. He said he also expects a bounce following Prince Harry's appointment as chief impact officer at Silicon Valley-based start-up BetterUp.
"Prince Harry has certainly shone a spotlight on mental wellness by taking on such a prominent role. It brings to the fore the growing mental health concerns which people are facing, and we expect the exposure will help us reach more people that need our help than ever before."
PAM Life's app provides professional wellness coaching across four specialist areas – health, nutrition, fitness and mind.
::
UK hotel chain Daish's Holidays has reported bumper bookings for spring staycations from May 17 – a 495% increase on the same period in 2019.
Daish's, which acquired Blackburn-based Robinsons Holidays last November, has analysed data from March 1, to March 22 and stated that the majority of bookings made in this peak period were for June 2021 holidays, when the Government hopes to lift all social distancing restrictions – a 699% increase compared with bookings made in the same period for June 2019.
Paul Harper, sales and marketing director, said: "Spring and summer bookings have rapidly increased since January and it is evident that people feel reassured holidays on home soil can go ahead this year."
Autumn and winter bookings are also on the rise compared with 2019, with October to December breaks receiving an average 418% increase during this same period in March. Paul added: "It is reassuring to see that the influx of bookings are not just being made for summer, but we are also benefiting from a similar surge for the winter months. This will allow the business to start financially recovering from our temporary closures and lay the foundations for future growth in 2022."
In addition, Daish's has confirmed that consumer habits have altered when comparing current booking trends to 2019. Paul said: "Our customers are now forward planning their holidays rather than making last-minute bookings, which was favourable before the pandemic. It would seem that the Government road map has increased consumer confidence in UK travel."